The Sunscreen That Can Keep Up with Your Active Lifestyle
May 23, 2018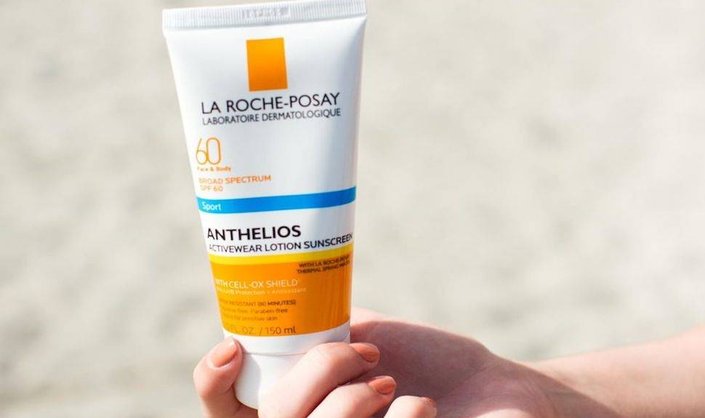 If there's one product that deserves a year-round spot in your arsenal, it's broad-spectrum sunscreen. Despite how important it is in a skin care routine, it's also the product many people loathe to wear on their skin. Popular complaints about sunscreen include a greasy after-feel, an ashy skin appearance, or an increased number of breakouts. While those less-than-ideal results could be occurring with some formulas, many of today's sunscreens are formulated to ensure that pores won't clog, skin won't feel slimy and uncomfortable, and that—for the most part—you forget you're even wearing sun protection to begin with.
La Roche-Posay, a pioneer in sun protection, has gone the extra mile to ensure this with their widely-popular Anthelios sunscreens—and they recently added another all-star formula to the range. Ideal for those who like to spend an ample amount of time outdoors, La Roche-Posay's new Anthelios Sport SPF 60 Sunscreen is a game-changing face and body sunscreen that can conquer all your sunscreen fears.
THE DANGERS OF NOT WEARING SUNSCREEN
In honor of Skin Cancer Awareness Month, we want to reiterate the dangers of heading outdoors without protecting your skin from the sun. Although most of us love the glow of a sun-kissed tan, it's extremely important to keep your skin guarded from any harmful sun rays. This summer, make sure you have a top-quality sunscreen packed with you at all times to help guard your skin!
Think the sun isn't at work when it's not sunny out? Think again. The sun never takes a break, which means exposed skin should always be armed and protected when outdoors. The reason being that the sun's UV rays can do a lot of harm, like cause sunburn, premature signs of skin aging—think: wrinkles, fine lines, and dark spots—and even cause some skin cancers.
Even if you believe your sun exposure isn't excessive (like a quick walk around the block or working inside an office all day), you can still be at risk. Just stepping out of the shade, or sitting indoors by a window is all it takes to expose you to harmful UV rays. The Skin Cancer Foundation explains that it only takes 20 minutes for unprotected skin to burn, so you'll want to keep your skin protected at all times.
The Importance of Sunscreen 
According to The Skin Cancer Foundation, Sun Protection Factor, otherwise known as SPF, is a measure of a sunscreen's ability to prevent UVB rays from damaging the skin. Here's the math behind it: since your skin can start to burn within 20 minutes of sun exposure, in theory a sunscreen with an SPF of 15 can keep your skin protected from burning 15 times longer (about 300 minutes).
The Skin Cancer Foundation also explained that each SPF can filter out a different percentage of UVB rays. According to the Foundation, an SPF 15 sunscreen filters out approximately 93 percent of all incoming UVB rays, whereas SPF 30 keeps out 97 percent and SPF 50 keeps out 98 percent. They may seem like tiny differences to some, but the percentage change makes a huge difference, especially to those with light-sensitive skin or a history of skin cancer.
Neglecting to put on sunscreen is definitely not doing your skin any favors. The Melanoma Research Foundation noted that regular sunscreen use is actually proven to lower one's risk of melanoma by at least 50 percent. They also noted that when using sunscreen as directed, along with other sun protection measures, broad-spectrum sunscreen with an SPF of 15 or higher helps prevent sunburns and reduces the risk of early skin aging and skin cancers that are associated with UV radiation.
Now that you know all of the benefits to using a proper sunscreen, it's time to lather some on the right way. To help protect your skin, the Skin Cancer Foundation recommends to apply a shot glass full of broad-spectrum SPF sunscreen to all exposed areas of the skin every single day— rain or shine. Pair your sunscreen use with additional sun protection measures, such as seeking shade, wearing protective clothing, and avoiding peak sun hours—10 a.m. to 4 p.m.—when rays are strongest, and remember to reapply if sweating or swimming.
What Type of Sunscreen Do I Look For?
The type of sunscreen you choose should be based on how much sun exposure you're anticipating for the day, as well as the activities you have planned. In all cases, the Skin Cancer Foundation recommends wearing a broad-spectrum sunscreen offering protection against both UVA and UVB rays with an SPF of 15 or higher. You can find lotions, moisturizers, and liquid foundations formulated with at least SPF 15. However, if you spend a lot of time in the sun exposed to heat and humidity, you need a water-resistant formula that can help absorb sweat and moisture during outdoor activities. That's where La Roche-Posay's Anthelios Sport SPF 60 sunscreen comes in.
La Roche-Posay Anthelios Sport SPF 60 Sunscreen Review 
This heavy-duty, oil-free lotion sunscreen is enhanced with the brand's CELL-OX SHIELD technology and La Roche-Posay Thermal Spring Water, and helps fight against the sun's harmful UVA and UVB rays when used as directed. Formulated to use on the face and body, it rubs in with a dry touch finish and helps absorb sweat and moisture during outdoor activities. What's more? The formula is enhanced with antioxidants to help neutralize free radicals caused by UV rays.
Recommend For: Anyone who spends time outside in the sun and exposed to heat and humidity
Why We're Fans: Sweat and sunscreen don't always play nice. For those who lead an active lifestyle especially, it's important to know that your sunscreen is keeping your skin protected through sweat and moisture. Breakouts are also a big concern for sunscreen wearers, but this formula is non-comedogenic (meaning it won't clog your pores) and oil-free.
How to Use It: Apply the sunscreen generously 15 minutes before sun exposure. You can see the formula as you apply it, which helps ensure optimal application. Blend well into the skin until the lotion is no longer visible. The formula is water-resistant for 80 minutes, so be sure to reapply after 80 minutes of swimming or sweating. If you towel dry, reapply the formula immediately, or at least every two hours.
La Roche-Posay Anthelios Sport SPF 60 Sunscreen, $29.99 MSRP 
Read more

Back to top