Editor's Pick: The Cleansing Wipes You Need If You Have Oily, Combination Skin
December 27, 2016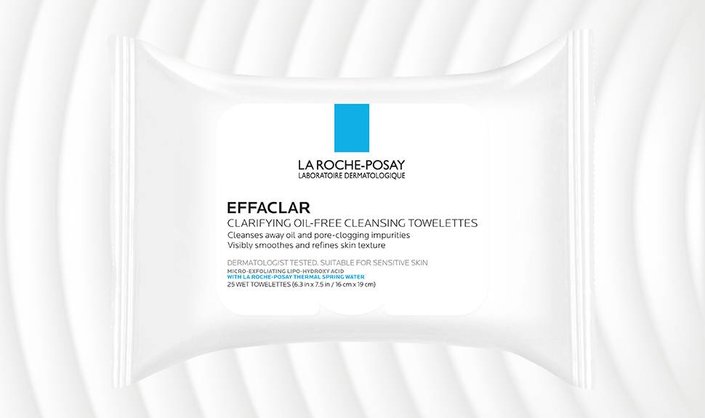 Our editor reviews the new La Roche-Posay Effaclar Cleansing Towelettes. Find out if these cleansing wipes for combination and oily skin types really live up to the hype below!
There's no shortage of cleansers out there to rid skin of dirt, excess oil, and pore-clogging impurities, and most everyone has a type. Some like a gel-like texture, some love the buttery feel of creams, and others reach for the exfoliating benefits of a scrub or an alpha-hydroxy acid. While I'm not partial to any specific type of cleanser, I must admit that cleansing wipes are a game-changer in my routine, especially when I'm feeling lazy (hey, it happens). They're easy to use, uber-convenient to carry on the go—think: office, gym, etc.—and don't require close proximity to a sink for use. This might be music to the ears of a frequent camper or backpacker, but for me it means cleansing my face while sitting atop my down comforter has never been easier or more fulfilling. So when I got word that La Roche-Posay was dropping some brand-spanking new cleansing towelettes, I knew I had to try and review them. Thanks to a recent complimentary sample that landed on my desk, I did just that. Let's just say they have my (lazy girl) stamp of approval.
La Roche-Posay Effaclar Cleansing Towelettes Review
As you can imagine, I've tried and tested quite a few cleansing wipes in my day. From the brand's Effaclar line, these oil-free facial wipes certainly stand out. They're formulated with micro-exfoliating LHA, oil-targeting zinc pidolate, and the brand's soothing antioxidant Thermal Spring Water to help remove oil and filth down to microscopic pollution particles all while maintaining the integrity of the skin. The product is recommended for oily skin types to remove sebum and dirt, but sensitive skin types can rest-assured that the formula is gentle enough for them as well. I have combination skin that's a little sensitive, and I am happy to report that after just one use my skin felt hydrated, clean, and soft to the touch. To use, gently wipe your face with the facial wipes to remove dirt and oil. Be careful not to rub or tug too aggressively, as this can upset skin. You don't even have to rinse! How easy is that?
Note: On days I'm wearing heavy makeup—read: glittery eyeshadow, waterproof mascara, and thick foundation—I like to use these wipes first and then follow up with another gentle cleanser, like micellar water, or even a toner just to make sure that every last trace of makeup and dirt is removed. 
Read more

Back to top