This Hyaluronic Acid Serum Will Plump Your Skin Like No Other
February 14, 2020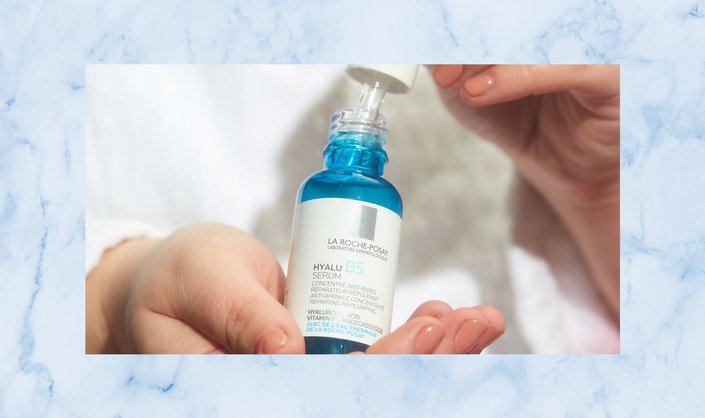 Loss of skin elasticity is bound to crop up at some point, thanks to environmental aggressors, lack of sleep and the natural passing of time. While you can't avoid it altogether, you can create a well-rounded skin-care routine that utilizes products and ingredients that can help your skin look more youthful and plump, like the La Roche-Posay Hyalu B5 Serum ($29.99 MSRP). This formula contains super-hydrator hyaluronic acid and just might be the skin elasticity savior you need. Read on to learn more about the Hyalu B5 Serum — and why you should add it to your routine ASAP. 
Why Serums Are a Skin-Care Must
You probably could get away with cleansing, moisturizing and applying SPF daily without getting scolded by your dermatologist, but — in our opinion — you'd be doing your skin a disservice. Why? Because you're not incorporating a potent serum into your routine. These formulas, which are typically applied as a step between cleansing and moisturizing, can offer a wide range of benefits depending on the type you reach for. These benefits can include more radiant-looking skin, mattifying effects, or targeted action on signs of aging and even blemishes. Whatever your key skin concerns are, there's likely a serum out there that can deliver a high concentration of ingredients for results you can see and feel.
Hyaluronic acid serums, in particular, are popular not only because they can hydrate the skin (remember: hyaluronic acid is found naturally in our skin and can hold up to 1000x its weight in water), but also because they plump the appearance of fine lines and wrinkles. As such, nearly everyone can benefit from using one, including dry and mature skin types. And that's exactly where the Hyalu B5 Serum comes in.
Why Hyalu B5?
Unlike other hyaluronic acid formulas on the market, Hyalu B5 contains two types of hyaluronic acid and the mineral-rich La Roche-Posay Thermal Spring Water. It combines these hydrating powerhouses with vitamin B5 and madecassoside, an extract of centella asiatica that is known to be anti-inflammatory and complementary for sensitive skin types.
After using Hyalu B5, your skin will appear visibly plumped, hydrated and replenished of its natural moisture barrier. The texture of this serum is also extremely lightweight and gel-like, which helps it absorb into the skin quickly. 
All skin types can benefit from this hyaluronic acid serum, but it's especially ideal for those looking to combat signs of aging like lack of volume or dull skin appearance. To use, apply the serum to the face and neck morning and night for optimal results. Thanks to this teeny bottle, you're only a few drops away from a buoyant, firm-looking skin. 
Editor's note: Keeping your skin hydrated is a great way to maintain a strong skin barrier function. As a reminder, your skin's barrier acts as a shield for your skin, functioning to protect your body's largest organ. 
Read More:
What Is Glass Skin? Here's How to Get the Look
6 Must-Have Products for Acne-Prone Skin
The Best Pore-Minimizing Skin-Care Products, Hands Down
Read more

Back to top