We Tried It: Lancôme Advanced Génifique Hydrogel Melting Sheet Mask
January 16, 2020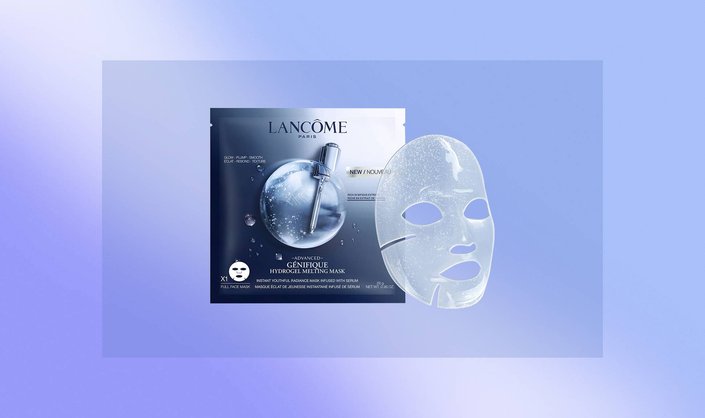 Looking for a new sheet mask to add to your rotation? If youthful radiance sits high on your list of priorities, we found your perfect match. Lancôme's best-selling sheet mask, the Advanced Génifique Hydrogel Melting Mask, is like magic for your skin. We're sharing our full review and making a case for why you should add it to your arsenal, ahead.
The Benefits of Lancôme Advanced Génifique Hydrogel Melting Mask
It has "melting" in the name and that's exactly what the mask does on your skin. The hydrating mask is made of a hydrogel matrix that releases its ingredients by melting — or "cocooning" — into the skin. The result? Radiance and smooth skin in as few as ten minutes. Based on a three-week study, 96% of women said their skin felt more hydrated after just ten minutes, with 89% noting that their skin looked smoother. 
Thanks to the skin-hugging element, you can multitask while wearing this sheet mask without fear of it slipping off your face. "As you put it on clean skin, it adheres to your face so beautifully that you can continue to go on with your tasks," says Cara Chamberlain, AVP Lancôme Learning. "You can get on social media, you can cook breakfast, you can do whatever you need to do without it moving on your skin."
Another unique aspect of this sheet mask is that it contains the same amount of bifidus extract found in one full (30ml) bottle of the beloved Lancôme Advanced Génifique Serum. While the results of this mask are not equivalent to the Advanced Génifique Serum, the sheet mask's rich concentration of bifidus extract — which can help strengthen the skin's moisture barrier — is worth noting. "Think of this mask as a way for you to see, to some extent, what Advanced Génifique can do for your skin every single day," says Chamberlain. "To maintain the results of the mask, we recommend adding the Advanced Génifique Serum as the first step in your beauty routine, morning and night."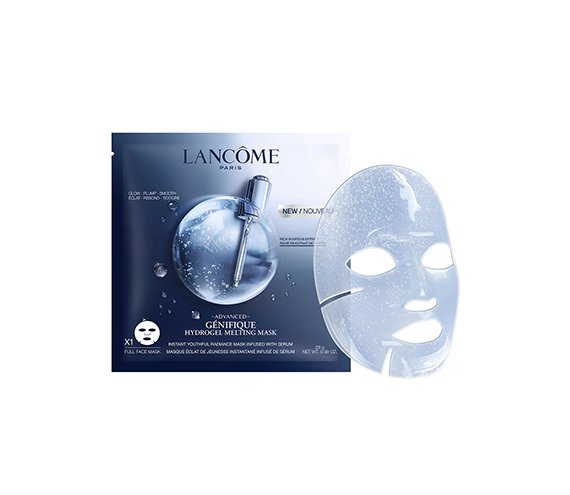 How to Use the Lancôme Advanced Génifique Hydrogel Melting Mask 
First, unfold the mask and remove the transparent film. Apply the mask onto clean skin with the gel side facing down. Next, remove the white outer protection layer on the front of the mask and leave it on for 10-30 minutes. "I've left it on for ten minutes and I've seen amazing results," says Chamberlain. "But I noticed that the longer I leave my mask on, the better because it makes me feel good. If you want that true spa-like, relaxing experience, leave it on for up to 30 minutes." Once time is up, remove the mask and massage any leftover product into your skin and neck. 
"You'll see that your skin looks instantly glowing, plumped up, and a lot smoother," Chamberlain adds. Whether you're aiming for seamless makeup application or a radiance boost prior to your beauty sleep, Lancôme's Advanced Génifique Hydrogel Melting Mask can leave your skin glowing.
To achieve a smooth canvas prior to makeup application, use this serum-enhanced mask as a simple step before foundation by leaving it on your skin for ten minutes. To enhance your glow during the day, give your complexion a radiance boost by letting this mask melt into your skin for 20 minutes. And finally, to boost your skin before bed, we recommend leaving it on for the full 30 minutes.
The Lancôme Advanced Génifique Hydrogel Melting Mask Review 
I'm always eager to try a face mask that can deliver instant radiance, and I can say the Advanced Génifique Hydrogel Melting Mask did not disappoint. Immediately, I was drawn to its flexible feel. Letting it settle in for ten minutes, I noticed how the mask left my skin looking and feeling hydrated without leaving behind a sticky residue. I'm also definitely not going to complain about that instant glow! The Advanced Génifique Hydrogel Melting Mask gets a full five stars from me, and Chamberlain would agree. "I'm kind of addicted to it. It takes a lot for me to get addicted to products because I try so many, so the fact that this sheet mask gets me excited is a really cool thing."
Read More:
The Best Lancôme Products — According to Major Beauty Editors
We Review Lancôme's Must-Have Foundations
We Reviewed 4 Top Lancôme Serums
Read more

Back to top