Editor's Pick: Lancôme Bi-Facil Face Review
August 02, 2017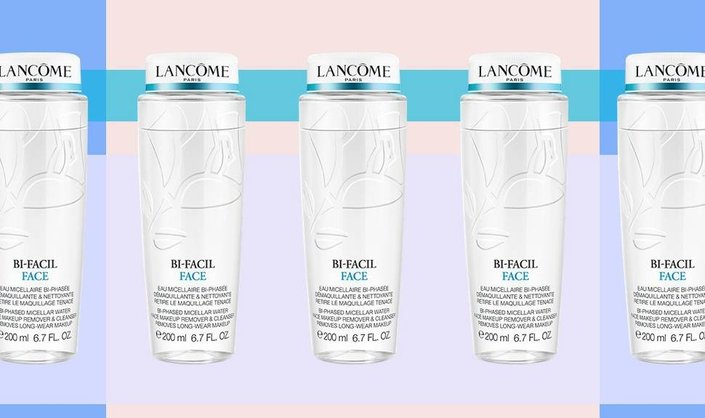 Do you love using Lancome Bi-Facil to remove your eye and lip makeup at the end of the day? Us, too. Well, Bi-Facil lovers, we've got some good news. Now, there's another Bi-Facil product to add to your repertoire. Lancome recently unveiled Bi-Facil Face, a makeup remover to tackle your foundation, bronzer, and concealer—and we put it to the test! Read on for our review of Lancome Bi-Facil Face, its benefits, how to use it, and more.
Cleansing the face morning and night is one of the most important elements of a healthy skin care routine. It helps remove makeup, excess oil, and other impurities that can lead to breakouts and an overall dull-looking complexion. From oil-based cleansers to micellar water, there's no shortage of options out there to choose from. One product in particular that has captivated our attention from the very beginning is ever-popular Lancome Bi-Facil. The bi-phase (or dual-action) formula combines water and oil for the ultimate cleansing experience.
But Bi-Facil is only formulated to remove eye and lip makeup. What's a gal to do with the rest of her face makeup? Well, Lancome pulled through for us ladies! The brand recently launched Bi-Facil Face to gently remove long-wear foundation, concealer, bronzer and whatever else may be lingering on our skin come end-of-day. Curious to learn more? Lancome sent the Skincare.com team a complimentary sample of Bi-Facil Face and we took it for a test-drive. Discover one editor's thoughts on Bi-Facil Face, ahead.
The Benefits of Bi-Facil Face
What sets Bi-Facil Face apart from the rest? The formula combines two powerhouse cleansing methods into one—oil and micellar water. Bi-Facil Face's formula contains a mix of  oil and micellar water to help dissolve makeup and cleanse a complexion. Unlike some other makeup removers, this formula will not leave your skin covered in a greasy residue. Plus, since there's no rinsing necessary, adding Bi-Facil Face into your routine is easy as pie.
How to Use Bi-Facil Face

 
One of the (many) great things about Lancome's Bi-Facil Face is the ease of use. It's truly so simple and effortless, able to be completed while on the go, at the gym, or even at the office! First, be sure to shake the bottle to mix the two phases together. Next, deposit the liquid onto a cotton pad, soaking it generously. Smooth the pad over your face to remove makeup and impurities. That's all she wrote! You don't have to rinse, but you can if you'd like. You can also follow up with a toner or cleanser of your choice to ensure that every last bit of makeup is whisked away.
Who Should Use Bi-Facil Face
Whether you're a tinted-moisturizer-only type of gal or dedicated to a daily full-face glam look, Lancome Bi-Facil Face can be the right pick for you to remove your makeup!
Lancome Bi-Facil Face Review
I rarely wear a full-face of makeup. Day-to-day, I reach for a tinted moisturizer, a little concealer, mascara, a couple brow products, and occasionally a bronzer. Despite my minimal routine, I recognize that any of these products, if not thoroughly removed, can lead to clogged and congested pores and eventually a breakout. Because of this, I am quite paranoid about removing all my makeup at the end of the day. I usually reach for a makeup wipe, or a gentle micellar water to whisk away impurities and makeup in a pinch. As a big fan of Bi-Facil to remove my eye makeup, I was excited to try Bi-Facil Face after receiving a complimentary sample from the brand.
Truth be told, I wasn't sure if Lancome's Bi-Facil Face would be able to compete with some of my favorite makeup removers, but sure enough I was incredibly impressed. I first shook the bottle to blend the two phases together, then saturated a cotton pad with the elixir. After sweeping the cotton pad across my face, I was delighted by how quickly and effortlessly my makeup was removed from my skin. After just a few more swipes using a clean cotton pad, my makeup appeared to be fully removed. What's more, my skin looked radiant and felt clean as I continued with the rest of my nightly routine. Needless to say, Lancome Bi-Facil Face is definitely a new staple in my beauty cabinet.  
Editor's Note: Need to remove stubborn, waterproof eye makeup or long-wear lipstick at the end of the day? Reach for Lancome's Bi-Facil Double-Action Eye Makeup Remover. Bi-Facil Face works well to remove concealer and foundation, but is not intended for use on the eyes or lips—leave that to Bi-Facil Eyes! Talk about a power couple.
Lancome Bi-Facil Face, $40.00 MSRP
Read more

Back to top