This Jelly Mask Will Be Your Go-To Product This Summer
November 01, 2019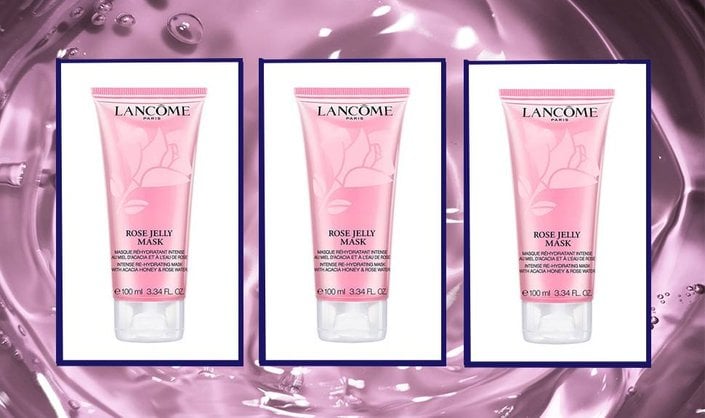 One of the most important factors for soft, supple-looking skin is undoubtedly moisture. Giving your skin the hydration it needs is one of the best ways to keep it feeling smooth and velvety. While moisturizers can help quench your skin, it's nice to up the ante with a hydrating face mask a few times per week.
That's where Lancôme's Moisturizing Rose Jelly Overnight Mask comes into play. Our friends over at Lancôme sent us a complimentary sample of this pink-hued hydrating mask to try and review and, spoiler alert, we were impressed. Find out more in our review of the Lancôme Rose Jelly Face Mask below!
The Benefits of Lancôme Rose Jelly Mask
Before we dive right into our review, we're giving you the low-down on everything you need to know about Lancôme's newly-launched face mask. This re-hydrating mask is made with acacia honey and rose water, and works to lock in moisture. This overnight mask provides all day hydration, leaving your skin smoother and suppler by the morning.
If dryness is one of your skin concerns, then this product should be your go-to nighttime face mask. It's formulated to re-hydrate your skin so you can wake up to skin that looks and feels its best.
Lancôme Rose Jelly Mask Review
Whether your skin is naturally dry or you're just dealing with a single dry patch, Lancôme's new Rose Jelly Mask can help boost your skin's hydration levels.
Recommended for: This product is ideal for all skin types, even sensitive.
Why We Love It: This jelly-textured face mask delivers a fresh sensation upon application. It doesn't leave behind a sticky residue upon drying, so you won't have to worry about ruining your pillowcases and sheets while you're sleeping. And, of course, I have to talk about the way my skin felt the morning after! My face felt hydrated and looked more radiant after rinsing off this face mask.
Long story short: Rose Jelly Mask is as impressive as it is pretty. The pink gel turns translucent on the skin as it glides over your complexion. Not only did the jelly mask's texture feel nice, but its aroma was delightful and not too overbearing. Overall, I can't wait to make Rose Jelly Mask a staple in my nighttime skin care routine.
How To Use Lancôme Rose Jelly Mask 
Ready to try it out for yourself?
Step #1: Wash and cleanse your skin as usual.
Step #2: Apply a generous amount of Rose Jelly Mask onto dry and clean skin in the evening.  
Editor's tip: If you have combination (like myself), apply this mask on dry areas. The skin on my cheeks is noticeably drier than other parts of my face, so I applied this mask in that area to deliver a hydration boost.
Step #3: Let the formula absorb into your skin overnight without wiping or rising off.
Step #4: In the morning, cleanse your skin as usual.
For best results, Lancôme recommends pairing Rose Jelly Mask with the brand's new Rose Sugar Scrub. We share our review of the Lancôme Rose Sugar Scrub here!
Read more

Back to top