I Tried the L'Oréal Revitalift Cicacream — Here's What Happened
January 30, 2020
There are so many anti-aging products on the market that navigating through the drugstore aisle can be a challenge. Between serums, retinols and moisturizers, figuring out the right one to integrate into your routine can be overwhelming. That's why when L'Oréal Paris gifted us the Revitalift Anti-Aging Cicacream Face Moisturizer Pro-Retinol and Centella Asiatica for the purposes of this review, we couldn't wait to try it out. Ahead, find everything you need to know about cica cream and read our review of the anti-aging product.  
What Is Cica Cream?
Cica cream has been popping up everywhere in the skin-care space, so to get more information we spoke with Dr. Rocio Rivera, L'Oréal Paris' Head of Scientific Communications. Essentially cica cream is an anti-aging moisturizer that helps repair the skin barrier and resist signs of aging, says Rivera. She explains that the main ingredient in cica creams, centella asiatica (also known as tiger grass), is soothing and hydrating by design, which makes it ideal for anyone with sensitive skin. "Any formula that adds centella asiatica or tiger grass can help repair the skin barrier function," says Rivera. A healthy skin barrier is more effective at fighting signs of anti-aging. A disrupted skin barrier, however, can be triggered by environmental aggressors and can cause dryness and irritation, she adds. 
What's in Cica Cream?
The L'Oréal Revitalift Anti-Aging Cicacream Face Moisturizer Pro-Retinol and Centella Asiatica has a multi-purpose formula. Not only does it contain centella asiatica, but it also packs in powerful pro-retinol, a wrinkle-fighting ingredient. When paired together, the cream works to both correct pre-existing signs of aging and resist new ones, says Rivera. Centella asiatica helps to moisturize the skin and repair the barrier, while pro-retinol kicks in to help firm the skin and prevent the formation of wrinkles. The formula is also fragrance-, paraben- and alcohol-free.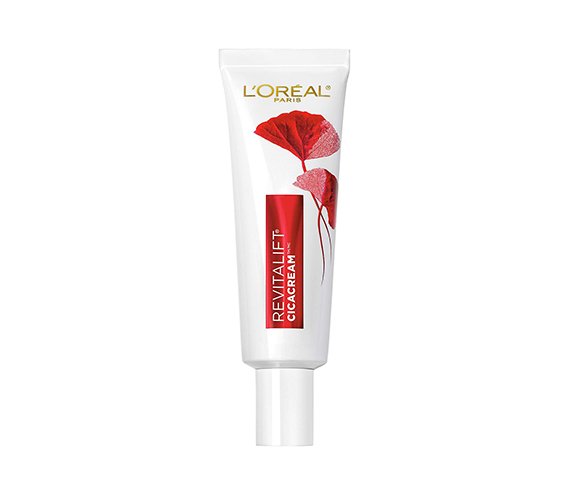 My Review
My skin definitely runs on the drier side, especially come winter, so I was excited to start incorporating this cica cream into my routine. After washing my face, I put about a dime-size amount on my hands. Initially, the formula seemed pretty creamy, but, once I applied it to my face, it sheered out nicely and had a lightweight, non-greasy finish. I felt the hydrating and soothing effects right away. Once applied, the areas that originally felt tight and dry on my skin (especially around my nose and mouth) felt movable and supple. 
I used the cream morning and night for two weeks and definitely noticed a change in my overall skin tone and texture. My flakiness all but disappeared, and while I don't have wrinkles just yet, I noticed a plumped and more supple complexion, specifically around my eyes. 
*I was gifted this product for the purposes of this review, but all opinions and thoughts are my own. 
Read More:
I Tried the SkinCeuticals C E Ferulic Serum and My Skin Has Never Looked Better
How to Get Rid of Hyperpigmentation Like a Pro
Read more

Back to top