Why This Hyaluronic Acid Serum Will Become Your New Beauty Hero
December 05, 2019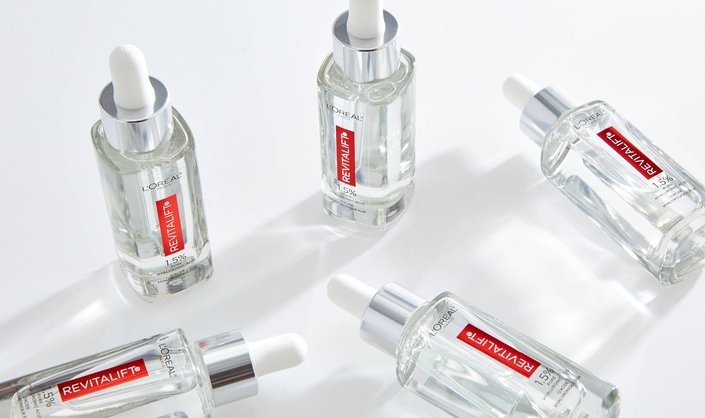 The transition to winter is always a tricky one for our skin. The cooler temperatures and drier conditions can often cause our skin to dry out and, as a result, feel rough instead of soft and smooth. Even if you follow all the proper precautions — think: cleansing with lukewarm water and hydrating your skin regularly — you still may fall victim to dry skin. When this happens, there's a particular ingredient — or should we say moisturizing powerhouse — that we turn to in our skin-care products. We'll give you a hint: It's a clear substance that occurs naturally within your own skin and can hold up to 1000x its weight in water. It can also help plump the skin with hydration, smooth the look of fine lines and eliminate dry patches. The answer? Hyaluronic acid.
The hydrating ingredient has become a universal go-to for the skin-care obsessed. Hyaluronic acid can be found in products ranging from face masks to moisturizers, but one of our favorite ways to incorporate the ingredient into our routine is through a serum, like the L'Oréal Paris Revitalift Derm Intensives 1.5% Pure Hyaluronic Acid Serum. This drugstore diamond gives you an abundance of hydration for just $29.99 (MSRP), which you can even afford if you're ballin' on a drugstore skin-care budget. Ahead, we broke down how exactly the hydrating magic in this little clear bottle works. 
What Hyaluronic Acid Can Do for Your Skin
According to Dr. Lisa Ginn, board-certified dermatologist and Skincare.com consultant, hyaluronic acid adds moisture to the skin, plumps the skin's appearance with hydration and can be used on all skin types. The main molecule involved in the skin's moisture is natural hyaluronic acid, which has a unique ability to bind and retain water. "While most acids found in skin care are used as exfoliants, hyaluronic acid is a moisture-binding power player," Dr. Ginn says. "When bound to water, hyaluronic acid takes on a viscous quality that gives many formulas a pleasing, gel-like texture." Because natural hyaluronic acid diminishes with age, using a hydrating serum with the coveted ingredient on the daily is key. 
How to Use Hyaluronic Acid In Your Regimen
To reap the benefits of the L'Oréeal Paris Revitalift Derm Intensives 1.5% Pure Hyaluronic Acid Serum, use 2-3 drops of it twice daily (morning and evening). The water-gel-like consistency quickly absorbs into the skin once applied, and almost immediately, you'll begin to notice that your skin feels more supple and looks smoother. Considering the formula seeps in, you won't be left feeling sticky or tacky. In fact, it gives you just the right amount of plump-to-the-touch texture that makeup will magnetize to. If you have sensitive skin, you'll also be pleased to find that this serum contains no parabens, mineral oil or synthetic dyes, has been tests on every skin type and is fragrance-free.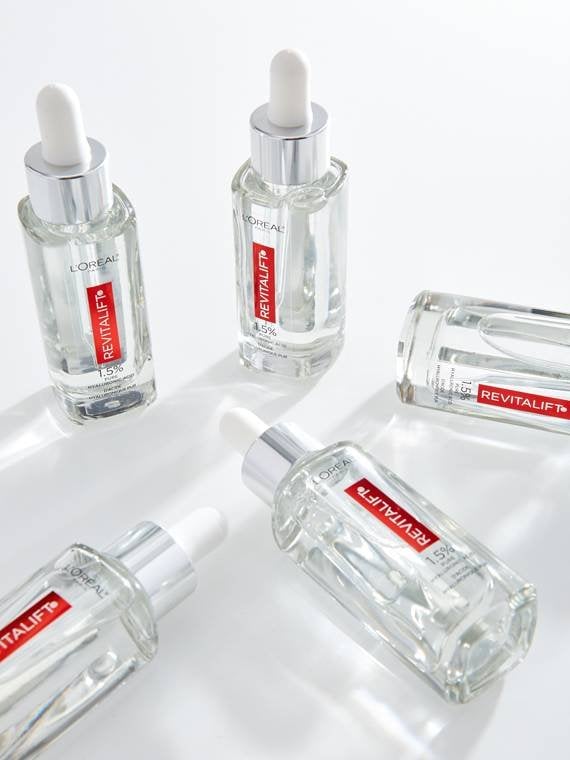 After application, follow with a soothing moisturizer like the CeraVe Moisturizing Lotion to lock in the serum, and your skin will feel velvety, buoyant and replenished.  
Read More:
The Ultimate Anti-Aging Body-Care Routine
A Simple Skin-Care Routine for Combination Skin Types
Why Thermal Water Spray Is the Ultimate Skin-Care Multitasker
Read more

Back to top