I Tried the L'Oréal Revitalift Line and Watched My Fine Lines Disappear
July 07, 2020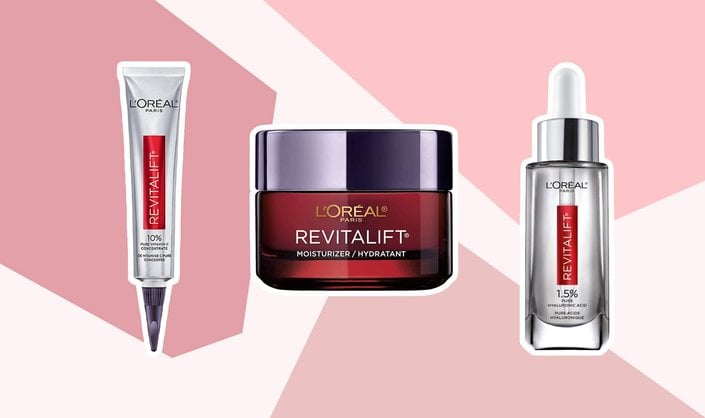 Incorporating anti-aging products into your skin-care routine doesn't have to break the bank, and the L'Oréal Paris RevitaLift product lineup is proof. The affordable range, which is owned by our parent company, L'Oréal, includes everything from eye and face moisturizing creams to exfoliating and vitamin C serums, all formulated to help reduce the appearance of fine lines and wrinkles and to cater to the needs of mature skin. We were lucky enough to receive eight RevitaLift products from the brand to try. Ahead, find our honest reviews.
A moisturizer can make or break a results-driven skin-care routine, and let me just say, this moisturizer seriously delivers. Formulated with pro-retinol, vitamin C and hyaluronic acid, this cream targets wrinkles, loss of firmness and radiance. Upon breaking open this anti-aging powerhouse, I noticed the texture felt rich but not too heavy. A walnut-sized amount was more than enough to cover my whole face, neck and décolletage. I found that warming the cream up between my hands and patting it on really helped the product seep in. When trying a new moisturizer, my biggest concern is pilling; this didn't happen at all with this product. Instead the Triple Power Anti-Aging Moisturizer was a great base for makeup and provided a nice lit-from-within glow. My skin started to feel softer and more supple after just a few uses, and around the two-week mark I noticed it looked plumper — especially around the eyes where I have fine lines.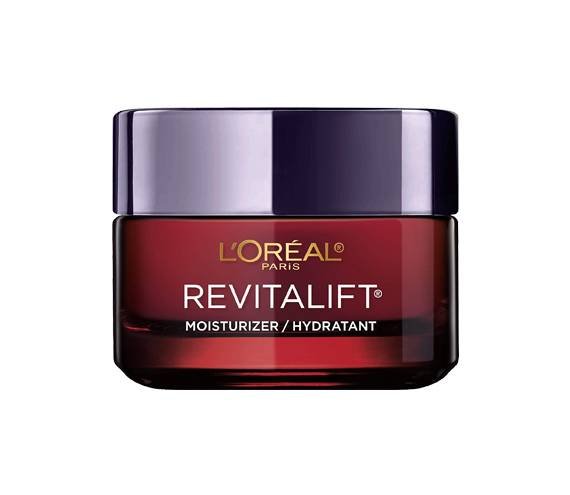 Acids often irritate my sensitive skin, so I was hesitant to give this serum a shot. But after looking at the ingredient list, I felt pretty confident, I'd be OK. In addition to glycolic acid, the serum contains aloe, a soothing ingredient. That being said, I still wanted to ease into using this product, so I applied it just twice a week, at night, for the first two weeks. Surprisingly, I experienced no dryness, redness or itchiness. I also started to see my acne scars and dark spots visibly reduce in appearance. This has quickly become a must-have in my routine. If you're on the hunt for a serum that will target an uneven skin tone, look no further than L'Oréal Paris Revitalift Derm Intensives 10% Pure Glycolic Acid Serum.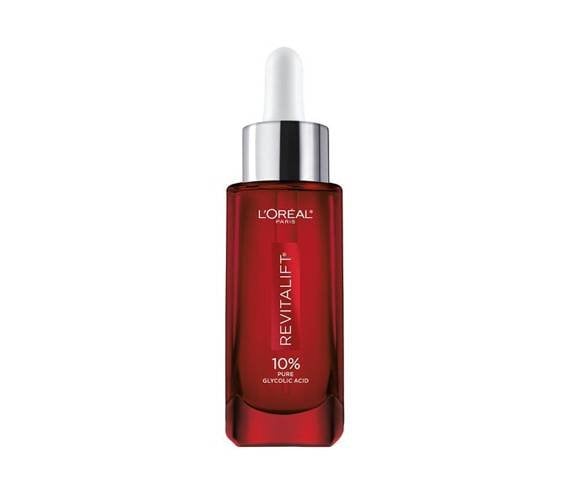 Hyaluronic acid helps skin attract and retain moisture. It's perfect for use before the Triple Power Anti-Aging Moisturizer, which will help seal that moisture in. My skin seriously loves this product; I apply it morning and night. A few drops absorb quickly and provide my skin with a supple feeling. The best part? I really feel the effects of this serum all day long.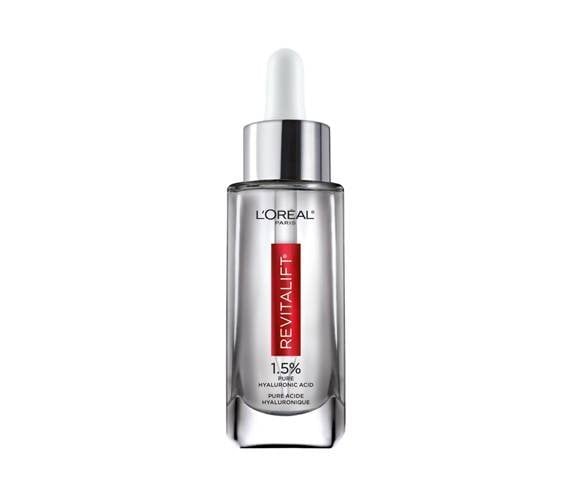 Another way to get your hyaluronic acid fix? With this seven-day supply of ampoules. Each individual ampoule contains a concentrated hyaluronic acid serum. I like to use one of these when my skin is feeling really dehydrated and is in need of a boost. My complexion looks instantly refreshed and smooth after use.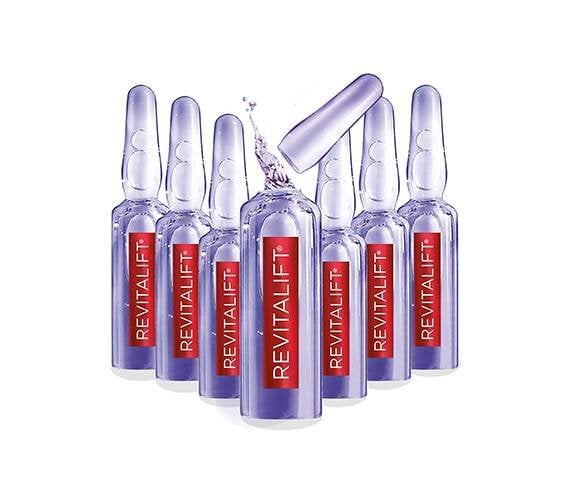 Nothing says healthy-looking skin like a lit-from-within glow. And what better way to get an illuminated complexion than with an antioxidant-rich serum? This product has a gel-like consistency and is extremely lightweight. Sometimes vitamin C makes my acne-prone skin break out, but I was pleased that even though this formula is potent (it's formulated without water), my skin didn't freak out at all. In just a week, I started to notice that my skin had a new, natural glow, even before putting on any other products.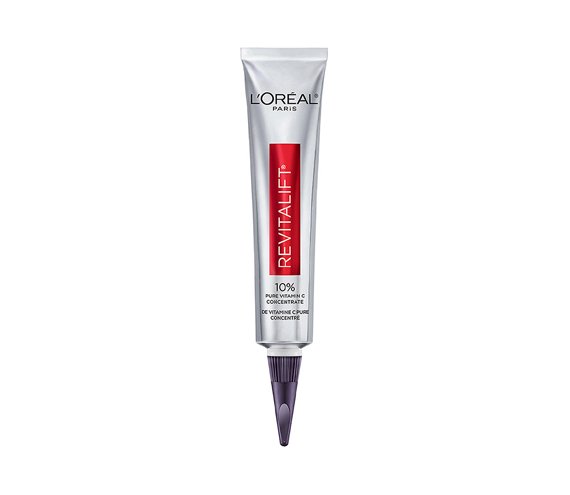 The sister product to the Triple Power Moisturizer, this anti-aging eye treatment is formulated with hyaluronic acid, pro-retinol and vitamin C. Given my affinity for the moisturizer, I was so excited to give this under-eye pick-me-up a try. Before even testing out the product, I fell in love with the applicator. Its metal tip provides an instant cooling sensation and fits perfectly in my eye contour. My under-eye definitely skews to the dry side; when I apply concealer it can sometimes look cakey. But, after just one week of using this eye cream, my under-eyes were noticeably more hydrated, less puffy and appeared brighter. Plus, the fine lines, wrinkles and crow's feet starting to form around my eyes seemed much less  visible.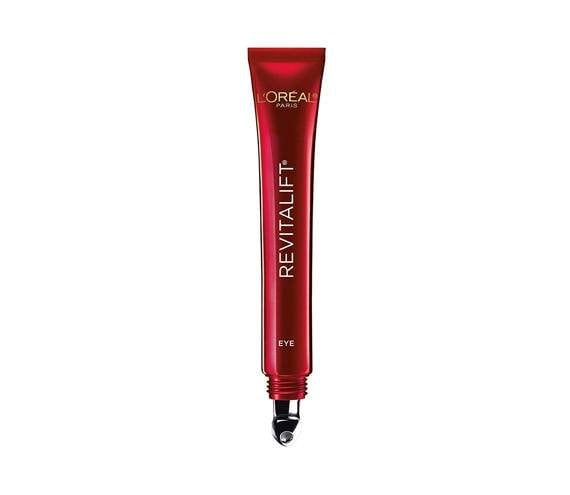 When you were younger you may have been able to get away with using the same moisturizer morning and night, but as we get older, a nourishing night cream can really be beneficial. This moisturizer is definitely thicker than the Triple Power moisturizer mentioned above, but I was pleasantly surprised to find that it doesn't feel greasy. After applying this before bed, I always wake up with a soft, plump-looking complexion. I love that it contains anti-aging pro-retinol and soothing centella asiatica.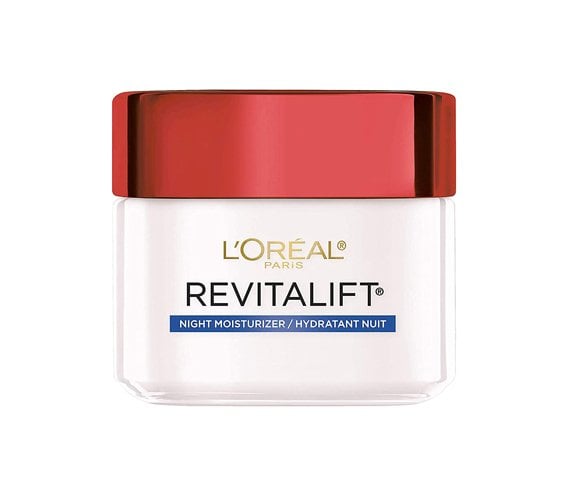 This eye cream is formulated to make the eye area look smoother and firmer in four weeks. Despite being a cream, the formula absorbs quickly and has a light consistency. Sometimes eye creams make my under-eye concealer pill, but this one provides the perfect smooth canvas.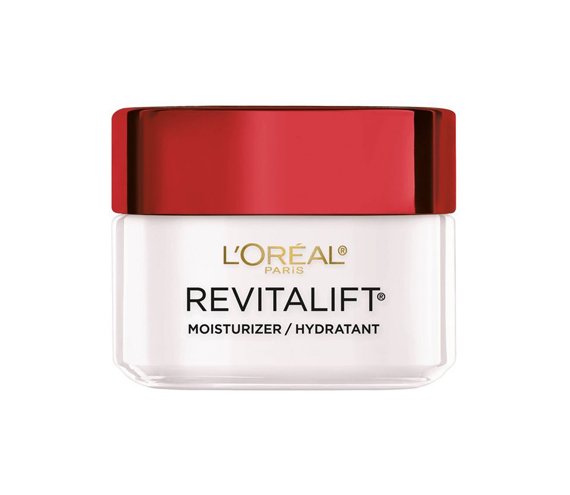 Read More:
10 Wrinkle Filler Creams to Target Signs of Aging
Can Your Skin Type Change Over Time? A Dermatologist Weighs In
8 Body Lotions to Help Reduce Signs of Aging
Read more

Back to top