Skincare Influencers to Follow for #Shelfie Inspiration
December 27, 2021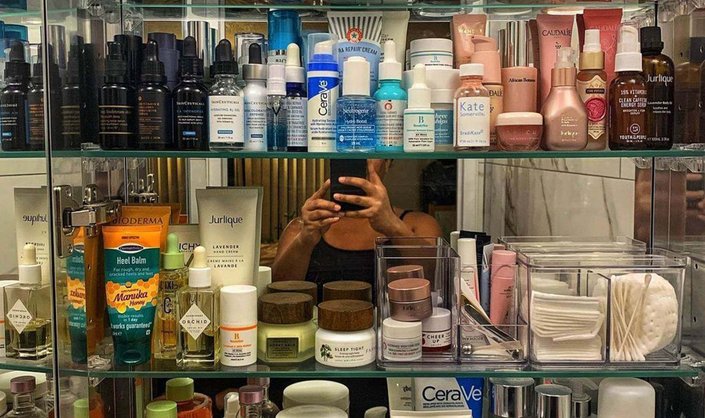 Even though we live in a Marie Kondo-influenced world and encourage any and all purging of joyless things, we have to admit that large collections of skincare make us feel things, especially if they're color coordinated. There's something satisfying about seeing aesthetically pleasing oils, serums and creams lined up on a mirrored vanity or arranged just so on a tray.
Obviously we're not alone, as evidenced by the slew of product-focused skincare Instagram accounts that have mastered the art of the #shelfie. Keep reading for our editors' favorite accounts to follow for inspiration.
Brooklyn-based makeup artist @ohuprettythings is known for her moody beauty shots and for making every product look irresistibly luxe, regardless of the price. She consistently rounds up her faves while also sharing shelfie shots that'll make you want to re-organize your stash into a soothing display like this one.
This is as much clutter as you'll see on @overglowededit's feed, who usually spotlights a few products at a time. She also shares full-length reviews and best-of lists on her blog Overglowed Edit, along with helpful skincare tips.
Obsessed with color and healthy skin, @courtneymwatt photographs her bright beauty collection and shares ingredients, benefits and more fun facts. We'd still follow her even if she said nothing at all — if only to stare at all the pretty pictures.
For dreamy, candle-lit photos follow @sharmtoaster, a skincare obsessed beauty enthusiast with an orangey-pink feed. You'll find a mix of mini product reviews and enough product inspo to keep you shopping for all eternity. Plus, find creative ways to display your skin goods like on this shell-inspired shelf.
In addition to lush shots of her favorite products (and the occasional curly hair tutorial), Sabrina (known on the interwebs as @the.skincare.collective) shares parts of her personal journey as a mom and offers self-care tips, too.
If you've ever wondered what it'd be like to live in a minimalist dreamscape where the light is always perfect, then you should follow @makingofmorley. She's a fan of drugstore store brands like Vichy, La Roche-Posay and Garnier and mixing them into her displays with luxe skincare.
A skincare maximalist with a talent for making a hoard of products look cohesive (we suspect it might be monochromatic pink aesthetic), @dirtyboysgetclean has photographing his stash down to a science. He also reviews many of the products you see in his photos.
Photo: Courtesy of @the.skincare.collective
Read more

Back to top