I Tried the SkinCeuticals Advanced Pigment Corrector — Here Are My Thoughts
April 15, 2020
While I hate to admit it, I wasn't always as conscientious with sunscreen as I am now. As a result, I have some dark spots and discoloration on my skin that are difficult to address. I've tested pretty much every product out there, but I have yet to find something lightweight, brightening and dark-spot correcting. So, when SkinCeuticals sent over a complimentary sample of its Advanced Pigment Corrector for the purposes of this review, I couldn't wait to give it a go. Find my thoughts on the color-correcting lotion, ahead. Spoiler alert: I'm loving it.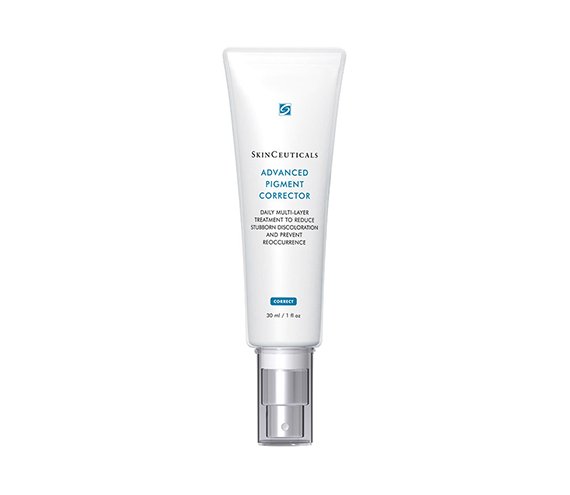 What Can Cause the Appearance of Skin Discoloration?
Cause #1: UV Rays
Skipping SPF is bad for your skin  in more ways than one. Not only can unprotected exposure cause visible dark spots and discoloration, but UV rays can also contribute to signs of aging like wrinkles and fine lines. Keep your skin on your face and body protected year-round by applying sunscreen every day. We recommend the La Roche-Posay Anthelios Melt-In Milk Sunscreen SPF 100. 
Cause #2: Air Pollution
According to a study in the Journal of Investigative Dermatology, chronic exposure to traffic-related air pollution can cause the appearance of dark spots. One way to protect your skin against pollution is to use antioxidant -ich skin-care products, like those with vitamin C. This will help brighten the skin and protect you from free radical damage. 
Cause #3: Hormonal Shifts
Melasma, a skin condition that commonly affects pregnant women, is a form of skin discoloration that may occur as a result of sudden hormonal shifts. It presents as gray or brown patches on the face. While it may fade on its own, skin-lightening creams can help. 
The Benefits of SkinCeuticals Advanced Pigment Corrector
This multi-layer corrector can help reduce the appearance of stubborn skin discoloration and uneven skin tone while also working to boost the skin's natural radiance. It's formulated with hydroxyphenoxy propionic acid, ellagic acid and salicylic acid, which exfoliates the skin's surface, fades the appearance of discoloration and improves overall skin appearance.
How to Use SkinCeuticals Advanced Pigment Corrector
Twice daily, apply one to two pumps of SkinCeuticals Advanced Pigment Corrector to a dry face and areas of discoloration, or use as directed by a physician. In the morning, we recommend applying it after an antioxidant serum, like SkinCeuticals C E Ferulic, and before sunscreen. Because UV rays can exacerbate the look of dark marks and discoloration, it's best to limit sun exposure while using this product. What's more, this lotion is great for use on all skin types, including sensitive skin. 
SkinCeuticals Advanced Pigment Corrector Review
Growing up, I rarely applied sunscreen before heading outdoors, unless it was a beach day. Even then, I wasn't reapplying the sunscreen as recommended. These choices put my skin at risk for premature aging and caused some dark spots to creep up on my cheeks, which is why I was so excited to give the SkinCeuticals Advanced Pigment Corrector a try and hopefully lighten some of my discoloration. The first time I used the product, I was pleasantly surprised with its texture. It is super lightweight, very gentle and hydrating. I liked that it is fragrance-, paraben- and dye-free because it didn't irritate my sensitive skin. I was definitely worried that it wouldn't be moisturizing enough to work as an everyday moisturizer, but my skepticism quickly dissipated once I began using the product. Immediately after application, my skin felt hydrated and soft. It had a silky smooth texture and layered great under makeup. I continued using the product and, over time, I noticed that the dark spots and acne scars on my complexion appeared less noticeable. What's more, my skin looked more radiant and brighter than it had a while. I'll definitely be keeping this as part of my morning skin-care routine! 
Read More:
5 Editor-Approved Eye Creams Available on Amazon
This Is Why You Should Never Wear Makeup to the Gym
Career Diaries: How Craig Dubitsky, Founder of Hello Products, Is Making Toothpaste Fun
Read more

Back to top