The SkinCeuticals A.G.E. Eye Complex Has Seriously Improved the Appearance of My Fine Lines
December 14, 2021
The delicate eye area can be one of the first places to show signs of aging. Over the past few months, I've definitely begun to notice fine lines, creping and loss of volume and moisture around my eyes. To give my under-eye area a little extra TLC, I know that using a hydrating eye cream is a must, but I've struggled to find a go-to product. When I received a complimentary sample of the SkinCeuticals A.G.E. Eye Complex, I couldn't wait to give this anti-aging product a try. Spoiler: It's really, really good.
The Benefits of SkinCeuticals A.G.E. Eye Complex
Skin around the eye contour is paper thin and extremely delicate, which can make visible signs of aging even more apparent. Glycation, a major factor of intrinsic aging (the natural aging process), occurs when excess sugar molecules in the cells stick to collagen and elastin fibers. It then causes chemical reactions called A.G.E. or Advanced Glycation-End. These reactions can reduce the fibers' regenerative ability and lead to wrinkling of the skin. That's where A.G.E. Complex comes in. This eye cream is specially formulated to improve the crepey, sagging appearance around the eyes caused by intrinsic aging processes like glycation. What's more, it alleviates puffiness and dark circles.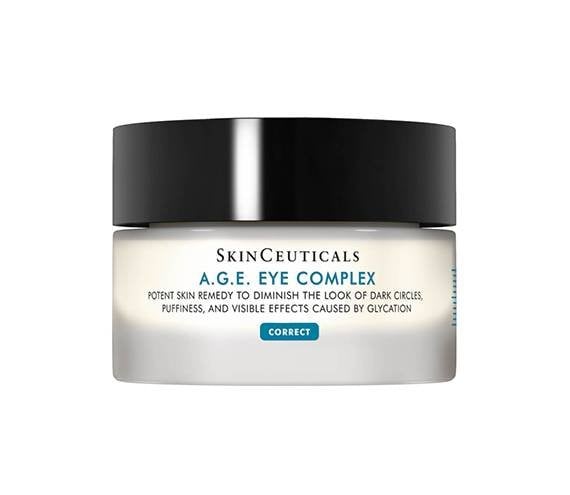 How to Use SkinCeuticals A.G.E. Eye Complex
Eye creams can sometimes irritate the eye area if applied too close to the eye. The best way to apply eye cream is by placing small dots around each orbital bone from the inner to the outer corners of the eye area, plus the brow bone. Then, using the tip of your ring or pinky finger, gently blend the formula with light strokes. Be sure not to tug on the skin, as this can cause wrinkling over time. Instead, stick to a light dabbing motion.
SkinCeuticals A.G.E. Eye Complex Review
My skin gets especially dry in colder weather, and as a result crow's feet and expression lines around my eyes are appearing more prominent than usual. So, after washing my face, I dipped my clean pinky finger into the jar and began placing small dots around my eye contour area, blending gently. The cream goes on thick but quickly absorbs into the skin and leaves behind a velvety-soft, silky finish. It instantly quenched my dry skin and gave my under-eye a more radiant appearance. There was no sticky residue left behind and my concealer layered seamlessly over top. One thing to note: A little bit goes a long way with this cream. So even though the jar is small, it will last a while. 
My initial impression was all positive, but I was curious to see what the long-term effects would be, so I continued using the product morning and night for about two months. Around the six-week mark, my under-eye area looked plumped and moisturized. I had no dry patches or irritation. What's more, my fine lines and crow's feet had a visibly reduced appearance. And, perhaps my favorite benefit is that my dark circles appeared brighter and I looked more awake, even when I didn't get a full night's sleep. This eye cream certainly lives up to my expectations. I seriously recommend adding it to your anti-aging arsenal — for me it's a winner! 
Design: Hannah Packer
Read More:
9 Eye Creams That Will Make You Look More Awake
How One Editor Is Using L'Oréal Paris' New Skin-Smoothing Eye Serum
When to Start Using an Eye Cream and Our Favorites to Try 
Read more

Back to top