Our Editor Put the SkinCeuticals A.G.E. Interrupter to the Test
September 09, 2021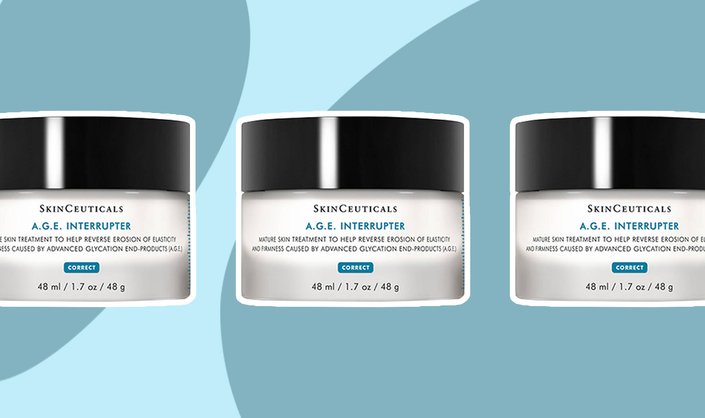 As we age, our skin starts to undergo a transformation. Surface changes in our complexion can include visible wrinkles, skin that appears saggy or thin, as well as a rough-looking and uneven texture. Color changes can occur too, including the appearance of dark spots, uneven tone and an overall dullness and lack of radiance.
Unfortunately, there's nothing we can do to stop the clock, but our best line of defense is a carefully-crafted skincare routine that can help address various visible skin-aging concerns. The SkinCeuticals A.G.E. Interrupter is one of our favorite products to use for this. Keep reading for the product's benefits and our honest review.
What Is Glycation?
The A.G.E. in the SkinCeuticals A.G.E. Interrupter stands for Advanced Glycation End-product. Before we discuss the benefits of the product, we think it's important to understand what glycation is, as well as some differences between the two main types of natural skin aging. Glycation occurs when excess sugar molecules in the cells stick to collagen and elastin fibers, binding to them and causing chemical reactions, called Advanced Glycation End-products. These reactions reduce the fibers' regenerative ability, leading to severe wrinkling of the skin. Glycation is also known to be one of the major factors of intrinsic aging.
The Difference Between Intrinsic and Extrinsic Aging
Intrinsic aging occurs as a natural consequence of time. It's genetically determined and differs from individual to individual, due to internal physiological factors. On the contrary, extrinsic aging occurs as a result of external factors, including exposure to UV rays, cigarette smoking and air pollution, among others. We can help manage the visible signs of this type of aging with small adjustments to our lifestyles — like limiting the amount of time we spend in the sun, how stressed we are and how often we apply SPF, for example.
The Benefits of SkinCeuticals A.G.E. Interrupter
Glycation can have devastating consequences on the appearance of your skin, as mentioned above, so you'll want to build up your skincare arsenal in order to help address the effects. That's where the SkinCeuticals A.G.E. Interrupter comes in. As its name suggests, it features an advanced formula that can help fight the visible signs of aging caused by Advanced Glycation End-products (A.G.E.). The anti-aging cream, which is formulated with proxylane, blueberry extract and phytosphingosine, can help manage the erosion of skin elasticity and firmness while addressing skin creping and thinning, wrinkles and rough texture.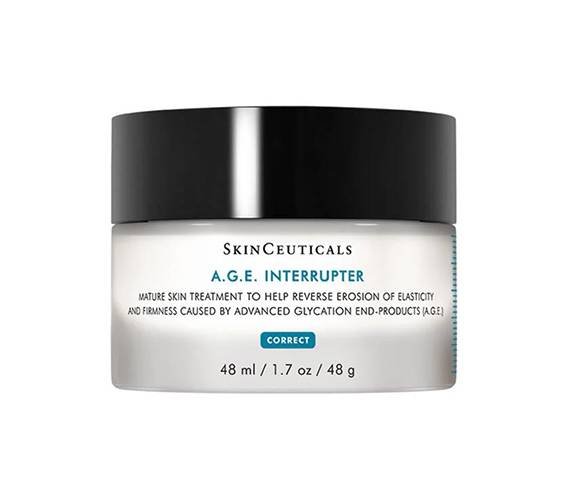 It's also important to note that because hydrated skin tends to look plump, moist and smooth, wrinkles can appear less obvious. That's another reason why daily applications of a moisturizer like the SkinCeuticals A.G.E. Interrupter are crucial. The formula can help restore moisture to the surface of your skin, thus helping improve its appearance.
Who Should Use SkinCeuticals A.G.E. Interrupter
This formula is specially made for mature skin, so it's a good pick for anyone who is eager to help improve the visible signs of aging.
How to Use SkinCeuticals A.G.E. Interrupter
Apply a thin, even layer of the SkinCeuticals A.G.E. Interrupter once or twice daily to the face, neck and chest. To help keep your skin looking its healthiest, also be sure to pay close attention to how much sun you're exposing your skin to. You can protect your skin by using a topical serum formulated with antioxidants, like the SkinCeuticals C E Ferulic, and a broad-spectrum sunscreen each and every day.
An Editor's SkinCeuticals A.G.E. Interrupter Review
With this moisturizer, a small amount goes a long way. The formula goes on rich but quickly absorbs without leaving behind a heavy, sticky or greasy feeling. I have a few lines on my forehead, so I've been dabbing a few dots of A.G.E. Interrupter on them daily for weeks and I've already noticed a significant difference. The lines appear more blurred and the skin around it more plumped, firm and bright. My skin also feels incredibly soft and hydrated after just one application. The product is formulated with a fragrance, so it may not be the right pick for sensitive skin types that are averse to scented products. Other than that, I give this cream two thumbs up!
Design: Hannah Packer
Read More:
How to Choose a Vitamin C Product
Does Dry Skin Cause Wrinkles? We Asked a Derm
What Is the Skin's Moisture Barrier?
Read more

Back to top