Why SkinCeuticals C E Ferulic Is a Vitamin C Serum Worth the Money
March 14, 2022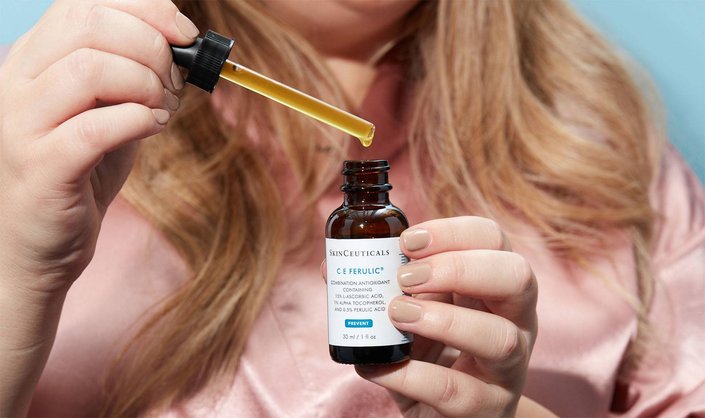 Buzzy skincare serums come and go, but SkinCeuticals C E Ferulic is undoubtedly one that has stood the test of time, and for good reason. Formulated with l-ascorbic acid (AKA vitamin C), alpha tocopherol (otherwise known as vitamin E) and ferulic acid, the serum is an anti-aging powerhouse that packs in potent ingredients and delivers results. Ahead, read our full review on just what this serum does and why it's a beauty editor favorite.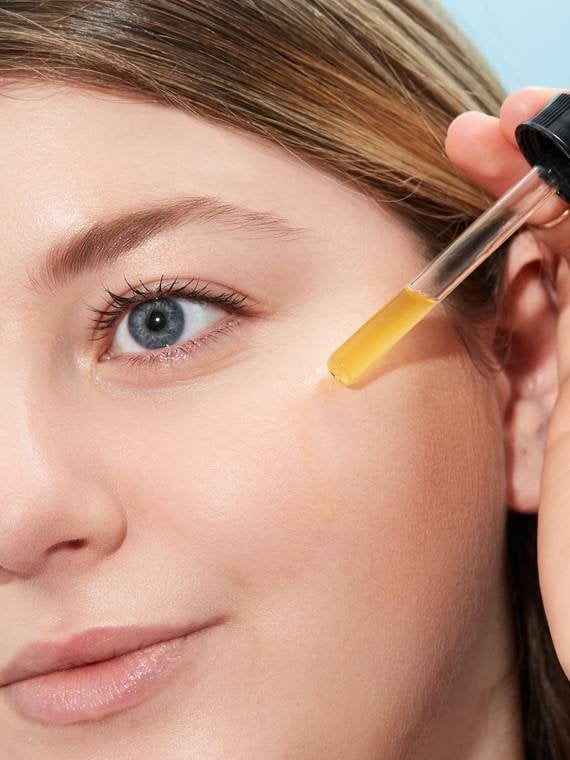 The Skincare Benefits of SkinCeuticals C E Ferulic
While we recommend this serum for just about anyone looking to give their skin some extra glow, it's a particularly great pick if you're trying to combat signs of aging. The reason? The formula helps fight the effects of air pollution, which can contribute to premature signs of fine lines and wrinkles. Essentially, the antioxidants in C E Ferulic help neutralize free radicals from UVA and UVB rays, infrared radiation and ozone pollution. To add to its anti-aging claims, the serum also helps improve signs of photoaging and dark spots. Plus, it's approved for use on dry, normal and sensitive skin, so you shouldn't experience irritation.
How to Use the SkinCeuticals C E Ferulic
SkinCeuticals C E Ferulic is packaged in a dark glass bottle with a dropper. This is because vitamin C oxidizes over time, which can cause the formula to darken — especially when placed in sunlight. For best results, keep your bottle in a cool, dry and dark place. Cleanse your skin to remove any impurities on its surface, then apply four to five drops to your face, neck and chest. Follow up with a hydrating moisturizer and a broad-spectrum SPF of at least 30.
Our SkinCeuticals C E Ferulic Review
With a five-star rating pretty much across the board, I couldn't wait to test out the product. Upon first use, I noticed how light the consistency is. I made a point to release just one drop into my hand at a time. Let's face it: This is an expensive product and I wanted to get as much use out of the bottle as possible. The liquid definitely had a slight scent, but it's not  unpleasant. I patted the product into my skin. At first it left a tackiness behind, but after a minute or two it was completely absorbed. I immediately followed up with a moisturizer to finish off my morning routine. My skin was left feeling hydrated and plump. It also gave a nice, luminous sheen to the high points of my face post-application.  
After using the serum for two months, I really started to notice that the overall tone of my skin looked more radiant and that the fine lines on my forehead had a softened appearance. My skin tone appeared more even, and the dark spots that previously stood out had noticeably faded. The best part? I love knowing that my skin is being protected from the grimy, city pollution. I'll definitely be adding this to my skincare stash permanently.
Photo Credit: Chaunte Vaughn

Read More:
What is Sallow Skin? Your Questions Answered
The 10 Commandments of Skincare, According to Our Editors
11 Products to Add to Your Skincare Stash This Fall
Read more

Back to top