Why the SkinCeuticals H.A. Intensifier Is the Gold Standard for Youthful-Looking Skin
February 19, 2020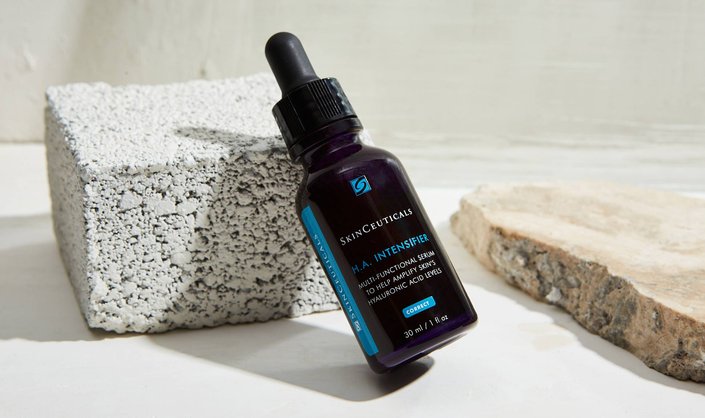 If you're a skin-care enthusiast, odds are you've probably heard about hyaluronic acid at one point or another. If you're not sure exactly what it is, board-certified dermatologist and Skincare.com consultant Lisa Ginn M.D., says it's known to attract water like a magnet. "H.A. molecules act like sponges that pull in water, in order to pull moisture over your skin like a blanket." While our bodies naturally produce it, as we age, H.A. tends to slow down in production, which is why incorporating it into our skin-care routine is key for giving the skin the necessary moisture it needs. Hyaluronic acid is the gold-standard ingredient when trying to achieve skin that is hydrated, plump and youthful-looking, and thankfully, there's no lack of H.A. products on the market. 

Enter: the SkinCeuticals H.A. Intensifier. When we received a complimentary sample for the purposes of this review, we couldn't wait to give it a try. Find out everything you need to know about the serum, including one editor's thoughts, ahead. 
The Benefits of the SkinCeuticals H.A. Intensifier
The SkinCeuticals H.A. Intensifier boasts an impressive roster of ingredients. In addition to hyaluronic acid, the formula also includes proxylane and purple rice extract, which support and boost the skin's hyaluronic acid levels by 30% to deliver long-lasting hydration. It also works to improve the appearance of the skin's texture and promotes plumpness, elasticity, smoothness and firmness. After every use you'll find that the formula reduces the appearance of the three major signs of aging, like crow's feet, laugh lines and lines around the chin. The product is also paraben-free, dye-free and recommended for all skin types, including those with very a sensitive complexion. 


How to Use the SkinCeuticals H.A. Intensifier
The serum comes in a glass bottle with a pipette to help with quantity control. Twice daily, squeeze the bulb to draw up the product and then apply four to six drops to your face, extending down to your neck and chest. In the morning, you'll want to apply this prior to your vitamin C serum. In the evening, this should be applied post-retinol. 
 
Our SkinCeuticals H.A. Intensifier Review 
Upon opening the serum, the first thing I noticed was its color. It's a gorgeous shade of purple (thanks to the purple rice extract) that you'd expect to see in a tube of lipstick but not necessarily in a skin-care serum. Initially, the product felt more like a lightweight gel, but when I applied to my skin I found that it spread on like water. The purple texture absorbed into my skin and left my face feeling instantly hydrated and plumped. The feeling of dry,  tight skin was immediately smoothed away, and I was instantly hooked after the first use. After incorporating the serum into my routine for about six weeks, I started to notice a more even skin texture, more hydrated appearance, and my fine lines even looked less prevalent. Ever since adding the SkinCeuticals H.A. Intensifier into my skin-care routine, I feel like my skin has never felt healthier or looked more youthful, and for that, I am forever grateful. I highly recommend giving this product a try — you won't want to miss out on it. 



Read More: 
Our Editor Put the SkinCeuticals A.G.E. Interrupter to the Test
Why the SkinCeuticals Triple Lipid Restore Is Everything You Need for Youthful-Looking Skin
The SkinCeuticals Custom D.O.S.E Made One Editor a Personalized Skin-Care Convert
Read more

Back to top