Editor's Pick: SkinCeuticals Hydrating B5 Gel Review
April 26, 2017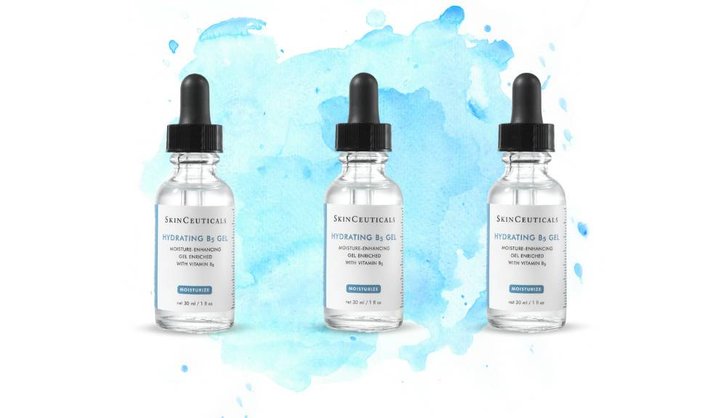 After the winter's cold weather wreaked havoc on my complexion this year (as it always inevitably does) I was thrilled when I saw SkinCeuticals had sent us a complimentary sample of its Hydrating B5 Gel to review. Naturally, I snatched it up and took it along on my last getaway to truly put it to the test. How did it measure up? Keep reading to find out!
The Importance of Moisturizing
Before we get into our SkinCeuticals Hydrating B5 Gel review, let's quickly touch on the importance of moisturizing the skin. Young skin is known to have a natural abundance of moisture—thanks largely in part to hyaluronic acid, a hydrating substance which occurs naturally in our bodies. This abundance of moisture is a large reason why younger skin appears to be more supple, plump, and radiant than older skin. However, as we age this natural abundance of moisture begins to decline, causing the skin to show visible signs of aging—everything from a dull-looking skin tone to noticeable fine lines. This is why it's so important—read: absolutely necessary—to moisturize your skin every single day and night after cleansing.
The Benefits of Hyaluronic Acid
Hyaluronic acid is a potent humectant able to attract and lock in moisture up to 1000 times its own weight. While in our younger years, our natural store of hyaluronic acid was plentiful; as the ticking hands of time do their unstoppable thing, however, these stores start to dwindle down, leaving us with drier skin. Reaching for formulas with hyaluronic acid helps give your skin what it truly craves—lots of hydration. One such formula? SkinCeuticals Hydrating B5 Gel. 
The Benefits of SkinCeuticals Hydrating B5 Gel
Be it the weather or simply the passing of time, sometimes even the most most supple-looking complexions can dry out. Thankfully, that's where SkinCeuticals Hydrating B5 Gel comes in. This moisture-enhancing gel formula is enriched with replenishing ingredients like vitamin B5 to help maximize the benefits of your daily moisturizer. What's more, the gel is formulated with hyaluronic acid, our body's natural hydrator, to help bind this moisture to the skin.
How To Use SkinCeuticals Hydrating B5 Gel
Unlike other moisturizers—which come in jars, pumps, and tubes—this beauty comes in glass bottle complete with a dropper which truly helps when a little goes a long way. To use, place just 3-5 drops of the liquid-like formula in the palm of your hand and use your finger tips to gently apply the product to your face, neck, and chest being careful to avoid your eye area. Do this up to twice a day for the best results. What's great about SkinCeuticals Hydrating B5 Gel is that it can also be used on other dehydrated areas of the skin—I admittedly used a bit on a patch of dryness on my hand!
The gel is formulated with just four ingredients: water, sodium hyaluronate (the sodium salt of hyaluronic acid) pantothenic acid (vitamin b5) and phenoxyenthanol (a common cosmetic preservative). It doesn't have a scent that I could pick up on and is non-sticky—all wins in my book.
SkinCeuticals Hydrating B5 Gel Review
My skin type is dry so during the winter months I have an especially hard time keeping my skin hydrated. This year I upped the dryness factor by traveling to Arizona where not only was it unseasonably cold but it is also notoriously dry. I opted to use the Hydrating B5 Gel right after cleansing just before my usual day and night moisturizers—and I won't name names but they never hold up when I'm in the low-humidity climate of Arizona. The Hydrating B5 Gel made all the difference over the five days I was there. My skin felt hydrated and looked better than it had any other time I've traveled to a desert climate (which, for those wondering, is a lot… I really love the desert).  I didn't get the tell-tale dullness that typically accompanies dry skin or that horrible tight feeling that it's usually paired with. What's more, my makeup went on much better than usual—in the past it would cake in the creases and crevices that are always made worse-looking by dryness. Overall I'd rate the Hydrating B5 Gel with majorly high marks. I loved that the oil-free formula helped to bind moisture to my skin, leaving me feeling rest assured that this winter I wouldn't have to deal with dryness of seasons past. 
Read more

Back to top