I Put the SkinCeuticals Phloretin CF to the Test, and Now I'm Hooked on Vitamin C
April 07, 2020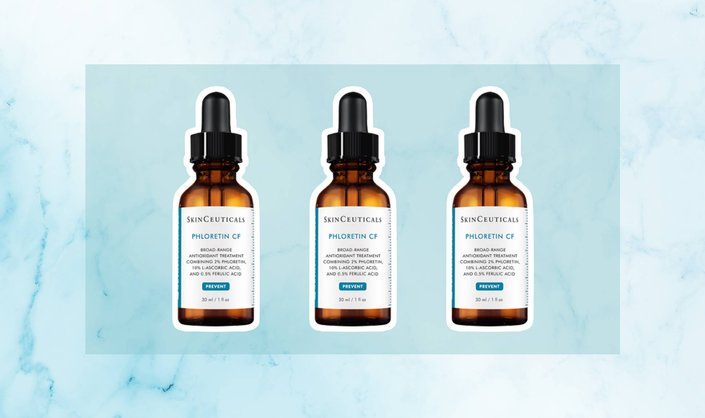 When it comes to anti-aging products, formulas that contain antioxidant-rich ingredients are front and center lately. Topical antioxidants can help protect and repair environmentally damaged skin, plus visibly brighten, hydrate and revitalize skin that appears dull and lifeless. One of the top antioxidants we rely on is vitamin C (Want to learn more about vitamin C? Read this!). But not all products formulated with vitamin C are created equally. Dermatologists recommend using products formulated with stabilized concentrations of vitamin C to avoid skin irritation. One vitamin C-rich serum in particular to keep on your radar? The SkinCeuticals Phloretin CF. Read on to find out what happened when one editor put it to the test.
What Are the Skin Benefits of Antioxidants?
Before we dive into the specifics about Phloretin CF, it's important to really understand how applying skin-care products formulated with antioxidants can be beneficial for your skin. 
Studies show that environmental aggressors such as UV rays, pollution and smoke can be responsible for the formation of free radicals in the skin. Put simply, free radicals are unstable molecules. When these molecules come into contact with our skin, they can ultimately cause more visible signs of premature aging like loss of firmness, wrinkles, fine lines, and skin dryness. Antioxidants can help the skin better protect itself from this environmental damage.
You're already wearing broad-spectrum SPF 30 or higher each and every day (right?!) to help protect your skin from harmful UV rays, so applying a product formulated with antioxidants in tandem can help bolster your line of defense. In the case of wrinkles, fine lines and other signs of aging, it's fair to say that you'll want all the protection you can get.
What Are the Benefits of SkinCeuticals
Phloretin CF?
The most impressive benefit is the formula's ability to help neutralize free radicals which can contribute to premature signs of skin aging. The powerful formula contains a highly potent and unique molecular combo with vitamin C, phloretin and ferulic acid. According to the American Academy of Dermatology, products formulated with vitamin C not only help soften the appearance of fine lines but may also help lighten dark spots over time with continued use. Thus, expect Phloretin CF to help diminish and accelerate cellular renewal to retexturize skin. 
How to Use SkinCeuticals
Phloretin CF
Step one? Cleanse and tone your face to remove any buildup of dirt or impurities on the skin's surface. Next, apply four to five drops of Phloretin CF in the palm of your hand. Using your fingertips, apply the serum to a dry face, neck and chest before using any other anti-aging skin care products. We recommend using the serum once a day since repeated over-application will not enhance its benefits and may even cause irritation. To complete your regimen, pair Phloretin CF with a SkinCeuticals sunscreen or your favorite broad-spectrum SPF 15 or higher. When used together, SkinCeuticals antioxidant-formulated products and broad-spectrum sunscreens provide enhanced protection against visible signs of aging caused by environmental aggressors. For more on why antioxidants and SPF are a key combo, read this!
Note: Phloretin CF is packaged in a dark glass bottle with a dropper. Why? Because vitamin C oxidizes and darkens with time, especially when placed in direct sunlight. (The formula still remains effective, however.) For best results, store Phloretin CF in a cool, dark place.
SkinCeuticals Phloretin CF is ideal for normal, oily, combination and aging skin types. If you'd like to start using Phloretin CF but aren't sure if it's suitable for your skin, consult your dermatologist or a licensed skin-care professional.
Skinceuticals Phloretin CF Review
Admittedly, I only began incorporating products formulated with antioxidants into my skin-care routine within the past six months or so. Not because I had any particular distaste for them, but because I didn't know just how crucial they are for my skin. Since that "aha" moment though, I've never missed a morning application of a topical vitamin C product.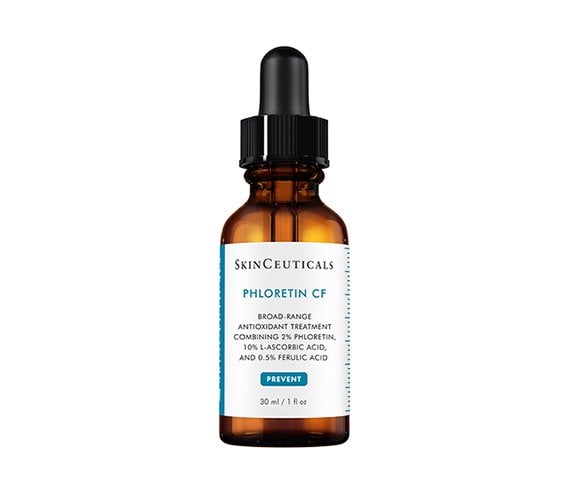 As a big fan of another SkinCeuticals serum, C E Ferulic, I was eager to try Phloretin CF as well. Similar to C E Ferulic, Phloretin CF is lightweight and applied with a dropper. The liquid serum is exactly that, a liquid, so it's actually very easy to pump out more than the recommended four to five drops (be careful!). The formula glides onto skin easily and penetrates quickly. I did notice a slight scent, but luckily it's not unbearable or unpleasant enough for me to quit using it. In fact, it pretty much disappeared once the formula absorbed into my skin.
With continued use, my skin felt hydrated and smooth to the touch. I pair it with daily SPF as instructed. Because I live in New York City, I feel better knowing that Phloretin CF is working in tandem with the broad-spectrum SPF helping to safeguard my skin against the inevitable pollution, sun, smoke, smog, etc. that my skin will come into contact with. I've noticed that my complexion looks healthier and more radiant. Some of my dark marks are also less noticeable. I'm confident that Phloretin CF will be a mainstay in my arsenal for a long time to come. 
Read More:
6 Things That Age Your Skin Prematurely
Why You Keep Getting Razor Burn and Razor Bumps
The One Skin-Care Product Everyone Should Be Using Daily
Read more

Back to top