Editor's Pick: SkinCeuticals Resveratrol B E Review
January 27, 2017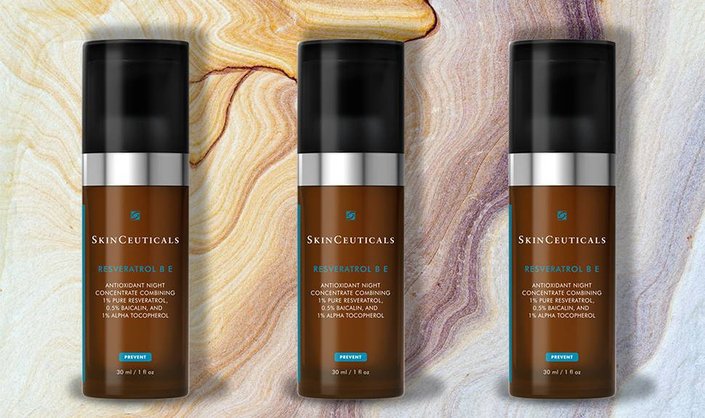 SkinCeuticals recently sent the Skincare.com team a complimentary sample of its Resveratrol B E to review, find out what one editor thought of this anti-aging skin care product, below!
Those that know me well can attest that I'm serious about my red wine. For its taste, yes, but mostly for its beauty benefits. (Heck, I even bathed in the stuff. More on that unforgettable experience, here.) Here's a little primer: Red wine is made of grapes. Grapes are packed with polyphenols, most notably resveratrol, a potent antioxidant that can help neutralize the damaging effects of free radicals created by the environment. Why is this a good thing? Because free radicals are public enemy #1 for your skin. Free radical damage is one of the leading causes of premature skin aging, like fine lines, wrinkles, and a dull complexion. It's true that red wine contains a little bit of it. There are also topical skin care formulas with the antioxidant such as SkinCeuticals Resveratrol B E. Why not try it? We got our hands on a sample of SkinCeuticals Resveratrol B E for Skincare.com to review—and we did just that, below! Keep reading to discover our review of SkinCeuticals Resveratrol B E, its benefits, how to use it, and why every anti-aging arsenal needs it.
The Benefits of SkinCeuticals Resveratrol B E
Every day, we head outdoors and subject our skin to a number of aggressors—think: UV rays, air pollution, and smoke—that can damage our skin. As explained earlier, free radicals are the bad guys and can cause intrinsic oxidation of skin, leading to signs of premature skin aging, including wrinkles, skin laxity, and imperfections. Where does resveratrol come into the picture? When products formulated with antioxidants are applied to skin, it can help neutralize intrinsic oxidative stress—and resveratrol is one of them. Studies have shown that resveratrol can boost skin's endogenous antioxidant defense, protecting against intrinsic oxidative stress to sustain healthy longevity.
You know what product just so happens to be formulated with resveratrol? You guessed it, SkinCeuticals Resveratrol B E! The nighttime treatment boosts skin's endogenous antioxidant defense against oxidative stress. The serum cocktail features a maximized concentration of pure, stable resveratrol synergistically enhanced with baicalin, and vitamin E to help skin neutralize intrinsic free radicals. SkinCeuticals Resveratrol B E protects and strengthens skin's natural defenses and reduces the visible effects of collagen breakdown for age-resilient, taut skin.
Why Use a Nighttime Antioxidant?
It's safe to assume that nobody wants to be on the receiving end of the damage caused by free radicals. That's why we apply topical antioxidants and sunscreen during the day (right!?) to keep those negative effects at bay, especially since most of the exposure to aggressors occurs during the daytime. This might make you wonder why antioxidants should be worn at night as well. Under normal conditions, the skin's own internal metabolism produces free radicals. It's when the skin is repeatedly exposed to skin-damaging aggression like UV rays and pollution that the skin produces excessive free radicals. When excessive free radicals are present, there's no better plan of attack than applying antioxidants 'round the clock.
How to Use SkinCeuticals Resveratrol B E
In the evening after cleansing, apply one to two pumps of SkinCeuticals Resveratrol B E to a dry face. Follow up with a SkinCeuticals corrective product and moisturizer.
Note: The color of the formula naturally evolves over time due to the high concentrations of key ingredients, however, the formula remains effective. Be sure to store it in a cool, dark place. 
SkinCeuticals Resveratrol B E Review
With all the hype surrounding resveratrol, I couldn't wait to try SkinCeuticals Resveratrol B E and reap the benefits of the popular antioxidant. The gel-like texture of the serum glides over the skin easily, leaving behind a velvety finish that's not sticky. The formula absorbed rapidly and left behind no uncomfortable tingling sensation. Immediately, my skin felt hydrated and smooth. I paired Resveratrol B E with broad-spectrum SPF 30 during the day. I've used Resveratrol B E consistently as part of my nighttime ritual for about two weeks and notice a more even skin tone and an overall brightness to my skin's appearance. I look forward to discovering the results with continued use!
The only downside I can think of is that the formula's scent can be a bit on the strong side. It's not unbearable, but it definitely has an odor. Luckily, it disappears almost as quickly as the formula absorbs into the skin.
Read more

Back to top