Making The Move to Retinol Doesn't Have to Be Hard — Here's Why
July 31, 2023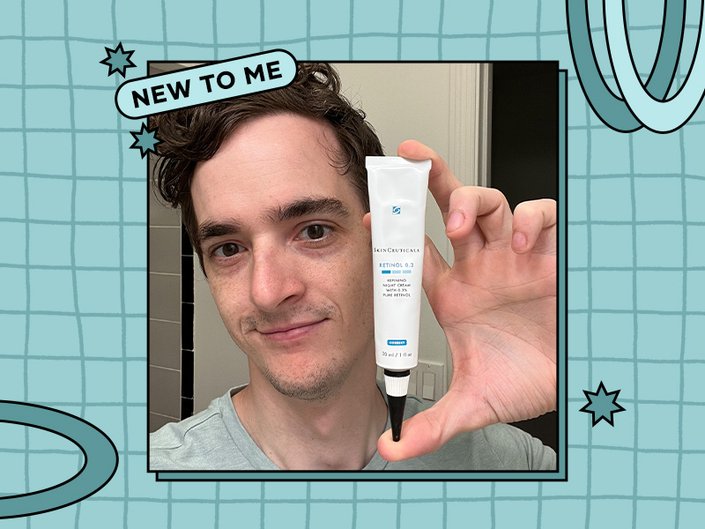 In our column, New to Me, writer and editor Stephen Rubino puts the newest and buzziest beauty products to the test, offering up his honest thoughts on how they perform and if they're really worth adding to your shopping cart.
As a man of a certain age (OK, 31), it's time for me to start factoring in anti-aging as a key goal of my skincare routine. I'm a recent convert to wearing SPF every day, as opposed to just beach days, so this feels like a pretty major step for someone who's fairly hands-off. But time stops for nobody, so I've decided to add another step in my usual process: retinol. A form of Vitamin A, retinol promises to help smooth out lines and refine the look of pores to help my skin stay youthful for longer. For this stage in my journey, I went with the SkinCeuticals Retinol 0.3, named for the 0.3% retinol in the ingredients.
Some basic info on retinol: it can be powerful stuff. It helps speed up cell turnover and cuts down on blemishes, but it can also be intense on your skin at first. SkinCeuticals recommends starting out with using retinol just a couple days per week, before switching to using it nightly. This is ideal for me, because I forgot to use it half the time anywayI'm bad with routines, what can I say?). They recommend using the 0.3 solution before escalating to their 0.5 version or even the (gasp!) 1.0 solution. One reason for the slow build: Retinol makes your face more sensitive to UV rays, so you'll want to be diligent about that SPF application, or you'll just end up at increased risk of a sunburn.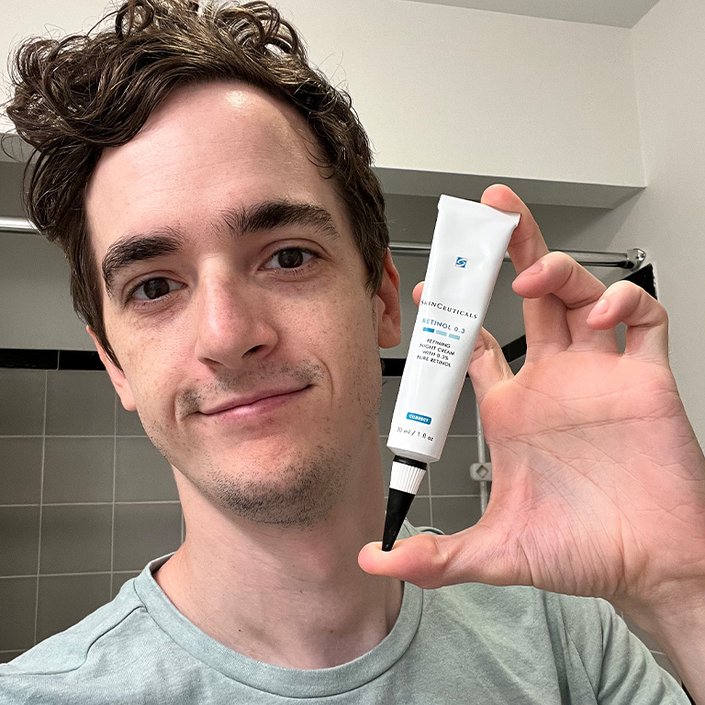 As someone who dislikes a complex routine, it can feel like a lot to keep track of. Did I remember the retinol last night? Am I using too much? (It turns out that an extremely small amount of retinol cream goes a long way.) If you're not a fan of multi-step skincare, this might not be the product for you — but then again, you're reading a skincare product review right now.
Personally, I felt like the cream did give my skin a noticeable bounce, and I woke up in the mornings thinking that I didn't need anything more than a splash of water to feel good. The non-retinol ingredients soothed my skin, and I felt the retinol acting to prevent what SkinCeuticals calls "laxity," the tendency for older skin to start sagging. My girlfriend even commented on my youthful glow (although she said she liked my wrinkles too, so maybe retinol is preventing me from reaching my Silver Fox era.) It's not a magic potion by any means –– although I only tried it for about a month, I didn't get the sense that I would suddenly wake up and look 23 again. Nevertheless, I liked the effects and will definitely re-up in the future to keep this as part of my routine. I'm not getting any younger, right?
Read more

Back to top