I Tried the SkinCeuticals Pure Retinol Line and the Results Are Seriously Impressive
July 14, 2021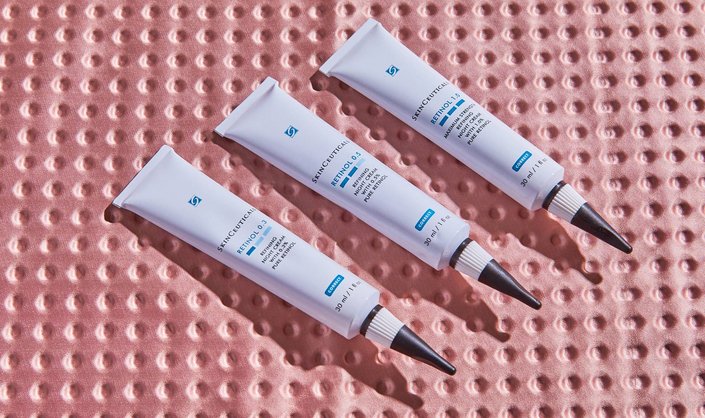 Retinol is praised by dermatologists and skincare experts for it's anti-aging benefits — but what exactly is it? Found in a range of skincare products including night creams, serums, and targeted acne solutions, retinol is a derivative of vitamin A that is clinically proven to visibly reduce signs of skin aging, improve uneven skin tones and refine skin's appearance. Because it's such a potent ingredient, it's recommended to select products that have a lower concentration (like 0.3%) to start, and slowly build up your tolerance to ensure your skin acclimates to the ingredient. 
SkinCeuticals crafted a comprehensive retinol line that prepares you to increase the ingredient's concentration over time from 0.3 to 0.5 and finally 1.0. All of the SkinCeuticals pure retinol products are designed to counteract the effects of photo- and intrinsic aging. While 1% is the highest potency that SkinCeuticals makes, the highest potency amount currently available in the United States without a prescription is 2%
Even though I have been a veteran retinol user, I decided to try out the SkinCeuticals Retinol 0.5 before advancing to the SkinCeuticals Retinol 1.0 to give my skin some time to get acclimated to such a potent product. I was especially excited to eventually work my way up to the higher concentration after reading numerous clinical studies that have shown retinol can have a revitalizing effect on skin by smoothing its surface, counteracting the visible signs of collagen loss due to UV exposure and improving skin clarity and tone.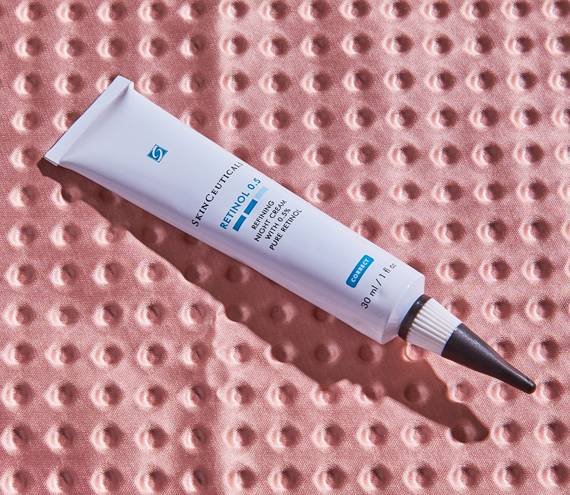 Every evening, I applied a pea-sized amount of SkinCeuticals Retinol 0.5 to freshly cleansed skin, making sure to avoid the eye area. The packaging recommended waiting to apply other skincare products until this night cream was completely absorbed, so I waited about 10 minutes before completing my routine.
I repeated my evening retinol ritual for about six months and have since noticed that the appearance of my dark spots significantly reduced, plus, my skin has been glowing. I recently switched over to the SkinCeuticals Retinol 1.0, and am thrilled that my skin has not had a negative reaction as a result of the higher concentration. The formula feels light on my skin, dries quickly and doesn't have any strong odor. After only one month with the more potent concentration, my skin feels smoother. I'm so happy with the results I've seen thus far and can't wait to see how my skin looks with continued use.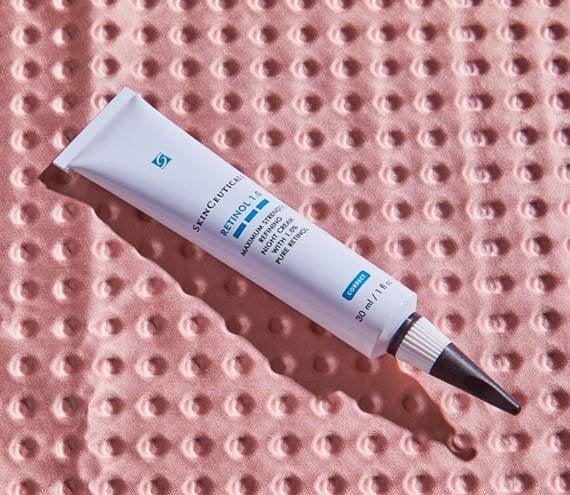 Photography: Chaunte Vaughn, Art Direction: Hannah Packer, Associate Creative Producer: Becca Solovay

Read More:
How to Safely Use Retinol in the Summer
Why You Need Vitamin C and Retinol in Your Anti-Aging Routine
The Difference Between Over-the-Counter and Prescription Retinol — Explained
Read more

Back to top