A Definitive Guide to Vichy Eye Creams
February 18, 2020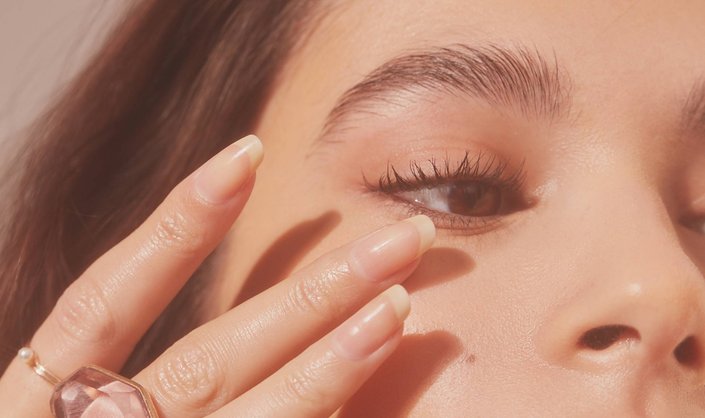 Did you know that the area of skin around your eyes — otherwise known as the eye contour — can be one of the first places to show signs of aging? Fortunately, there are tons of stellar (and affordable) eye creams to help combat everything from dark under-eye circles and puffiness to fine lines and wrinkles. Case in point? Vichy's range of eye creams and eye serums. From options that enhance the appearance of your eye contour to ones that promote an illuminated, youthful-looking brightness, there's a Vichy eye product for everyone. To help you decide which one is best suited for your concerns, we reviewed all of them, ahead. 
Formulated with rhamnose, caffeine and escine, the LiftActiv Eyes from Vichy helps reduce the appearance of dark circles, puffiness and premature signs of aging like fine lines, wrinkles and a loss of density. Thick and creamy in texture, this anti-aging eye cream can be used in your morning and evening skin-care regimen. Plus, it's recommended for all skin types, including sensitive.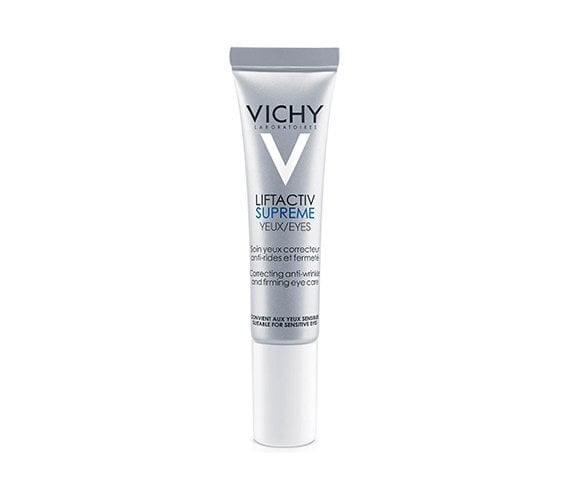 Why We Love It 
As someone with chronic puffy-looking eyes, I am always on the lookout for an affordable and effective eye cream that can help reduce the appearance of my under-eye bags and leave my skin looking and feeling fresh and renewed. The Vichy LiftActiv Eyes can do all that and more. One of my favorite aspects of this daytime and nighttime eye cream is its ultra creamy, skin-hydrating formula and tube-like packaging. The beauty of tube packaging is that you know dirty fingers haven't contaminated the formula.  You can use the end of the tube to apply the eye cream directly to your skin for a quick, easy and efficient application process. Once applied, the skin around my eye contour quickly absorbed the eye cream and instantly looked more hydrated than before. After using it morning and night for two weeks, I noticed that my naturally puffy eyes were calmer than usual.
How to Use It 
After cleansing your complexion, gently apply the cream to your eye contour, starting at the inner corner and working your way out towards the outer corner of your eye. To finish, lightly tap the area around the eye. (Pro tip: To ensure that you are applying your eye cream as gently as possible, use your ring finger to tap the product on to the delicate skin under your eyes.)
Looking for an eye serum that can also provide benefits to your eyelashes? Look no further than the Vichy LiftActiv Serum 10 Eyes & Lashes. Formulated with rhamnose, hyaluronic acid and ceramides, this two-in-one eye serum can help reduce the appearance of crow's feet and under-eye wrinkles while also fortifying and conditioning lashes. It's lightweight, fast absorbing and leaves skin looking firmer.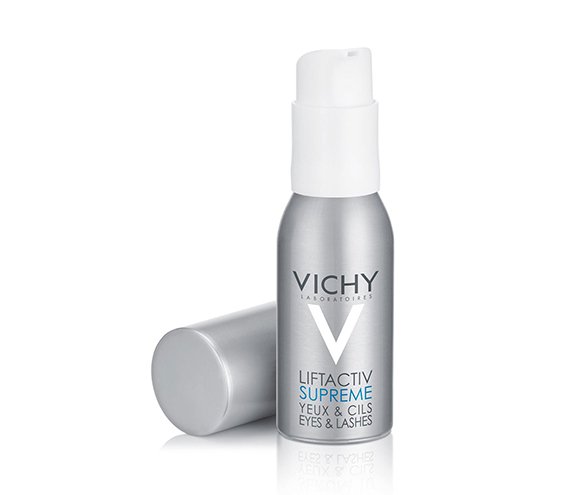 Why We Love It 
I think we can all agree — especially those of us who have little time to dedicate to our skin-care and beauty regimens — that two-in-one products are huge time savers. I was particularly excited about trying an eye serum that could not only help improve the appearance of my eye contour, but my eyelashes, too. One of my favorite features of this product is the illuminating effect it gives your skin. After testing this serum for a couple weeks, I noticed that my eye contour appeared brighter and smoother.
How to Use It 
After cleansing your complexion, apply one drop of the anti-aging eye and lash serum to your fingertips, close your eyes and gently massage the entire eye contour area. Finish off with one gentle swipe starting from the inner-eye corners and reaching out towards your eyelashes. For best results, use twice a day. If you're in need of a morning pick-me-up, store the bottle in your fridge overnight. It'll give a cooling sensation upon application. 
Formulated to improve the appearance of fatigued-looking skin, this lightweight eye gel can help deliver lasting hydration and rejuvenate the appearance of the eye contour. In addition, its formula is enriched with the Vichy Thermal Spring Water and hyaluronic acid to help protect the skin from environmental aggressors like pollution and free radicals and replenish dehydrated skin.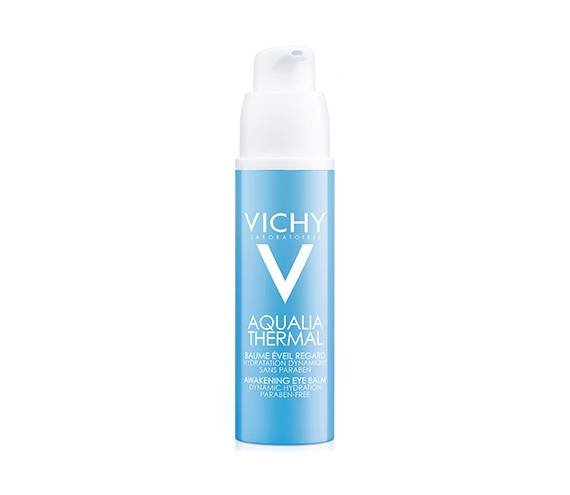 Why We Love It 
As someone with a dry to normal skin type, the key factor in my skin-care regimen is hydration, especially during the dry and cold winter months. After testing the Vichy Aqualia Thermal Eye Balm, I noticed that the skin around my eye contour felt supple, appeared smooth and remained hydrated throughout the day.
How to Use It
After cleansing your complexion, swipe the Vichy Aqualia Thermal Eye Balm from the inner corners of the brow bone towards the outer corners. Gently apply pressure along the orbital bone. Repeat this motion on the skin under your eyes.
Formulated with pure caffeine, vitamin C and micro-mother-of-pearl pigments, Idéalia Eyes from Vichy is a go-to for combating dark circles. It illuminates shadows to give your under eyes a brighter appearance. If you're looking to fight signs of aging and liven up your under-eyes, this one's for you.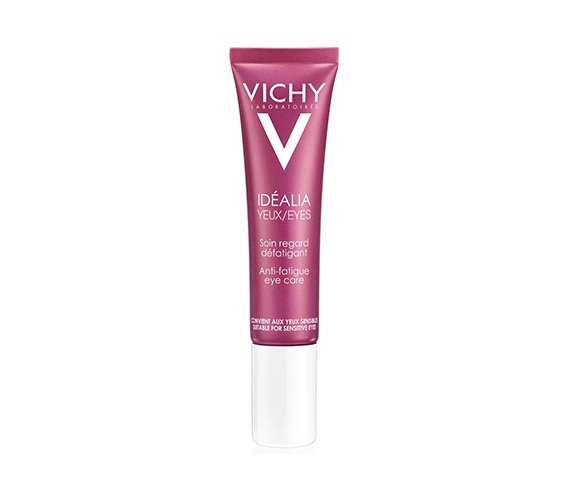 Why We Love It 
When it comes to covering up dark circles, don't let concealer do all the work. The Vichy Idéalia Eyes can work as your first step in dark-circle cover-up as its formula is enriched with micro-mother-of-pearl pigments that create the illusion of illuminated skin. After giving this anti-aging eye cream a test run, I found that my eye contour appeared brighter. And after following up with my daily, light-coverage concealer, my dark circles nearly vanished. 
How to Use It 
Gently squeeze the product directly onto cleansed skin and massage using the built-in flexible tip. Tap lightly with your ring finger to blend the illuminating pigments into your complexion.
Specifically designed for the sensitive skin around the eye, this product is a standout in the Vichy lineup. Similar in texture and formulation to the Minéral 89 Hyaluronic Acid Gel Face Moisturizer, this eye serum perks up the under-eye area thanks to its hydrating and brightening properties. It smooths fine lines, provides hydration for up to 24 hours and fortifies the skin's moisture barrier. Plus, its gel texture layers perfectly under makeup.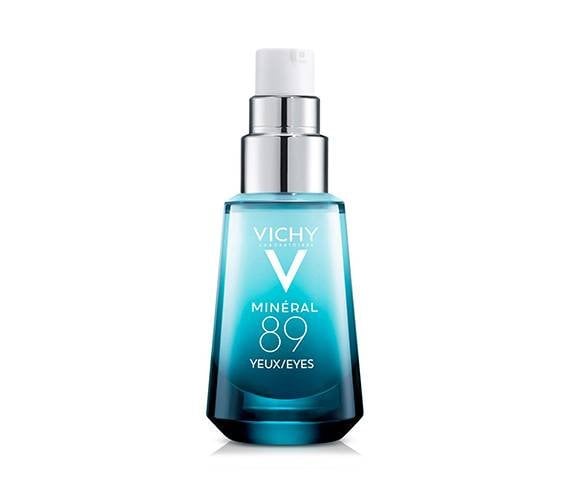 Why We Love It 
I have really dry and sensitive skin under my eyes, so I need an eye cream that's going to provide long-lasting and intense hydration. The Minéral 89 Eye does the trick. Since I started using it, I've noticed that the delicate skin under my eye is more hydrated on a day-to-day basis. Plus, the gel-like product successfully masks puffiness on days when I simply didn't get enough sleep. 
How to Use It 
Pump a small amount directly onto your fingertip and lightly apply to the eye contour. Massage it in using gentle, circular motions. 
Read More:
6 Indie Skin-Care Brands to Keep on Your Radar
Follow This Easy Nighttime Routine to Combat Signs of Aging
6 Cleansers for Combination Skin
Read more

Back to top