How Vichy's Vitamin C Serum Helped Brighten One Editor's Skin in 10 Days
April 04, 2022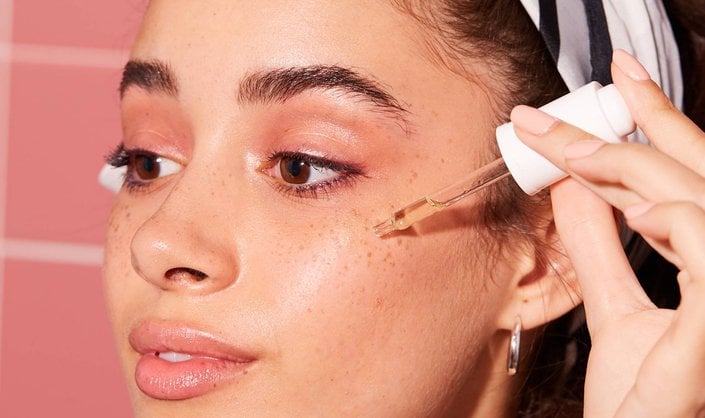 Cold temperatures and post-holiday craziness can take a toll on our complexion. From dehydrated, dry skin to a dull appearance, we are always looking for a way to perk up our tone this time of year. That's why we couldn't wait to test the Vichy LiftActiv Vitamin C Brightening Skin Corrector Serum in the hopes of evening out our skin tone, brightening our complexion and reducing the appearance of our fine lines and wrinkles. Find out our honest thoughts, ahead.
Vitamin C is one of the most popular ingredients in skincare, favored not just by our editors but by dermatologists alike. "Vitamin C is a great antioxidant," says board-certified dermatologist and Skincare.com consultant Dr. Michael Kaminer. "It helps neutralize free radicals and reduce environmentally-induced damage to cells." For reference, free radicals are unstable molecules triggered by various environmental factors such as UV rays, smoke and pollution. When free radicals come into contact with your skin over a prolonged period of time, they can contribute to visible signs of aging. That's where vitamin C, topical antioxidant products and sunscreen come in. 
If you're not already using a vitamin C serum in your routine, Dr. Kaminer recommends choosing a product that's stored in a dark bottle. This can help avoid exposure to light, which can break the ingredients and cause them to be less effective. 
Benefits of the Vichy LiftActiv Brightening Skin Corrector Serum 
The formula — with 15% pure vitamin C — helps fight against signs of skin aging. The product is also packed with vitamin E, pine polyphenols and hyaluronic acid to brighten and firm skin. What's more, it's paraben-, fragrance- and silicone-free. Within as few as ten days of use, the skin is visibly illuminated, brighter, more even and feels tighter. Another benefit worth noting? The fact that you can snag this vitamin C serum for under $30 at your local drugstore.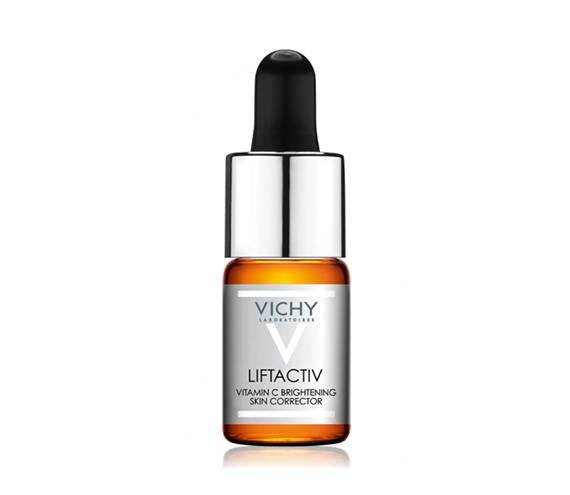 How to Use Vichy LiftActiv Brightening Skin Corrector Serum 
Apply once per day by placing four to five drops into the palms of your hands and using your fingertips to pat onto a clean, dry face. Avoid the eye area and follow up with broad-spectrum sunscreen with SPF 15 or higher before sun exposure. If peeling or dryness occurs, reduce your use to two or three days per week until your skin becomes acclimated. Make sure to store the bottle in a cool, dry place.
Vichy LiftActiv Brightening Skin Corrector Serum Review 
Before I apply a new product to my face, I always give it a test run on my hands first to ensure I won't have a negative reaction. One of the first things that I noticed when applying this serum, was that it immediately made my skin feel softer and smoother. Passing my initial test, I went on to apply about four drops of the serum to my face and loved how easily it glided on. I'll admit that I haven't incorporated a vitamin C serum to my regimen for quite some time, so I was eager to try this out for a few weeks. As promised, my skin looked much brighter and felt tighter after ten full days. I'm also starting to notice that spots of discoloration on my skin are much less visible. I'm looking forward to seeing how my skin changes with continued use.
Photo: Chaunte Vaughn 
Read More:
How Many Serums Does Your Skincare Routine Need?
How to Tell if Your Skincare Products Are Expired
What Happened When I Tried a Dermatologist's Skincare Routine
Read more

Back to top