Editor's Pick: Vichy Pureté Thermale Makeup Removing Micellar Cleansing Wipes Review
December 28, 2017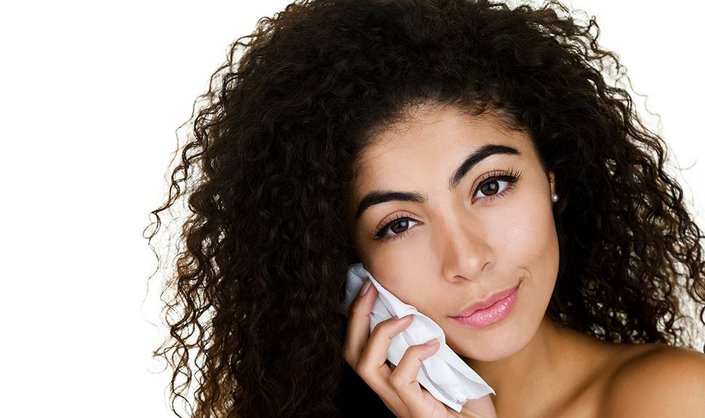 Being short on time is no excuse to skip cleansing, which is why no-rinse cleansing options like wipes/towelettes and micellar water have become mainstays in our gym bags and purses, and on our desks and nightstands. But what happens when you combine a cleansing wipe with micellar technology? The answer? Vichy's newly-launched Pureté Thermale Makeup Removing Micellar Cleansing Wipes.
WHAT IS MICELLE TECHNOLOGY?
Micellar water, first introduced to us by France, has quickly garnered massive popularity Stateside—and it's no surprise why. The science behind all micellar waters—aka micelle technology—points to gentle micelles (microscopic cleansing molecules) that work together to trap and lift away pore-clogging impurities from your skin's surface without all the wear and tear. Recently, this technology has moved beyond the liquid solutions we've grown accustomed to and entered the realm of cleansing wipes. The pairing is all too perfect, as cleansing wipes are not only a convenient way to cleanse while on the go, but are also gentle and don't require close proximity to a sink for use.
THE BENEFITS OF VICHY PURETE THERMALE MAKEUP REMOVING MICELLAR CLEANSING WIPES
Are you always on the go? Are you an avid gym-goer? Do you like to cleanse your skin from bed? If you answered "yes" to all of those questions, these cleansing wipes are calling your name. They're the first cleansing wipe of the entire Vichy portfolio, and they just so happen to feature the gentle micelle technology we know and love.
As for the benefits, the 3-in-1 formula cleanses, removes waterproof makeup, and soothes the skin. What's more? The wipes are free of parabens and fragrance, making them a suitable cleansing option for even sensitive skin types. Store yours on your nightstand for a convenient way to cleanse your skin and remove your makeup before shut-eye from the comfort of your mattress, on your desk for a midday pick-me-up, or in your gym bag to help cleanse and soothe your skin post-sweat.
HOW TO USE VICHY PURETE THERMALE MAKEUP REMOVING MICELLAR CLEANSING WIPES
Step One:
Gently smooth the cleansing wipe over all areas of the face and neck. You can do this virtually anywhere—in the car, on your bed, at your desk, etc. Depending on how much makeup you're wearing, you may need to use a couple of wipes to remove all traces of lingering dirt and makeup. Best of all? There's no need to turn on the tap.
Editor's note: When removing eye makeup, fold the moistened cleansing wipe over your closed eyelid and hold it there for a few seconds before sweeping it over your eye contour. This can help avoid harsh rubbing and pulling of the delicate skin around the eyes.  
Step Two:
To help ensure all traces of dirt and makeup are removed from your skin's surface, embrace the double-cleansing method. The double-cleansing method involves using two cleansers in succession to thoroughly remove all traces of dirt, excess oil and impurities. Follow with a gentle foaming cleanser to remove any remaining impurities.
Step Three:
After cleansing, you should immediately lock in moisture and account for any that may have been lost in the face-washing process. While your skin is still slightly damp, apply your favorite moisturizer formulated for your skin type.
Step Four:
If you're no stranger to using cleansing wipes, you're well aware that they can dry out quickly if they aren't stored properly. To prevent this from happening, store your wipes upside down. The moisture tends to trickle down to the bottom of the package, so when you flip it back over you'll get the wettest wipe possible.
VICHY PURETE THERMALE MAKEUP REMOVING MICELLAR CLEANSING WIPES REVIEW
Micellar water is something I could never go a day without using, so I was excited to get test these cleansing wipes that claim to work the same way, without needing to re-purchase cotton pads. After just one gentle wipe to the face, I found that the majority of my makeup – including waterproof mascara – was whisked away from the surface of my skin. And not only that, but it also left my skin feeling incredibly refreshed.
Vichy Pureté Thermale Makeup Removing Micellar Cleansing Wipes, available at a drugstore near you for $7.99 MSRP
Read more

Back to top