6 Skin Care Mistakes We're All Guilty of Making
May 27, 2016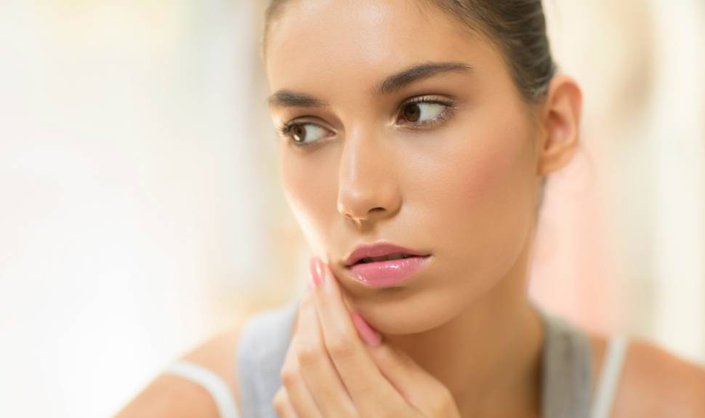 Let's face it, none of us are perfect, but, if we want our skin to be, we have to pay close attention to our day-to-day habits. The smallest mistake can have a big impact on the health and appearance of our skin. From getting a little too touchy to skipping steps in your skin care routine, we discovered the most common skin care mistakes—the ones we're all guilty of making—with a little help from board-certified dermatologist and Skincare.com expert Dr. Michael Kaminer.
Skin Care Sin #1: Product Hopping
"The number one mistake is going from product to product too often," says Kaminer. "You don't give things a real chance to work." He explains that too often, once a product we're using starts to become effective—remember that miracles don't happen overnight—we switch. Subjecting your skin to too many different ingredients and variables can cause it to completely freak out. Dr. Kaminer's advice? "Find something that you like and stick with it."
Skin Care Sin #2: Wearing Makeup to Bed
Sure, that winged liner looked fierce during your night out with the girls, but leaving it on when you head to bed is a major no-no. Washing your face at least once a day—twice if it's oily—is a skin care necessity. "You have to keep your skin clean," explains Kaminer, "Not removing your makeup is a recipe for a problem." On those late nights when the full routine isn't in the cards reach for no-rinse cleansers like micellar water.
Skin Care Sin #3: Getting Touchy
Another mistake we all make—and may be making right now—is "touching, rubbing, and resting your hands on your face," says Kaminer. Between the door knobs, the handshakes, and who knows what else we come into contact with during the day, our hands are often covered in bacteria and germs which can lead to breakouts, blemishes, and other unwelcome skin concerns.
Skin Care Sin #4: Dehydrating Your Skin with Astringent
"Hydrated skin is happy skin," Kaminer tells us. "Another problem [I see] is this desire to dry out the skin with astringents, thinking this will help your pores." He calls this the blowtorch technique. "You are dehydrating your skin."
Skin Care Sin #5: Waiting to Use—Or Not Using—Moisturizer
Do you wait awhile before moisturizing your skin after cleansing at the sink or in the shower? Or worse, do you skip this skin care step all together? Big mistake. Dr. Kaminer tells us that you must moisturize after you cleanse your skin. "Moisturizers work best when your skin is already hydrated," he says. So next time you hop out of the shower, or finish washing your face at the sink, lightly pat dry and massage some moisturizer onto your skin.
Skin Care Sin #6: Skipping the SPF
Think you only need broad-spectrum SPF on bright sunny days spent poolside? Think again. UVA and UVB rays never take a break—even on cold, cloudy days—so neither should you when it comes to protecting your skin. Wear a sunscreen with broad-spectrum SPF each day as your first line of defense against wrinkles, dark spots, and other forms of sun damage.
Read more

Back to top