What's the Difference Between AHAs and BHAs?
December 19, 2022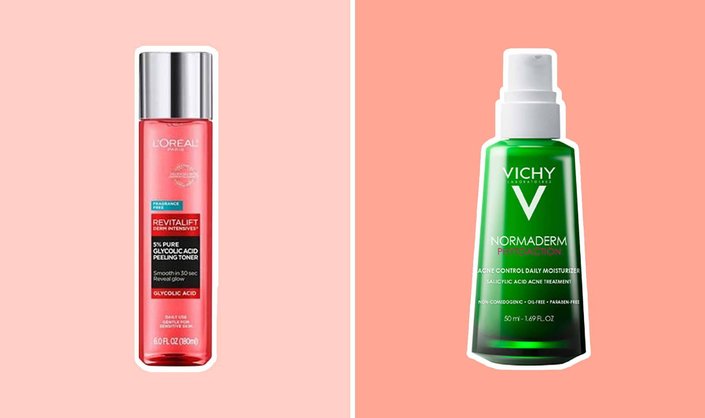 If you're a skincare lover like us, you've probably heard of alpha-hydroxy-acids and beta-hydroxy-acids, otherwise known as
AHAs and BHAs
. It's even likely that these
chemical exfoliants
are already in some of
your favorite serums
, toners or cleansers. While both AHAs and BHAs are acids that slough off dead skin cells, there are a few key differences between the two.
With the help of
Dr. Elyse Love
, a board-certified dermatologist and Skincare.com consultant based in New York City, we're sharing everything you need to know about the
difference between AHAs and BHAs
and how to know which one is right for your skin type and skincare needs.
AHAs (Alpha-Hydroxy Acids): What Is AHA?
AHAs are skincare ingredients that exfoliate the surface of your skin. According to Dr. Love, there are several kinds of common AHA ingredients, including glycolic, lactic and mandelic acid.


Benefits of Using Skincare Products With AHAs
"Alpha hydroxy acids, particularly glycolic acid, provide slightly deeper results with stimulation of collagen production, skin brightening and improvement in hyperpigmentation," says Dr. Love. "Mandelic and lactic acids provide similar but milder benefits compared to glycolic acid."

AHAs are particularly good for their anti-aging benefits — they can help smooth the look of fine lines and wrinkles and improve the appearance of skin texture and tone.


BHAs (Beta-Hydroxy Acids): What Is BHA?
Similar to AHAs, BHAs are a chemical exfoliant, meaning they remove dead skin cells from skin's surface. However, BHAs are most commonly found in products that help fight acne and blemishes, because of the ability to remove dead skin cells that clog up our pores. One of the most popular BHAs is salicylic acid.


Benefits of Using Skincare Products With BHAs
"BHAs are beneficial for improvement in superficial skin concerns including smoothing skin texture, decreasing oiliness, decreasing pore size appearance and treatment of comedonal acne (whiteheads) on the face," explains Dr. Love. "They can also be beneficial for body disorders like keratosis pilaris and thickened skin of the feet."


AHAs vs BHAs: What's the Difference
The two types of exfoliants overlap in their uses — think: improving skin texture — but they each have their specialty. One isn't necessarily better than the other, but rather, you may choose one over the other to treat a specific skin condition. While both AHAs and BHAs are a form of chemical exfoliants, AHAs tend to be used more for their brightening and toning abilities, while BHAs are more commonly used for unclogging pores and fighting acne.


Can BHAs and AHAs Be Used Together?
According to Dr. Love, combining chemical exfoliants can be highly effective if done under appropriate expertise. "Since each exfoliant interacts with the skin in slightly different ways and provides slightly different benefits, exfoliants can be combined to provide multiple benefits with one treatment and/or more intense benefits with one treatment," she explains. "With that said, combining chemical exfoliants can also potentially increase the side effect profile. Therefore, I don't recommend mixing and/or layering exfoliants on your own." So before layering your AHAs and BHAs at the same time, consult with your dermatologist about what's right for your skin.


Can AHAs and BHAs Be Combined With Any Other Skincare Product?
"There are no contraindicated ingredients when using AHAs and BHAs, but it's important to remember that the products do make the skin more sensitive," says Dr. Love. "For this reason, it's usually best to not layer AHAs or BHAs with retinols or retinoids. I would also exercise caution when layering with vitamin C, as vitamin C is potentially irritating to some."

When using your AHAs alongside other products, it's safest to stick to products without exfoliants or active ingredients. For example, hyaluronic acid or other moisturizing products are usually helpful when adding AHAs and BHAs into your routine.


Are There Any Side Effects When Using AHAs or BHAs?
The most important thing to remember is that acids make the skin more sensitive to the sun, so SPF in the morning routine is essential. "It's very easy to overdue exposure to alpha and hydroxy acids right now because they now come in every possible formulation: washes, toners, serums and lotions," says Dr. Love. "Marketing often emphasizes the desired result of the product but not the active ingredients. I encourage you to look at the active ingredients before you buy a product so that you're not accidentally using four glycolic acid products, for example."

Irritation and inflammation of the skin is the most common side effect of AHAs and BHAs, especially if they are used too frequently or if a too high concentration is used. This can lead to a breakdown of your skin's natural moisture barrier, meaning you'll likely see some flaky skin and redness. "These products should be incorporated into the routine slowly," says Dr. Love. "If they are meant for daily use, start just twice a week and increase how often you use it each week until you're tolerating it. If you develop irritation, just use it less often. If it's a weekly product, consider holding your retinol/retinoid for 2-3 days before performing in the beginning."

If you're seeing irritation, it's important to hold off on using any active ingredients until you see an improvement, including alpha and beta hydroxy acids, retinols/retinoids and vitamin C. Dr. Love also notes that if the skin has developed a rash, it may be beneficial to see a dermatologist for a prescription anti-inflammatory agent to calm the skin. "This is particularly important for patients who tend to develop dark spots in areas of prior rashes or pimples," she says.


The Best AHA Skincare Products, According to Our Editors
Looking for a toner that delivers visible benefits? This potent yet gentle formula can help reduce the look of dark spots over time, as well as keep wrinkles in check. Make sure to use only at night and apply SPF liberally the next morning.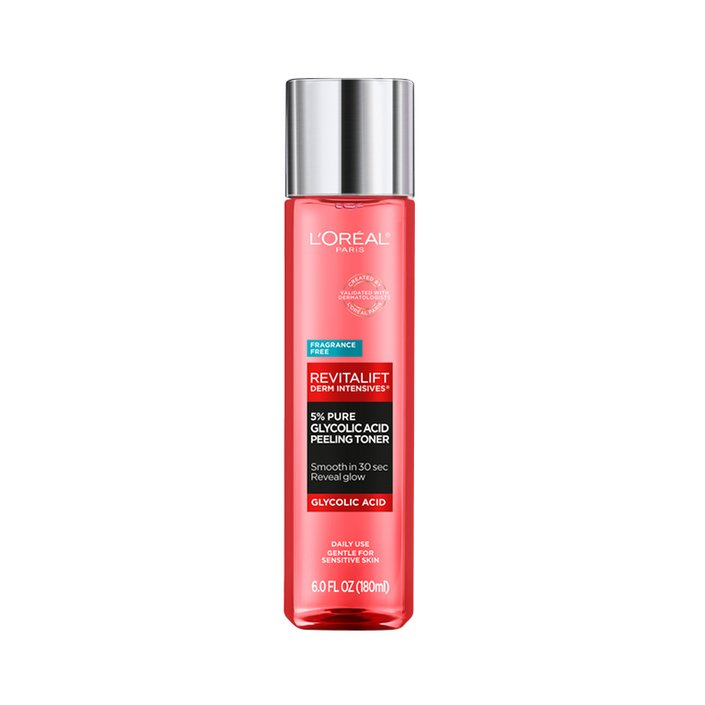 This formula has a combination of both AHA (3% mandelic acid) and BHA (2% salicylic acid), along with a soothing proprietary superfood blend of kale, spinach, green tea and licorice root. It's designed to clear pores and smooth skin texture. After cleansing, soak a cotton pad with the liquid and gently swipe it across your skin. Then, follow up with your favorite moisturizer.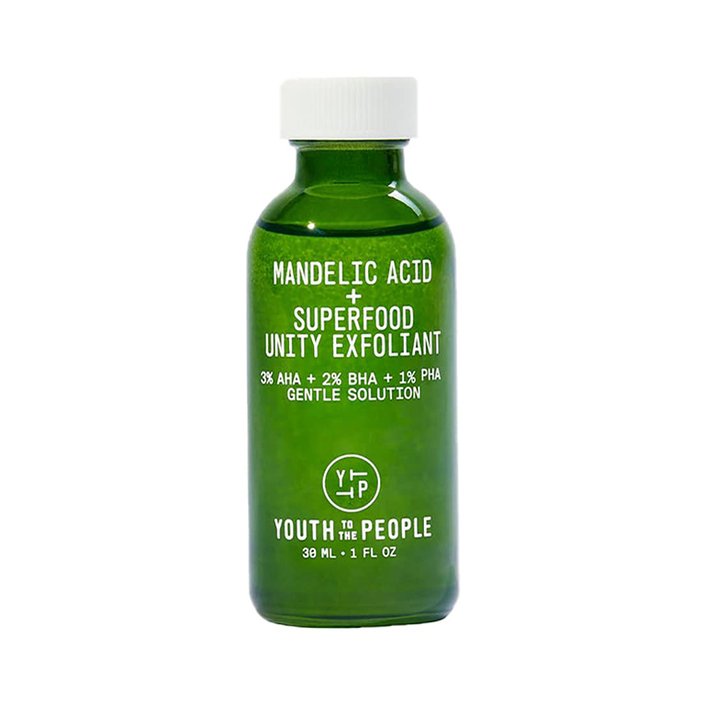 Glycolic acid and hyaluronic acid come together for optimal pore minimization and extra plumpness in this popular serum. In fact, according to the brand, the formula helps to visibly reduce the appearance of pores in as little as a week. It's also suitable for all skin types.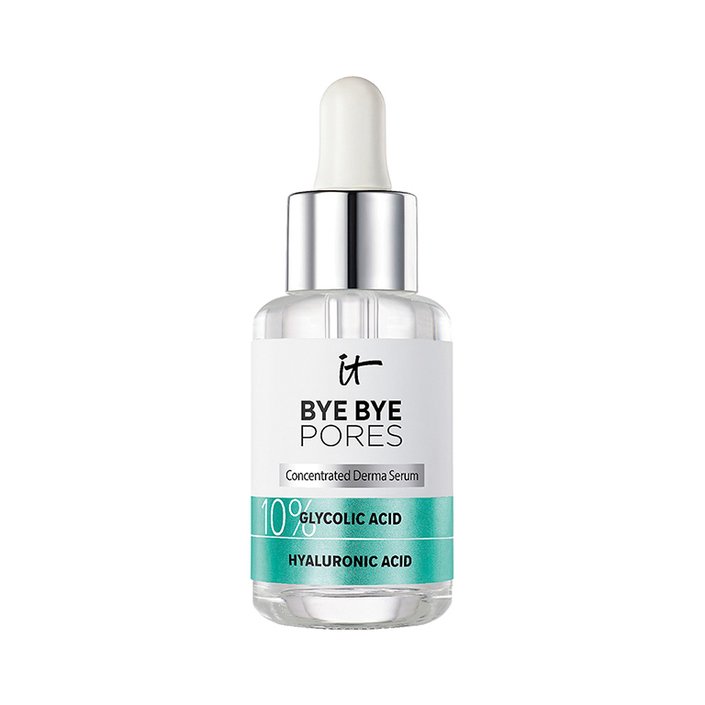 This combo of ferulic and lactic acids alongside hydrating squalane come from natural sources, and can help reduce visible signs of aging. The fragrance-free formula is meant to be applied after cleansing but before serums and moisturizers.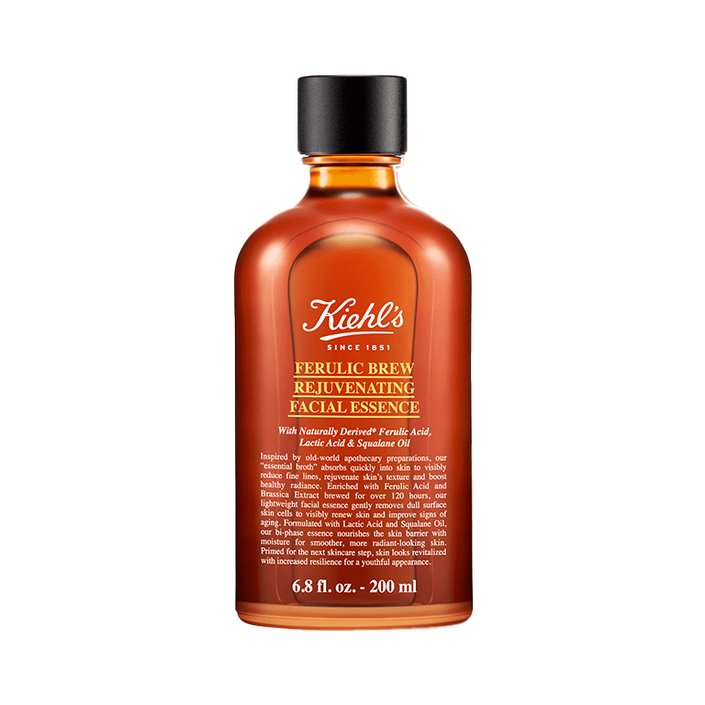 The Best BHA Skincare Products, According to Our Editors
This clinically-tested daily moisturizer contains 2% salicylic acid, pure hyaluronic acid, vitamin C and Vichy 15 Mineral-Rich Volcanic Water to help clear up acne blemishes, blackheads and enlarged pores in addition to effectively moisturizing the skin. It's lightweight too, so it layers well under makeup.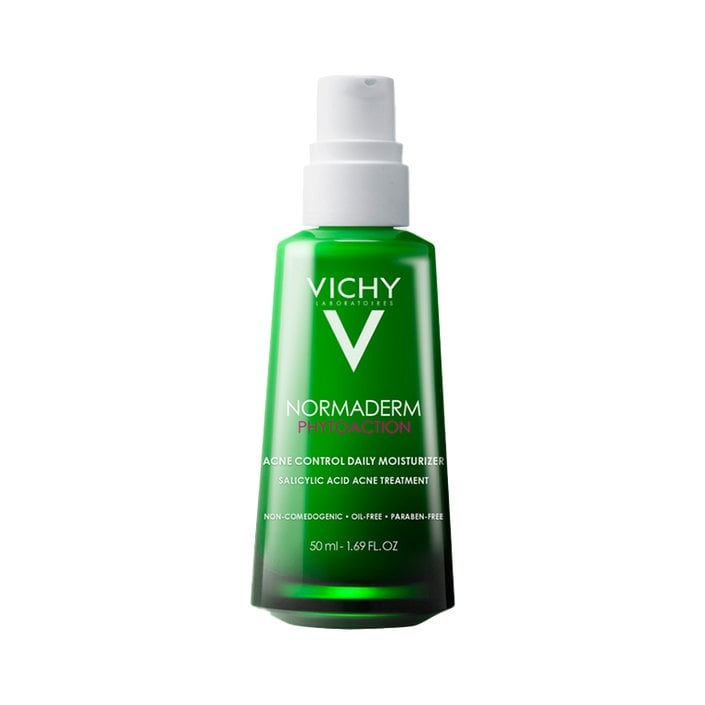 Fact: This isn't your average vitamin C serum. We love that this non-comedogenic serum packs a three-ingredient punch for brightening and smoothing skin texture. According to the brand, it's even safe for sensitive skin.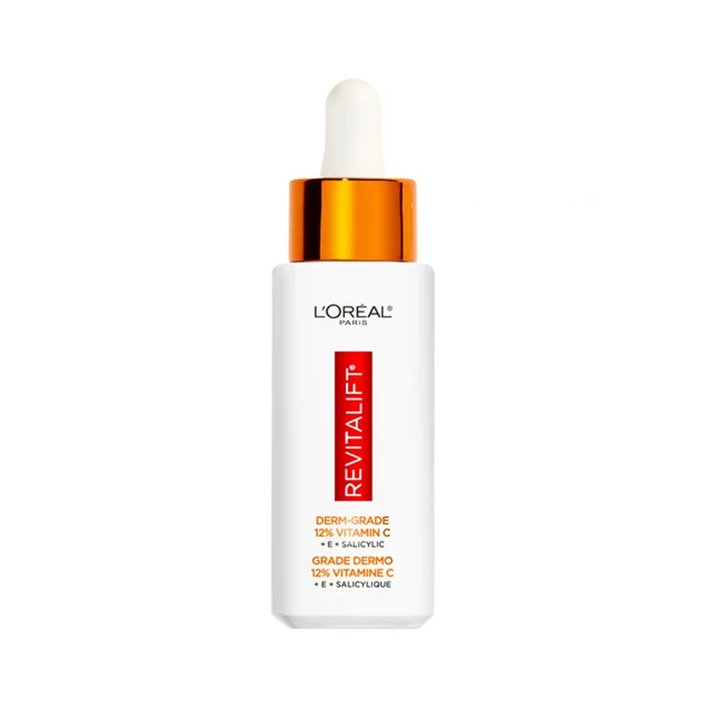 Need some assistance fighting off blemishes? This acne-fighting lightweight serum uses a blend of salicylic acid, glycolic acid and micro-exfoliating lipo-hydroxy acid to reduce breakouts, along with niacinamide and La Roche-Posay Thermal Water to help gently soothe skin and minimize skin irritation. If you're adding this into your morning skincare routine, don't forget to apply a broad-spectrum SPF 30 sunscreen before heading outdoors — no matter the season.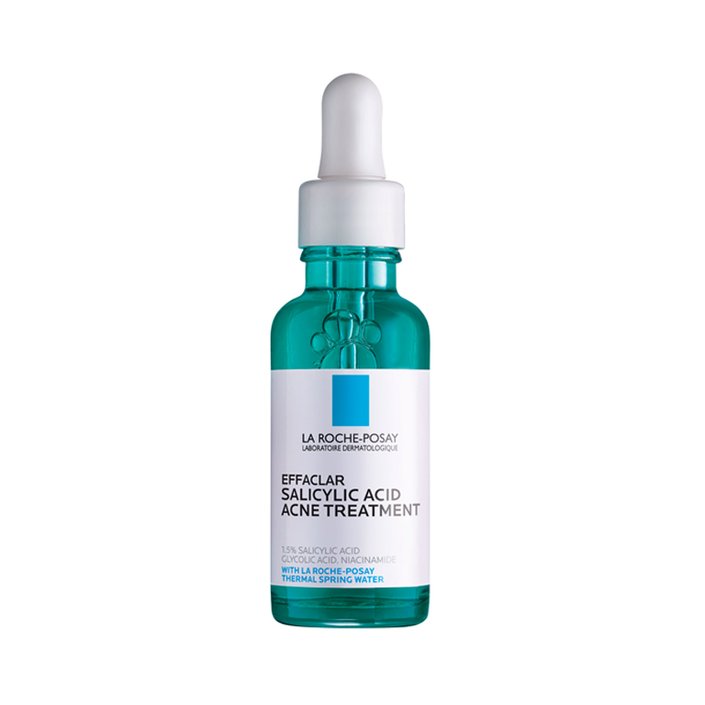 Gorgeous packaging and noticeable results? Sign us up! Rose water mixes with salicylic acid to keep your skin hydrated and supple while working to brighten and reduce hyperpigmentation in this extremely luxe toner. According to the brand, it only takes a week of use for skin to feel smoother, too.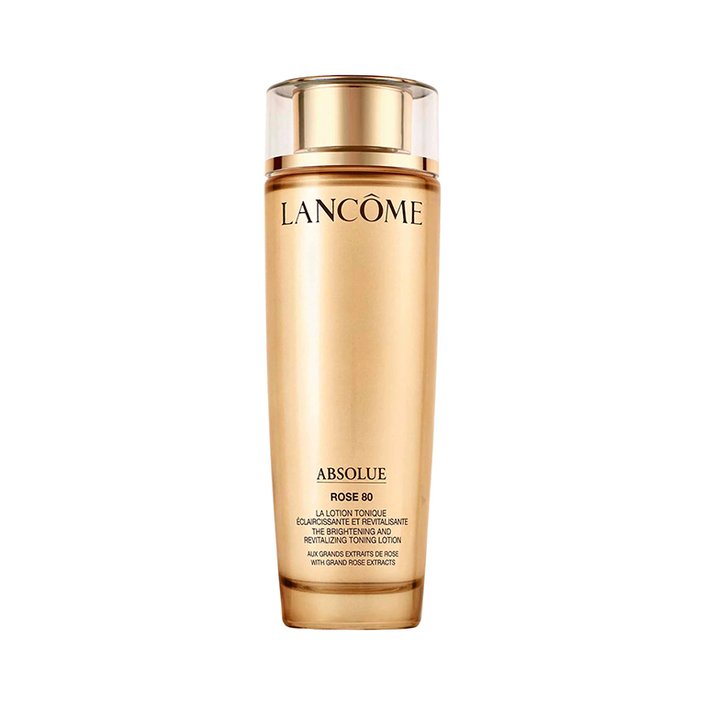 This cult-classic serum should be your go-to if you have oily skin and clogged pores. It combines 0.5% silymarin (milk thistle extract), 15% l-ascorbic acid, 0.5% ferulic acid and 0.5% salicylic acid to help prevent oil oxidation that can lead to breakouts.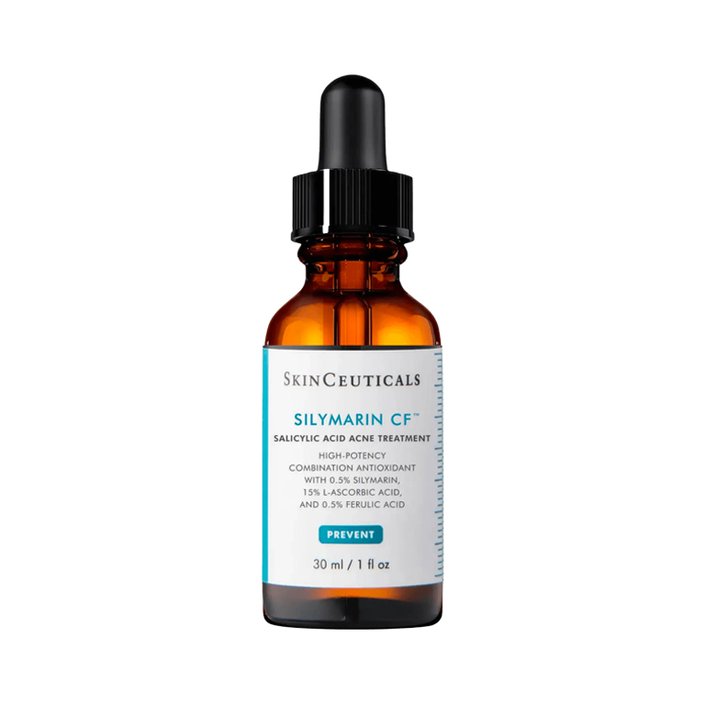 Read more

Back to top