The Beauty Benefits of Getting a Facial
March 21, 2019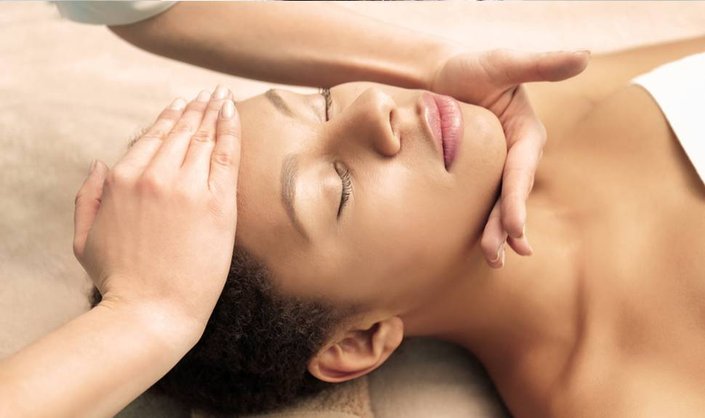 Steam infuses into your pores, gentle exfoliation whisks away dead skin cells and acne-causing dirt, and your skin gets massaged with serum — this, plus more, is what you can expect from a facial. Facials are a one-way ticket to radiant-looking skin and offer a multitude of beauty benefits — more on that later — yet many people don't take advantage of what they can offer. Sure, they're not a miracle in an hour. But when paired with a solid skin-care routine, regular facials can help maintain optimal skin health and appearance.
So, just how often should facials be done? And most importantly, how do you know if you're the right candidate? To answer these questions and more, we turned to celebrity esthetician, and Skincare.com consultant, Mzia Shiman. Keep reading to discover why you should book your facial appointment ASAP.
First Things First, What Are the Benefits of Facials
"The benefits are endless — clean skin, hydration, glow and a healthy and youthful look. I don't consider facials to be high maintenance, they are simply essential to maintaining one's healthy skin appearance," says Shiman. Contrary to what many people think, facials are also quite relaxing. We know that stress can do a number on the skin, so why not book a facial to help you unwind and keep stress-induced breakouts, dullness and/or dryness at bay? Everyone deserves some skin pampering!
How Often Should They Be Done?
"It is very important to get facials on a regular basis, ideally at least once per month," Shiman adds.
Who's A Good Candidate?
"Facials aren't just for those dealing with acne or other skin problems," says Shiman. "Getting rid of impurities is necessary for everyone."
Are Extractions As Scary As They Sound?
"Extractions are really not as scary as people make them out to be! They're done gently, and only after your skin has been exposed to a good amount of steam and facial massage," she notes. Instead of squeezing the life out of your pimples and risking scarring and damage, let a professional extract the gunk out of your pores. It'll probably be way less painful, too.
Aside from benefits like deep-cleaned pores and better-looking skin, regular facials are also a good way to build a relationship with a skin expert. A trained esthetician can alert you to any skin conditions and/or changes early on so you can learn how to address them. They can also provide product and skin-routine recommendations based on the texture, look, and feel of your skin month-after-month. It's like having your own personal skin concierge. Want a mini at-home facial in between office sessions? Try Kiehl's Instant Renewal Concentrate and the CeraVe Hydrating Hyaluronic Acid Serum to complete the regimen.
Read More

5 Sheet Masks Perfect for Selfies
The Best Nighttime Lip-Care Routine
The Best 5 Makeup-Primer-and-Foundation Pairs
Read more

Back to top