The 10 Beauty Products Editors Always Have On Hand
September 28, 2017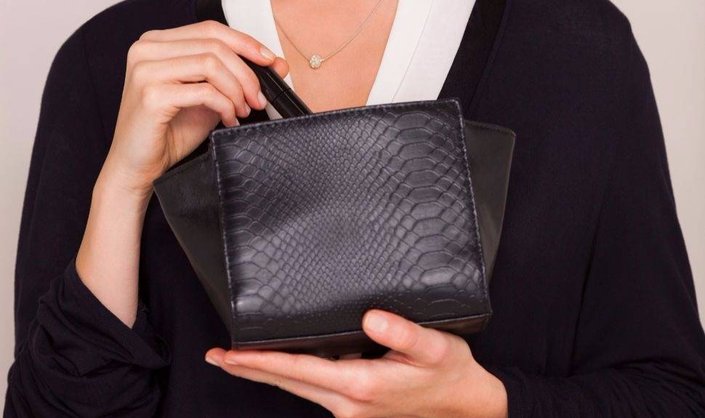 Face Mist
Ever look in the mirror around lunchtime only to be bummed by the uneven complexion staring back? Truth is, even the most long-lasting promises can sometimes fall short. That's where facial spray comes in. With just a quick spritz you'll be able to reactivate your foundation for a refreshed look. Not much of a makeup girl? You can still use facial spray! When you mist your face with thermal water, you help quench your skin's thirst and prevent dryness. Plus, it'll wake you up during your afternoon slump.
Try: La Roche-Posay Thermal Spring Water, $12.99 MSRP
Beauty Sponge
If you plan on going to happy hour after work, there's a good chance you'll want to spruce up your look. While face mist works wonders at refreshing your foundation, you may need to blend it in a little bit for a truly flawless look. Since we're all about touching our faces as little as possible, we recommend throwing a beauty sponge in your bag for quick touch-ups on the go.
Try: L'Oréal Paris Infallible Blend Artist Foundation Blender, $7.99 MSRP
Color Correcting Concealer
Instead of getting super bummed about a new blemish that popped up during office hours, we recommend always having a green-hued color correcting concealer on hand to help neutralize any redness. With just a dab you'll be able to balance out your complexion and prep your skin for a neutral hue, like concealer. Definitely a life saver—especially if you have a date after work.
Try: Yves Saint Laurent Touche Éclat Neutralizer in Vert Green, $38.00 MSRP
Concealer
While color correcting concealers work wonders with neutralizing, they still require a coat of neutral concealer overtop to hide any greenish hues from plain sight. Instead of using a thick concealer, we prefer weightless, liquid formulas to gently dab on without disrupting the previous layer of concealer underneath.
Try: Urban Decay Naked Skin Weightless Complete Coverage Concealer, $29.00 MSRP
Compact Foundation
When you're working  a busy schedule, chances of a significant slot of time to completely redo your makeup is slim to none. For that reason, we love stowing a compact foundation in our bag for instant touch-ups.
Try: Lancôme Teint Idole Ultra Cushion Foundation, $47.00 MSRP
Eye Shadow Palette
Let's be real, palettes are a girl's best friend. Where you might start the morning off with a few of the lighter shades blended together, you can touch things up for the evening with slightly darker shadows. The best part is that you don't have to start over, instead you can just layer for your desired look since the colors are meant to be worn together. Which means before you know it you have a smoky eye that's begging to be shown off during your after-work dinner plans.
Try: Urban Decay Naked Heat Eyeshadow Palette, $54.00 MSRP
Mascara
You might not have time for a full-on cat eye, but there's always time throughout the day for a few extra coats of mascara. Where you might want to keep your lashes more natural-looking for the morning, you can pump them full of volume for your post-work agenda.
Try: L'Oréal Paris Voluminous Lash Paradise Mascara, $9.99 MSRP
Lipstick
Lipstick has a way of really tying a look together. Whether you start your day off with your favorite color or plan to apply it before going out at the end of the day, you'll want to make sure to have a tube on hand for touch-ups and instant beauty boosts.
Try: Urban Decay Vice Lipstick, $17.00 MSRP
Makeup Wipes
When you're working with makeup in a rush, you might make a mistake or two. Instead of freaking out, just reach for micellar water infused makeup removing towelettes to easily clean up any mistakes. Easy peasy. As an added bonus, having makeup wipes in your bag also comes in handy if you're a gym-goer. As you know, you should always rinse off post-sweat, but if you don't have time you can do a quick swipe of a towelette and trust that your skin is in good hands until you have a chance to shower.
Try: Garnier SkinActive Micellar All-in-1 Waterproof Makeup Removing Towelettes, $6.99 MSRP
Read more

Back to top