The Jade Rollers You Need to Get in On The Trend
February 12, 2018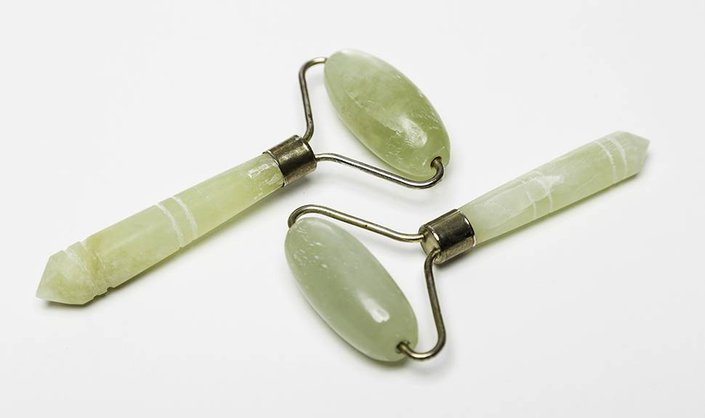 If you've been keeping up with what's trending, you've surely noticed the rising popularity of crystals. It's increasingly easy to find a supporter of the power of crystals in a crowd, with more and more people choosing to sport stones around their neck, tuck them away in their pockets, or give them a place of honor in their home. Similar to most trends, crystals are finding their place in the beauty industry too. Scores of beauty aficionados are opting to rub crystals, like jade, over their facial contours in the name of better-looking skin, otherwise known as jade rolling.
Jade rolling involves using a handheld tool—a jade roller—to rub the complexion with pure jade stone. A jade roller typically features two rounded jade stones on each end in different sizes: a larger stone to be rubbed along bigger areas like the cheeks, jaw and forehead, and a smaller stone for smaller surface areas like under the eyes or above the lip. Most jade rollers are used the same way—massaged onto the facial contours with gentle pressure starting from the center of the face and working outwards. The purported benefits? Jade rollers can allegedly help with reducing puffiness, increasing blood circulation, boosting lymphatic drainage, and releasing tension in the facial muscles and congested areas. If you're tempted to take one for a roll, we've rounded up six of the best jade rollers to try.
Near everyone may have a jade roller in their possession soon enough, but that doesn't mean you're doomed to be caught with one that looks exactly the same as your friends and neighbors. Due to differences in the natural formations of stones, each of these jade rollers varies in size and shade, making for a tool that's all your own.
Designed by anti-aging experts, this handcrafted roller features a unique carved stone that's ideal for stimulating your skin. Plus, it doesn't hurt that the roller's chic look is worthy of being on display.
Featuring a larger piece of jade on one end—ideal for rolling over larger spots like your cheeks and forehead—and a smaller piece on the opposite end—perfect for tackling your under-eye area—this roller can handle any area you need to address.
This jade roller may not have the green hue you'd expect, but don't let its creamy color steer you away. You may be accustomed to jade rollers looking like, well, jade, but it isn't a requirement.
Crafted from pure Xiuyan jade, this roller is meant to be used day and night as part of your self-care routine. For an extra satisfying—and cooling—experience, try storing your roller in the fridge before using. 
Jade rollers are good on their own, but you can take this one to the next level by using it in conjunction with your favorite skin care products.  Try it over top of your serum or moisturizer for an elevated experience.  
How to Use a Jade Roller
What You'll Need: a jade roller and your favorite serum––we recommend Vichy's Neovadiol Magistral Elixir.
Step #1: Apply the facial serum to your skin and lightly massage.
Step #2: Using the larger stone, begin at the jawline and roll the jade in an upward motion. Keep the pressure light.
Step #3: Moving to your forehead, roll the larger jade from the center of your eyebrows, upwards toward the hairline. 
Step #4: Switching to the smaller jade, roll from the inner corner of your eye out toward the temple. 
Step #5: Then, roll out the upper lip and chin area for a refreshed complexion. 
Editor's note: Not sure how to use your roller of choice? Follow the instructions provided with your specific roller—they'll differ depending on the design of the jade roller.
Read more

Back to top