The Products From L'Oreal's Portfolio of Brands Skincare.com Dermatologists Can't Live Without
October 13, 2016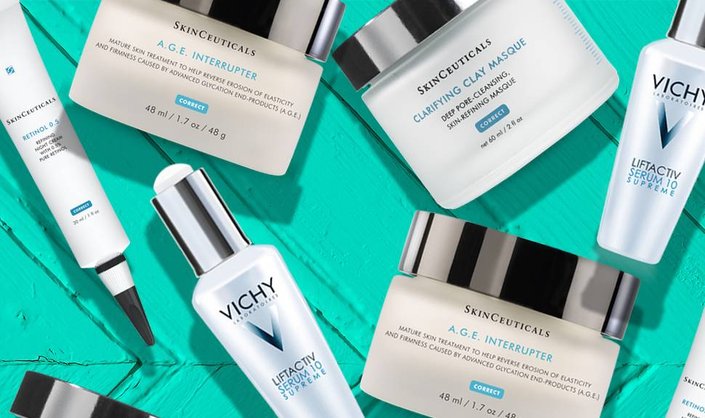 When it comes to skin care, dermatologists know best. They're up-to-speed on all the latest products and skin care to address daily skin struggles from acne to wrinkles, and share their coveted intel with patients. It's common to ask these skin care experts for advice on what to use on your skin, but have you ever thought to ask them what products they use on their own skin? Fact is, dermatologists—like beauty editors—receive complimentary skin care products to try and, if they pass muster, recommend to their patients. Every once in awhile, these complimentary samples turn into staples in their own skin care routines. Case in point? The products below. We reached out to three of Skincare.com's consulting dermatologists to find out which products they've tried over the years that they now can't live without.
MEET THE PANEL
Dr. Dendy Engelman is a board-certified dermatologic surgeon, and associate at Manhattan Dermatology and Cosmetic Surgery in New York City. 
Dr. Dhaval Bhanusali is a board-certified dermatologist specializing in both medical and cosmetic surgery at Sadick Dermatology in New York. 
Dr. Michael S. Kaminer is a board-certified dermatologist, and skin cancer and cosmetic surgeon at SkinCare Physicians in Massachusetts.
Now, without further ado, the skin care items these top derms will always restock in their arsenal.
SKINCEUTICALS A.G.E. INTERRUPTER
This multi-action wrinkle cream is formulated with three ingredients to help restore the loss of skin firmness and reduce the appearance of wrinkles, skin creping, and rough texture caused by intrinsic aging—more specifically the glycation process. Dr. Bhanusali admits to using it on his skin every night.
SkinCeuticals A.G.E. Interrupter, $161
LA ROCHE-POSAY ANTHELIOS 45 FACE
Broad-spectrum sunscreen is a non-negotiable part of a skin care routine—even for the experts. This fast-absorbing formula boasts a special antioxidant complex to help protect skin from free radicals without the greasy, white residue. Dr. Kaminer calls this—and the entire La Roche-Posay sun care lineup, for that matter—simply "excellent."
La Roche-Posay Anthelios 45 Face, $29.99
SKINCEUTICALS CLARIFYING CLAY MASQUE
For beauty aficionados, Sunday night is typically reserved for pampering, whether it's whipping up a new DIY skin care recipe or playing it safe with a tried-and-true product. For Dr. Bhanusali, his Sunday night routine usually involves an application of this non-drying mask to decongest pores, lift impurities, and help remove excess oil from the skin's surface. "I use it once a week to prime my skin for the upcoming week," he says. 
SkinCeuticals Clarifying Clay Masque, $51
VICHY LIFTACTIV SERUM 10 SUPREME 
Vichy's anti-aging face serum—formulated with rhamnose and fragmented hyaluronic acid can help reduce the look of wrinkles—is one of Dr. Kaminer's go-to products. "It's easy to incorporate into a skin routine and it's not overly expensive," he says. "Plus, it boasts interesting data and great packaging. All around, a nice thing to add in the evening." 
Vichy LiftActiv Serum 10 Supreme, $45
SKINCEUTICALS RETINOL 0.5 
Retinol has a multitude of perks in a skin routine, which is why it's typically dubbed a "multi-tasker." Studies show that retinol helps diminish the appearance of wrinkles, fine lines, and age spots from both environmental and intrinsic aging, as well as help reduce the appearance of pore size and give skin a healthy-looking glow. The ingredient is powerful–no doubt about it. Of all the retinols out there, this one by SkinCeuticals is what Dr. Engelman uses in the evening. Why? "I like SkinCeuticals Retinol 0.5, which is formulated with bisabolol. The formula and can help calm skin and minimizes irritation commonly associated with the use of retinols," she says. 
SkinCeuticals Retinol 0.5, $60
But wait, there's more! One product—not listed here—unanimously won the hearts of Drs. Kaminer, Engelman, and Bhanusali. Can you guess what it is? We'll give you a hint, it's by SkinCeuticals. Find out which skin care product reigned supreme here! 
Read more

Back to top