Giuliana Rancic Dishes on Founding Fountain of Truth, Red Carpets and a Work-Life Balance
February 11, 2020
Giuliana Rancic knows how to make her dreams come true. She went from selling bumper stickers to starring on E! News and struggling to find clean beauty products with tangible results to creating Fountain of Truth, her own skin-care line. Ahead, we chatted with Rancic to find out everything from how her battle with breast cancer inspired her skin-care brand to why a phone call once caused her to pull over, get out of her car and do a happy dance. Get ready to be inspired.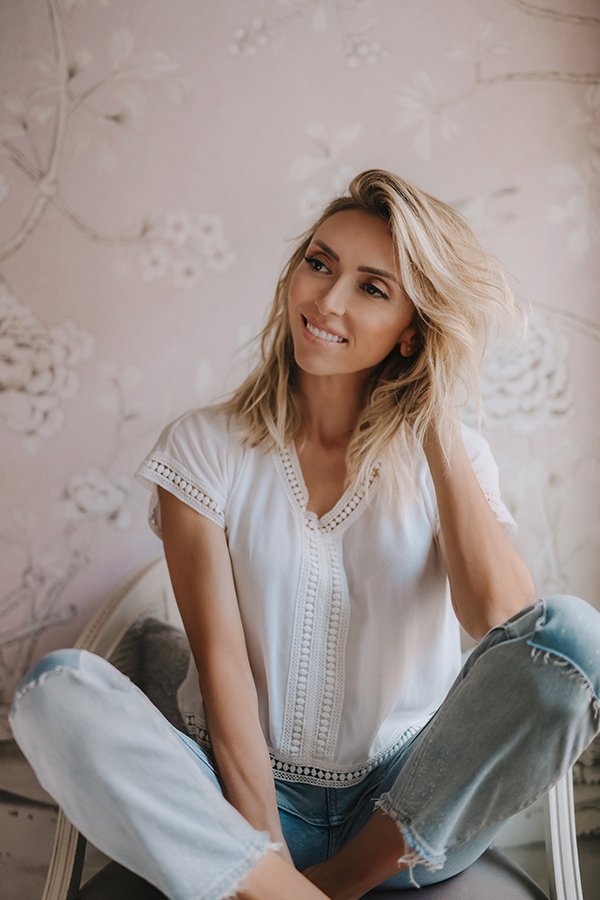 Can you give a little background on your work before starting Fountain of Truth? 
I was born in Naples, Italy, and moved to Washington, DC, with my parents who were looking to achieve the American dream. As a kid, I was quite social and loved getting to know people and their stories, so I decided to make a living out of that passion. Upon getting my graduate degree in journalism, I moved to LA and, after several years, got a job as a reporter for E! News. I eventually became the anchor and managing editor of the show and also did 80 episodes of a reality show with my husband called Giuliana & Bill. I am now in my 19th year at E! and am proud to be involved in many ways, from hosting their signature Live from the Red Carpet shows to specials and more. I'm very lucky to have spent the last 20 years doing what I truly love. 
You had a very successful career with E! News. What inspired you to branch out and start your own skin-care brand? 
After I was diagnosed with breast cancer at the age of 36, I set out to find skin-care products that were not only safe to use but also really worked. To be honest, I had a hard time finding what I considered to be a non-toxic skin-care line that also treated the appearance of fine lines, discoloration and other skin issues. I committed myself to creating my own clean products and sharing them with all people of all ages. Being involved in the development process was very important to me, too. I have been involved in every single aspect of the creation of Fountain of Truth from day one. In fact, today, someone who I am working with (and who has been in the beauty industry for decades) told me she has never seen a founder so involved in every aspect of their line. This comment really touched me because for three years, this has been a huge passion of mine that I have committed myself to in a big way. 
To say you are a busy woman is an understatement. How do you balance doing it all? 
Balancing family, a career I love and a skin-care line, restaurants and a clothing line isn't easy, but I try my best. One tip that helps me achieve more balance is my 100/100 rule. When I am at work, I give work 100% of my attention. When I go home, I leave my phone in a bowl at the front door and focus 100% on my family and home life. I don't have a conversation with my son while staring at my phone and responding to emails. I don't need to do that because I am so focused and efficient at work that I typically don't have any emails leftover by the time I get home. Then when my son and husband go to bed, I answer any emails and do any work that may need my attention or go online or on my social media to check out what's happening in the news or with friends. Obviously, not every day is perfect because sometimes things come up that need your attention at various times throughout the day, but for the most part, the 100/100 rule works out great.
Walk me through what a typical week is like for you. 
The other week, for instance, I flew to LA on Saturday for Grammy rehearsals, had a gown fitting and prepped before the big day. Sunday, I hosted the Grammy red carpet on E!. I wrapped at 5PM and was on a 7:15PM flight home to see my husband and son, Duke. Monday, I brought my son to school and had a handful of meetings via phone and video conference for Fountain of Truth, my charity Fab-U-Wish and our new restaurant RPM Seafood that my husband and I are partners in. It's our sixth restaurant in the RPM family, so that keeps us both very busy. We are both on our phones until it's time to pick up our son from school. Then Bill and I make dinner, put Duke to bed and hang out and catch up with each other. Tuesday was similar to Monday, however, Tuesday night I had a flight to Tampa to premiere the January collection of my G by Giuliana clothing line. It has been so incredible having a clothing line and now creating a collection a month on HSN is so exciting! My first show on HSN was Wednesday at 8AM, followed by a design and production meeting from 9-5PM, a video shoot from 5-8PM, and then I launched my new legging at midnight for two hours with a wrap at 2AM. I was back on the air by 8AM and had shows all day until 11PM. The next morning I took a 6AM flight to Cabo for a mini vacay with my husband and son. When I work, I work hard, but when I play, I really enjoy every moment and rest up. 
What has been the biggest challenge for you with Fountain of Truth? 
We wanted the products to be very special, so we went through various formulations to finally get all of them right. We also did clinicals on every single product because we wanted to know exactly how people would respond to each product and to make sure the products really did what they said they did. These factors made it a longer process to actually get the line to market. Plus, those clinicals are a huge financial investment, but it was important to me to get it right in the end. It took over two years to create Fountain of Truth, but let me tell you, it was so worth the wait! 
What has been your biggest pinch-me moment for Fountain of Truth? 
My biggest pinch-me moment was getting the call from Ulta Beauty that they were not only taking the whole line but they were also going to debut it in all 1,200 Ulta Beauty stores around the country. I was driving to E! when I got the call and had to pull over on Ventura Boulevard to do a happy dance while the phone was on mute. What's kinda crazy (and amazing!) is that I did that happy dance on almost the exact same corner of Ventura Boulevard where I used to sell bumper stickers before I got my job at E!. Having that full-circle moment is something I will never forget. It always reminds me that anything is possible. I'm here to tell you, if I can achieve my dreams, anyone can. It just takes an extraordinary amount of hard work and an attitude that anything is possible. The bigger the dream, the bigger the reality. 
If you could tell your 20-year-old self anything, what would it be? 
Don't stop working hard. No one is going to chase your dream for you, you have to do that yourself — but one day, all that hard work will be worth it. 
Fill in the blanks. 
My three desert island products are: A face cream with SPF, bronzer and a great hydrating mask.
A beauty trend I regret trying is: Cutting super short bangs when I was 13. They were not so cute on me.   
My first memory of beauty is: My mother, Anna, blowing out her candles at her 40th birthday party. I remember being a little girl and thinking how beautiful and glamorous she looked at that moment.
To me, beauty means: Being confident in your own skin. 
Everyday I make sure to: Tell my husband and my son I love them so much. 
I unwind by: Putting on my favorite Fountain of Truth Honey Glow Face Mask and watching a show on the sofa with my husband with a nice glass of Prosecco in hand. Doesn't that sound nice?!
Read More:
Should You Get a Buccal Massage? 
6 Gentle Exfoliators That Don't Feel Like Sandpaper 
The Founder of The Perfect V Dishes on Body Confidence and Why Everyone Needs a Vanicure 
Read more

Back to top