How to Get a Streak-Free Self-Tan — Even on Tricky Areas Like the Hands and Feet
May 12, 2021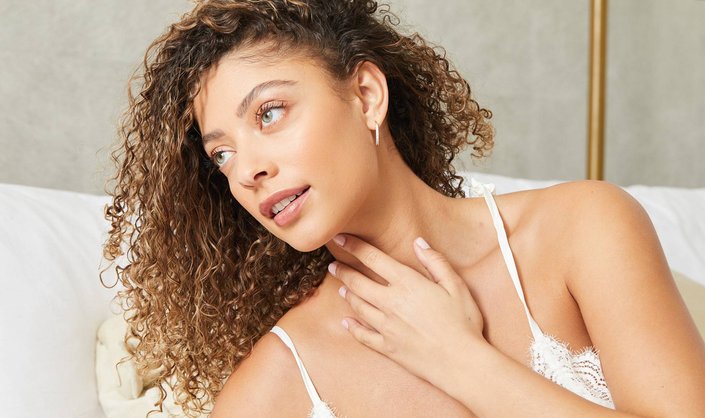 If you've been diligently applying sunscreen that helps to protect skin against the damaging effects of UVA and UVB rays all year long, great job! Now that the sun is peeking out more often though, you may be tempted to tan. Don't risk sun damage by lounging outside without SPF — instead, reach for a self-tanner. We consulted with St. Tropez tanning expert Sophie Evans on how to achieve a flawless tan on even the trickiest parts of the body, from your fingertips to your toes.
How to Prep for Self-Tanner
Evans' main tip? "Make sure you have all your tanning application essentials at home before you start applying," she says. "You will always need a non-oil-based moisturizer, a tan applicator mitt, cleansing wipes, cotton swabs and of course, your favorite self-tanner for face and body."
Once you've got all of your tools ready, start by exfoliating anywhere you're going to tan with a non-oil-based scrub. It's important that the scrub doesn't contain oil or else it may leave traces that dilute the tan or cause it to streak. If your skin is flaky, Evans recommends dry body brushing to ensure a smooth canvas for your tan. "The next step is moisturizing problem areas only," Evans says. "Never moisturize the whole body as moisturizer dilutes self-tan color and can also act as a barrier to prevent self-tanner from developing." Evans applies a non-oil-based lotion on the hands, feet, elbows, backs of wrists, heels and "any severe dry patches." 
How to Apply Self-Tanner for a Streak-Free Finish
Once your skin is properly exfoliated and moisturized, it's time to tan. If you're very fair or it's your first time self tanning, Evans advises going for a light to medium shade rather than the darkest shade available. For the body, we recommend the L'Oréal Paris Sublime Bronze Tinted Self-Tanning Lotion — it dries down quickly and is tinted [DE4] so you can see exactly where you're tanning. Next, Evans recommends applying the tanner with the St. Tropez Luxe Double Sided Applicator Mitt to help prevent your palms from staining. "Tan your legs first using a two-pump-per-limb rule, or enough tan so you can glide the product on with ease," Evans says. If you don't apply enough self-tanner, you'll have to go over spots or over-rub the product, which may cause streaks and patchiness.
When you reach tricky areas like the feet and hands (which you should always save for last), make sure they are clean and moisturized. According to Evans, the hands and feet are always the hardest body parts to self-tan. That's because the skin is typically drier than other parts of the body, in addition to being thicker, tougher and having a higher pH balance. "Hands and feet will always develop darker than the rest of the body, even if the skin isn't dry," Evans says. "They will generally develop five to seven shades darker." That's a big difference, so keep reading to find out how to avoid significantly darker hands and feet.
For the hands, use only a pea-sized dab of tanner, or whatever is left on the mitt. "Where you stopped at the wrist, fade over one hand, ensuring you blend over the side of the thumb, down and in between each finger and down the other side," Evans says. "Make sure you blend down the back of the wrist as well. Then, immediately take a cleansing wipe and clean your palms, tidying up the line where the palm meets the wrist. Wipe each nail, cuticles and under the nails if they're long." The same can be done by flexing your feet and toes as you apply the tanner and wiping your soles to remove excess product.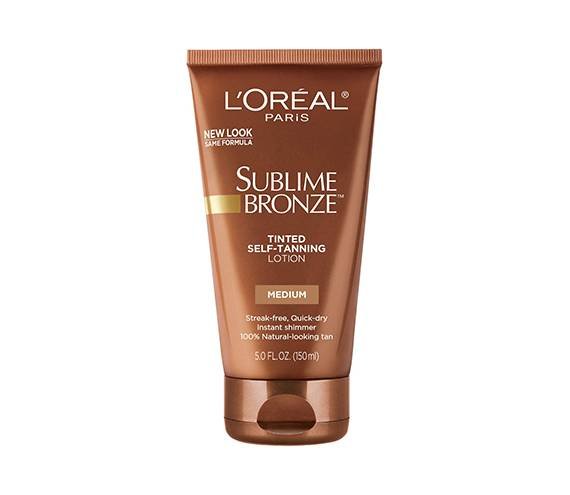 How to Make Self-Tanning Easier
Some self-tanner formulas are more forgiving than others. Self-tanners made specifically for the face are usually formulated to be lighter than body tanners, which makes them great choices for targeting tough-to-tan spots like the feet and hands, Evans says. We're partial to the L'Oréal Paris Sublime Bronze Self Tanning Facial Drops, a hydrating/moisturizing formula with hyaluronic acid and has a dropper to help create a completely custom glow. These are actually built to be mixed with your daily serum or moisturizer, which makes application a breeze. You can add five to seven drops to a dab of moisturizer for a subtle tan, or eight to ten for a deeper bronze. The drops are fragrance-free and go on completely clear. Spray formulas are easy to apply as well; theSt. Tropez Self Tan Purity Bronzing Water Face Mist also applies clear and builds as you spritz on more. 
And remember: Just because you're applying self-tanner does not mean you should skimp on sunscreen and continue to practice safe sun measures.
Photo Credit: Chaunte Vaughn
Read More:
How to Tan Safely – And Quickly 
Physical Sunscreen vs. Chemical Sunscreen: Which Should You Use?
Yes, You Need to Wear SPF All Year — Here's Why
Read more

Back to top