Itchy Dry, Winter Skin? Here's How to Deal, According to a Dermatologist
January 08, 2021
If you experience dry and itchy skin in the winter, you're not alone. According to a 2019 survey conducted by CeraVe via the Harris Poll of 2,000 U.S. adults, dryness (69 percent), itchiness (51 percent) and redness (24 percent) were rated as the top three winter skin concerns. 
While those results may not be shocking, we were surprised to discover that more than 26 percent of Americans don't adapt their skin-care routine to the cooler season and 25 percent admitted to not using a moisturizer to combat dry winter skin. 
Using the right products and adopting skin-friendly habits can go a long way in keeping skin hydrated and healthy. Here, Dr. Shari Marchbein, a New York City-based board-certified dermatologist is sharing her top winter skin rules to follow. 
How to Care for Dry, Itchy Winter Skin
Switch Your Moisturizer
Still using your lightweight moisturizer from summer? Dr. Marchbein recommends swapping it for one rich in moisturizing ingredients like ceramides. "Ceramides help keep moisture in while also maintaining the skin's protective barrier," she says. A solid option is the CeraVe Moisturizing Cream. "One of my favorite benefits of CeraVe products is the use of MVE technology, which slowly releases the ingredients over time, allowing them to absorb into the skin to hydrate and nourish, providing long-lasting moisturizing benefits," she says.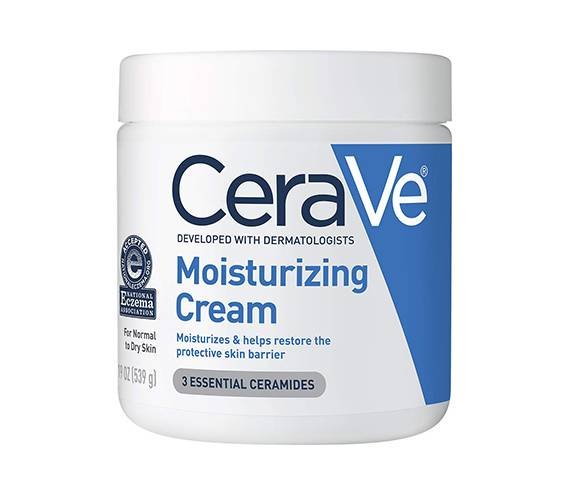 Avoid Long, Hot Showers
When it's cold outside, many of us enjoy warming up in a steamy shower. While scalding hot water may feel good in the moment, it could be causing additional dryness. Instead, stick to short lukewarm showers. "If your skin is red after a shower, that means the temperature is too hot,"  says Dr. Marchbein. After showering, apply a body lotion while the skin is still damp. Dr. Marchbein explains that this will help lock in moisture. 


Wear Non-Irritating Fabrics
Some thick sweaters are more irritating than cozy. "A lot of people find wool to be itchy and uncomfortable," Dr. Marchbein says. "If you find your winter wardrobe is irritating your skin, apply a moisturizing lotion and wear a breathable top under your sweater, such as a cotton t-shirt. You can also opt for softer materials without sacrificing warmth, such as cashmere or fleece."


Sleep With a Humidifier
Because low humidity levels can contribute to drier conditions, Dr. Marchbein suggests placing a humidifier in your bedroom. "I always use a humidifier in my bedroom during the winter to help restore lost moisture to the air while I sleep," she says. We love the Canopy Humidifier because it was created to help combat skin issues like dryness and dullness in addition to alleviating symptoms of the cold, flu and allergies. 
Photo: Chaunte Vaughn 
Read More: 
Skin Sleuth: What Are Ceramides?
7 Products to Elevate Your Hand-Care Game With This Winter
Best Winter Skin-Care Products, According to an Editor With Dry Skin
Read more

Back to top