The Ultimate Guide to Getting Better-Looking Skin This Fall
September 05, 2018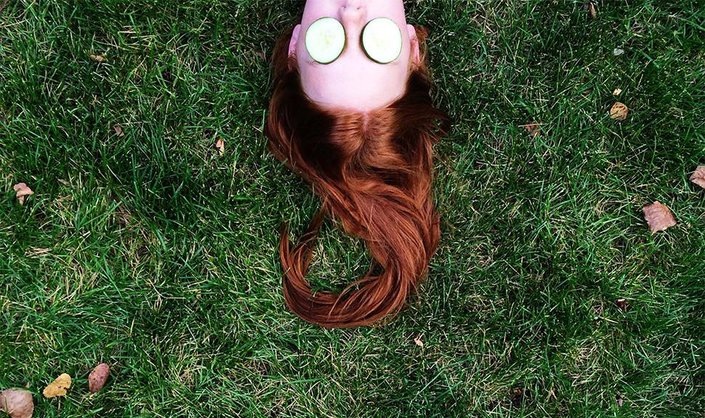 Use a Nourishing Cleanser
There's a plethora of skin aggressors in the fall. For starters, weather conditions are notoriously dry and windy. Temperatures drop, showers become steamier, and moisture-sucking heaters become a staple of the season. Your skin already has a lot to go up against to look and feel its best, so why not make sure that your cleanser isn't making matters worse? If your skin is dry or sensitive, reach for a cleanser with benefits that include hydration and nourishment along with basic cleansing, like Lancôme Galatée Confort. It is formulated with honey and sweet almond extracts to help condition and pamper skin, leaving it feeling silky-soft and comforted. No matter what cleanser you use, just make sure the formula doesn't leave your skin feeling tight and/or raw post-application as this could indicate a harsh stripping of necessary moisture. Also, make sure the water in your shower—and when you wash your face—is lukewarm and never (ever!) piping hot.
Hydrate Your Skin
You know those skin assailants we told you about earlier? They'll wreak the most havoc—aka cause over-drying and dullness—on skin that's not properly moisturized. As a refresher: All skin needs hydration, especially after being cleansed. Look for a formula that goes the extra mile to not only hydrate your skin, but also protect your moisture barrier from harm. The texture and consistency should be thicker than your summertime moisturizer, and the formula should contain any combination of hydrating ingredients—think: ceramides and hyaluronic acid—vitamins, minerals, and oils. For face, try SkinCeuticals Emollience, formulated with an exclusive combination of three nutrient-rich Brazilian algae extracts and grape seed, rose hip, and macadamia nut oils. For body, you can't go wrong with Kiehl's Creme de Corps Soy Milk & Honey Whipped Body Butter. It instantly penetrates skin to help deliver deep moisture and a softened skin texture. Within seconds of exiting the shower, while your skin is still damp, pat—don't rub!—a heaping dose of body butter onto your skin to help lock in moisture.
Neutralize Free Radicals
Free radicals are high-reactive chemical particles produced by both air pollution and UV rays. When they're introduced to your skin, they cling onto and break down collagen and elastin—the necessary fibers that give skin its firmness and bounce. As a result, wrinkles, fine lines, saggy skin, and other visible signs of skin aging can take over, making a younger-looking, radiant complexion that much more difficult to achieve. But it's not all bad news. Antioxidants—like vitamin C, for instance—can help neutralize pesky free radicals. A fan-favorite vitamin C serum among editors, dermatologists, and skin care junkies alike is SkinCeuticals C E Ferulic. Apply 4-5 drops to a dry face, neck, and chest, followed by SPF. Which brings us to our next point… 
Don't Throw Away the Sunscreen
Summer's over, which means you're likely not lounging outdoors at the beach or by the pool for a while. But that doesn't mean it's time to stow away your sunscreen with your swimsuits deep in the back of your closet. Your skin needs broad-spectrum SPF 30 or higher each and every day on exposed areas to protect against harmful UV rays. Seriously, even if it's 40 degrees outside and overcast, still wear it. If you're not a fan of traditional SPF formulas, reach for a tinted moisturizer formulated with sunscreen or an SPF-packed moisturizer. You can reapply it over the course of the day, and it can cut out an extra step in your routine. But whatever you do, don't ditch sunscreen altogether in the colder months!
Use an At-Home Face Mask 
Sunday nights are reserved for laundry, food prep, TV binges, and…at-home face masks. Face masks are an easy way to add some extra oomph to your skin routine without much effort or time (often just 10-20 minutes max). Since there's no shortage of options to choose from, be sure to pick wisely based on your skin woes, whether it be clogged pores or lack of skin luminosity. Need a helping hand? We're sharing a few of our favorite face masks, here!   
Treat Your Feet
After a season of sandals and flip flops, your feet are likely begging for some extra TLC. Give dry, rough heels the boot with Clarisonic Pedi-Boost. The powerful foot peel—with lactic and glycolic acids—helps slough and remove dead skin cells when paired with the brand's Pedi Device. The result? Soft, supple heels and toes. It may not be summer anymore, but it's never a bad time to have sandal-ready feet. Just our humble opinion.
Read more

Back to top