How to Prep Your Lips for The Season's Best Matte Lip Colors
June 14, 2017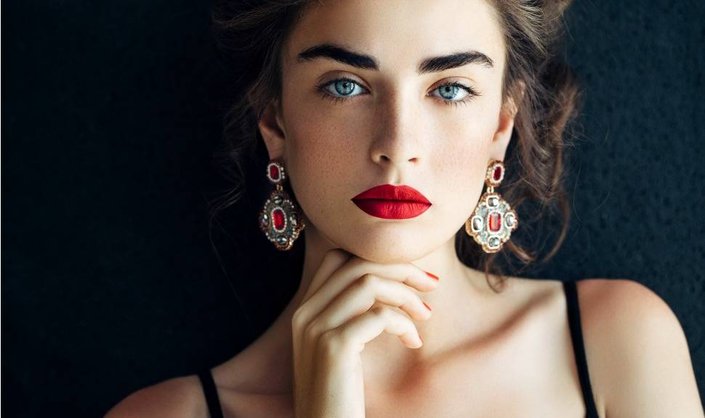 Like most beauty lovers out there, we can't get our hands on enough matte lipsticks. These long-wear formulas— available in a wide range of colors from nudes to deep reds and purples— are constantly evolving and improving, with some of our favorite brands debuting iterations of them regularly. As such, it's clear that matte lipsticks are pretty much here to stay, with no plans of disappearing from the spotlight anytime soon. On that note, we're sharing a handful of our favorite matte lippies courtesy of L'Oreal Paris for you to enjoy this season. But first, be sure to follow our tips for prepping lips for matte lipstick application to ensure a soft and kissable pout. Pucker up!
FIRST THINGS FIRST: PREP YOUR POUT

 
Before you reach for your matte lipstick, make sure to prep your pout first! Before application, gently exfoliate your lips with a lip scrub or scuff to help buff away rough dead skin cells and flakes. Follow up with a lightweight lip conditioner or salve that can help hydrate your lips. This step is a must year-round— regardless of whether you're wearing lipstick— since the delicate skin on your lips contain no oil glands and are more susceptible to drying out. As far as matte lipsticks are concerned, moisturizing lips beforehand can prove to be incredibly beneficial since some matte lipstick formulas can cause unwanted dryness, especially with frequent use. Plus, the more hydrated your lips are, the easier your lipstick will glide on and the better it will look. (Have you ever tried to apply lipstick onto dry lips? Not cute.) 
Now that your lips are prepped, it's time to reach for the color! Read on for a handful of our favorite matte lipsticks and glosses by none other than L'Oreal Paris!
L'

OREAL

PARIS

LE

MATTE

LIP

PEN

 
Lip pens are great for girls on the go who don't necessarily have time to apply a lip liner before each touchup. Their narrower applicator offers more precision than a traditional lipstick, but with the same velvety matte formula. L'Oreal Paris' Le Matte Lip Pen comes in 5 matte shades perfect for everyday wear in a convenient pen-like tube. Simply twist the pen up for product, and apply starting in the center of your upper lip. Work towards the outer edges following the contours of your mouth for a perfectly pigmented pout.
L'Oreal Paris Le Matte Lip Pen, $9.99 MSRP
L'OREAL PARIS INFALLIBLE PRO-MATTE GLOSS
Don't be fooled by its name. This "gloss" will fulfill all your matte desires. L'Oreal Paris' Infallible Pro-Matte Gloss is a liquid lip cream formula that glides on like a gloss, but dries flat like your favorite matte twist-up lipstick. Its doe foot applicator makes smoothing this creamy formula onto your lips—and defining your lips' natural shape— as simple as can be. Available in 10 shades from baby pink to dark plum, you're sure to find a Pro-Matte Gloss that complements your complexion.
L'Oreal Paris Infallible Pro-Matte Gloss, $9.99 MSRP
L'OREAL PARIS PRO-MATTE LIQUID LIPSTICK
If you're anything like us, you love using makeup products that last for hours—and we mean really last! We're one-and-done enthusiasts when it comes to makeup (as for sunscreen— that's another story!), which brings us to our next favorite: L'Oreal Paris' Pro-Matte Liquid Lipstick. This liquid formula dries to a true, flat matte that's impressively long-lasting and won't leave you hanging mid-day. Plus, with an ultra-wearable color selection, we're pretty sure this will be your new go-to line. Stay tuned to find out when L'Oreal Paris' Pro-Matte Liquid Lipstick will be hitting store shelves near you!
TAKE IT OFF: MICELLAR WATER TO THE RESCUE
When it comes to lipsticks, lasting-power is a very important factor. However, there comes a time at the end of the day when we actually want to take this stuff off our lips! To take your matte lipstick off at the end of the day without hassle, we recommend reaching for L'Oreal Paris' Micellar Cleansing Water Complete Cleanser Waterproof. Tiny micelle molecules lift away makeup with just a few sweeps of a cotton pad. To use, saturate a cotton pad and hold the pad over lips for a few seconds, then gently wipe to remove. Easy, peasy.  
L'Oreal Paris Micellar Cleansing Water Complete Cleanser Waterproof, $9.99 MSRP
Read more

Back to top