Winter Lip Care 101: 7 Tips and Products to Prevent Chapped Lips 
January 02, 2018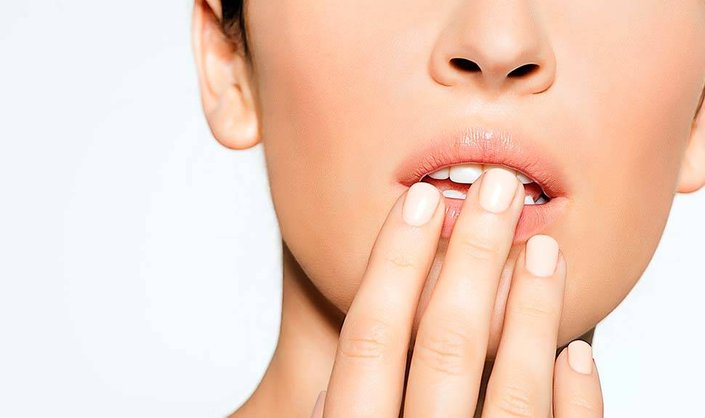 Winter has its upsides, including pampering yourself on snow days and enjoying all sorts of festive treats, but the impact winter weather can have on your lips is definitely not one of them. As soon as the temperatures cool off, it's about as close to a one-way ticket to chapped lips as you can get. That said, it's still possible to prevent chapped lips—if you know the right tips to follow and products to use. And you're in luck, we're sharing all the basics of winter lip care right here.
Lip Tip #1: Scrub, Then Slather
If your lips are already dry, but haven't quite made it into chapped territory yet, it may be a sign that worse things are to come. When that's the case, you may need to exfoliate your lips. Just as using a face scrub can be essential for sloughing away dead skin cells and revealing smoother skin, the same goes for your lips. You can use a face scrub like the L'Oréal Paris Pure-Sugar Nourish & Soften Face Scrub on your lips—not just your face. Once you've given your lips a gentle scrubbing, you'll need to moisturize. Follow up your scrub session with a thick coat of the ultra-hydrating Vichy Aqualia Thermal Soothing Lip Balm.
Lip Tip #2: Use a Humidifier
Taking care of your lips can require more than beauty products alone. When the air around you is too dry, it can lead to chapped lips. If you think the air in your home or office may be lacking moisture—a common issue during the winter—consider this easy fix: invest in a humidifier. These small devices can add moisture back into the air which will help your skin—and your lips—retain hydration. Keep one by your bedside or desk to help your lips stay hydrated.
Lip Tip #3: Don't Forget SPF
No matter the season, it's a must to regularly apply (and reapply) sunscreen—and the same goes for your lips. In the day time—whether the sun is shining or not—be sure to wear a lip balm with an SPF value of at least 15. The Kiehl's Butterstick Lip Treatment SPF 25 fits the bill. Formulated with coconut oil and lemon butter, the treatment provides soothing moisturize and sun protection—plus, it's available in shades that leave a hint of color, as well as an un-tinted option.
Lip Tip #4: Try Tinted Balms
Speaking of lip balms with a tint, you should try those too. As you've likely noticed, certain lipstick formulas can be extremely drying. If you'd like to avoid that, without forgoing a flattering lip color, go for a lip balm with a tint. The Maybelline Baby Lips Glow Balm is the perfect balm for the job. It makes picking your lip color as easy as possible, adjusting to your personal lip chemistry in order to reveal a color that'll work for you. And of course, the lasting hydration doesn't hurt either.
Lip Tip #5: Stop Licking Your Lips
Do you lick your lips? If you answered yes, it's time to break that bad habit ASAP. You might be under the impression that you're giving your lips a quick boost of moisture, but that's far from the case. According to Mayo Clinic, saliva evaporates quickly, which means your lips are left even drier than before you licked them. To try and curb your lip licking habit, avoid flavored lip balms—they may tempt you to have a taste.
Lip Tip #6: Apply a Lip Mask
We're sure you're familiar with face masks, but they aren't your only masking option. Nowadays, there are masks made for almost every little bit of skin on your body, from your hands to your feet, and even your lips. If your lips are in need of an extra intense round of hydration, or you're simply looking for a new way to pamper your skin, try popping on a lip mask. Let it sit while you kick up your feet, and when you're finished your lips should be soft and smooth.
Lip Tip #7: Dress for the Weather
The feel of winter winds whipping at your exposed face and neck should be enough to convince you to wear a scarf, but your choice in accessories could also be a total skin saver. The Mayo Clinic recommends using a scarf to cover up your lips, hiding them from winter weather conditions. 
Read more

Back to top