How to Reapply Sunscreen Without Ruining Your Makeup
April 14, 2022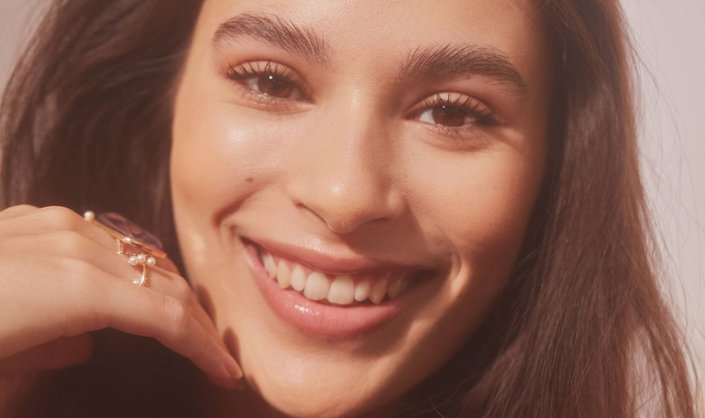 Why choose between protecting your skin and keeping your makeup in check when you can have the best of both? Ahead, we're sharing tips on how to reapply sunscreen throughout the day without ruining your meticulously-applied makeup!
Any skin care-obsessed gal knows that applying sunscreen at least every two hours is an absolute must, regardless of the season or what Mother Nature has in store. That's easy enough if you're reapplying Broad Spectrum SPF onto a clean canvas, but what happens if you're wearing makeup? To dispel any myths, just because you're wearing makeup doesn't mean you're exempt from reapplying sunscreen throughout the course of the day. (Sorry not sorry.) Luckily, there are ways to reapply Broad Spectrum SPF without messing up the highlight and contour you spent all that time perfecting. That's right ladies, you don't have to sacrifice your beloved makeup looks in favor of sun protection. Read on for foolproof tips and tricks on how to reapply sunscreen without ruining your flawless-looking makeup. Now you really don't have an excuse to skip a reapplication of Broad Spectrum SPF! 
THE IMPORTANCE OF REAPPLYING SUNSCREEN
To reiterate what most people already know: Applying Broad Spectrum sunscreen daily is one way you can help protect skin against damaging UV rays that can cause premature skin aging and even some skin cancers. But applying sunscreen is not a one-and-done sort of deal. To be effective, formulas must be applied at least every two hours. According to the Skin Cancer Foundation, reapplying sunscreen is just as important as putting it on in the first place. The recommendation is to reapply the same amount of sunscreen as your initial application—about 1 oz. or enough to fill a shot glass—at least every two hours. If you go swimming, dry off with a towel, or sweat profusely, you should reapply your sunscreen immediately and not wait the full two hours. Below, we share a guide on how to apply (and reapply) your sunscreen when you're wearing makeup.
1. PICK YOUR SUNSCREEN WISELY
It goes without saying that all sunscreens are not created equal. We recommend choosing a sunscreen that is lightweight and dries without any residue, especially if you plan to wear makeup. Keeping your skin type in mind, test out a few different Broad Spectrum sunscreens until you find one you like. According to the Skin Cancer Foundation, some of the most important things to consider when shopping for sunscreen is that the formula offers Broad Spectrum protection, has an SPF level of 15 or higher, and is water-resistant. Need a helping hand? We share our picks of the best sunscreens from the L'Oreal portfolio of brands, to wear under makeup, here! 
Editor's note: Plenty of gals like to go makeup-free during the summer or—at the very least—switch to lighter makeup formulas, and I'm no exception. On days where I don't want to apply foundation on top of my sunscreen, I reach for a tinted sunscreen—like SkinCeuticals Physical Fusion UV Defense SPF 50—that can help even out my skin's tone while protecting it against harmful UV rays. The light coverage is perfect for warm weather days as it doesn't weigh down my skin.
2. SWITCH TO CREAM MAKEUP
The makeup you apply on top of your sunscreen matters! If your sunscreen has a cream or liquid texture, we recommend applying cream or liquid makeup on top of it. (Powder makeup formulas may cake and draw attention to unwanted buildup when applied on top of liquid sunscreen. Yuck!) Better yet? Reach for makeup that's formulated with SPF to up the protection factor, like L'Oreal Paris Advanced Never Fail Makeup. The foundation is formulated with SPF 20 and can help conceal and hide imperfections you don't want the public to see!
3.  HOW TO REAPPLY
If you went the tinted sunscreen route and didn't apply any additional makeup over it, reapplying is easy as pie. All you have to do is take the formula you used initially and apply the same amount over your facial contour. If you applied foundation, blush, highlight, contour, etc. atop your sunscreen, that's where things can get tricky. Reach for a physical sunscreen and gently work it over your makeup. These formulas are available in creams, sprays, powders, and more, making it easier to find one that works best for your skin. A spray sunscreen will likely be your best bet to reduce the chances of ruining your makeup. Just make sure to apply your formula of choice the right way by following the pack instructions of use. Even though you're reapplying your sunscreen, you want to make sure you're still using the adequate amount to ensure the best level of protection. If your makeup smudges a little here and there, don't fret. Quick touch-ups are always an option!
Editor's note: As important as sunscreen is for your skin, it can't fully protect your skin from harm. As such, the American Academy of Dermatology recommends pairing your daily sunscreen applications (and reapplications) with additional sun protection measures such as wearing protective clothing, seeking shade, and avoiding peak sun hours—between 10 a.m. and 4 p.m.—when the ray's are strongest. 
Read more

Back to top