Be a Lightweight: How to Switch up Your Skin Care for Summer
June 13, 2018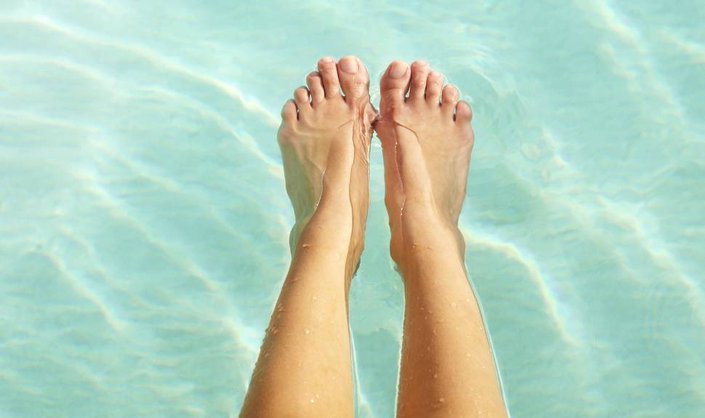 Being a lightweight may not be such a bad thing—especially when we're talking summer skin care regimens. When it comes to the hot, humid days (and nights) of summer, it's best to let go of those heavy creams and moisturizers we loved in winter in favor for lighter products. With warmer temperatures finally here, it's time to switch up your skin care routine for summer. 
USE A GEL CLEANSER
Between the sweaty summer activities and all the sunscreen, our skin can have more grease and less glow. Switching to a gel-based cleanser is a great way to freshen up your complexion. Look for one that removes impurities and clarifies skin without stripping it of its moisture. We love Lancôme's Gel Pure Focus. This gel formula activates in water to turn to a refreshing foam that leaves skin clean, soft, and radiant.
Lancôme's Gel Pure Focus, $26 MSRP 
HYDRATE WITH A MIST
The hot summer sun can wreak havoc on our skin, which is why we love to incorporate facial mists, like Kiehl's Cactus Flower & Tibetan Ginseng Hydrating Mist, into our summer beauty routines. Using a facial mist can not only help to give your skin a quick hit of hydration, it can also offer relief on days when the heat feels unbearable. Formulated with lavender, geranium, and rosemary essential oils, this cooling mist helps to purify and hydrate skin for a revived, healthy-looking appearance. After spraying, your skin will feel soft, smooth, and refreshed. Plus, it's small enough to easily fit into your purse, beach tote, or gym bag, so you'll always be able to give your skin a spritz on the go.
Kiehl's Cactus Flower & Tibetan Ginseng Hydrating Mist, $27 MSRP
SWITCH TO A LIGHTER MOISTURIZER 
In the summer months switch those heavy winter creams out for lightweight moisturizers or serums, like Vichy's Aqualia Thermal Dynamic Hydration Power Serum. Suitable for all skin types, this ultra-hydrating serum can provide your skin with hydration sans greasy residue or stickiness. The light texture softens and comforts skin and the formula—with Vichy's Dynamic Hydration technology—helps to distribute water to all facial zones.
Vichy Aqualia Thermal Dynamic Hydration Power Serum, $36 MSRP
APPLY AND REAPPLY SPF
Wearing sunscreen every day is absolutely vital to the skin's overall health, especially in the summer when we are spending more time outdoors. Look for a sunscreen with broad spectrum SPF, like La Roche-Posay's Anthelios Cooling Water-Lotion Sunscreen with SPF 60. Formulated with the brand's Cell-OX Shield XL antioxidant technology, this refreshing, water-like sunscreen is lightweight and perfect for the sweaty summer months. Applying sunscreen in the morning is great, but in order to reap the benefits, you must reapply every couple of hours, after toweling off, after sweating, and after being in the water. Not sure if you're doing it right? Don't worry, we go over the right way to apply sunscreen. 
La Roche-Posay Anthelios Cooling Water-Lotion Sunscreen SPF 60, $35.99 MSRP
DON'T FORGET YOUR LIPS 
To avoid dryness, don't forget to give your lips some SPF protection, too. There are tons of lip balms and conditioners that are formulated with SPF, like the CeraVe Healing Lip Balm. This lip balm is formulated with SPF 30 and can give your lips the protection they need. Don't forget to reapply regularly in order to keep your pout hydrated and protected all day long.
CeraVe Healing Lip Balm with SPF 30, $4.97 MSRP
TAKE COLD SHOWERS
Not only does a cold shower on a hot day feel extremely refreshing, it's also better for your skin. Taking a hot shower can actually strip moisture from your skin, so stick to cool or lukewarm water for an all-around win.
SCRUB AWAY DRY FLAKES
Having dry, lackluster is never fun. Remove dead cells and dry flakes with an exfoliating body scrub twice a week. One of our favorite is the Kiehl's Gently Exfoliating Body Scrub. The gentle formula effectively exfoliates and removes dead surface skin cells without over-drying. The results? Skin that feels soft and smooth and is ready for moisturizing.
Kiehl's Gently Exfoliating Body Scrub, $36 MSRP
PAMPER YOUR LEGS
In the wintertime, we usually hide our legs in long pants. But now that summer's here, it's time to give your legs the TLC they've been missing out on for months. To remove unwanted body hair, try waxing or shaving but make sure to exfoliate beforehand to keep your skin clean. Also, make sure you're moisturizing your legs daily to give your skin the hydration it needs. The Carol's Daughter Ecstasy Frappé Body Lotion is a great choice for keeping your legs smelling great all summer long.
Carol's Daughter Ecstasy Frappé Body Lotion, $14.40 MSRP
USE UNDER-EYE CREAM
The sun's harmful UV rays can affect the skin around your eyes, too. Keep your eye contour protected by using a sunscreen formulated specifically for the skin around your peepers, like the SkinCeuticals Physical Eye UV Defense SPF 50.
SkinCeuticals Physical Eye UV Defense SPF 50, $30 MSRP
FAKE YOUR TAN
We all want a sun-kissed glow during the summer, but is laying out under the sun's rays worth the risk of skin cancer? Definitely not. Instead, skip the tanning sessions at the beach and opt for some skin-safe alternatives. Spray tans are one of the best ways to get a subtle glow not just in the summer, but year-round. If you'd rather give yourself an at-home tan, then try a self tanner. The L'Oréal Paris Sublime Bronze Self-Tanning Lotion leaves a streak-free, instant shimmer that dries quickly. 
L'Oréal Paris Sublime Bronze Self-Tanning Lotion, $10.99 MSRP
Read more

Back to top