7 Ways to Tweak Your Beauty Routine to Amplify Results
March 07, 2017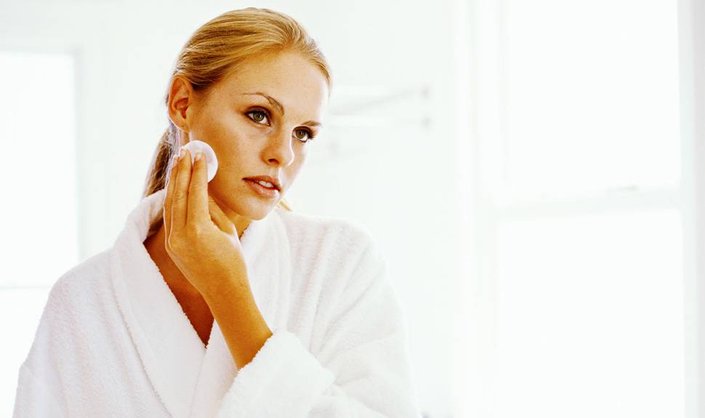 Your skin care routine may not be due for a complete overhaul just yet (typically this happens at the start of a new season), but it's never a bad idea to incorporate a few positive tweaks every now and again. As new products and trends emerge, it's worth upgrading your routine to help amplify results, especially if you're so used to one regimen that you can apply it from start to finish with your eyes closed. To be clear, we're not talking big, huge changes, but rather a little fine-tuning here and there. Kapeesh? Ahead, we share seven ways to switch up your beauty routine to ensure its full potential is reached. 
1. Invest in a Clarisonic
Clarisonic devices have been favored by the industry's elite for years and it's no surprise why. These sonic cleansing tools can cleanse skin and remove makeup up to six times better than hands alone! To be frank, if you haven't yet tried one of these game-changing devices for a better clean, you're doing a great disservice to your skin. Depending on your budget, investing in a Clarisonic can be a splurge. That said, we firmly believe that the results make it worth it. What's more, there are a plethora of interchangeable brush heads to choose from that can help address your chief skin concerns—from acne to signs of aging—while taking into account your particular skin type. In other words, owning a Clarisonic is like having multiple cleansers at your disposal (without the clutter on your countertop).
2. Add a Toner
For whatever reason, toner is often neglected in a skin care routine. We'd like to think most people aren't aware of the  benefits and thus don't use it, but that may be wishful thinking. Regardless, we're going to bring you up to speed on why toner deserves its own step in your routine. For starters, toner can help ensure that dirt, excess oil, and all other lingering impurities are removed after cleansing. Since some cleansers can disrupt skin's natural pH, using toner can also help bring balance back to the skin, in addition to soothing, moisturizing, and hydrating.
3. Use Primer
The secret to better makeup hold? Hydrated skin. But instead of using regular moisturizer, reach for a primer. These formulas often work double duty to provide longer-lasting makeup hold in addition to addressing concerns like excess oil, spots, wrinkles, and fine lines. Wear primer underneath your makeup to help provide a smooth, shine-free finish upon which to build your look! No more creasing eye shadow or droopy foundation.
Need help picking the best primer for your skin type? We lay out a few of our favorites, here!
4. Apply Products in the Proper Order
All skin routines should start with the right products. Once that's secured, the second most important step is to apply said products the correct way, and in the right order. If you slather on your skin care willy-nilly, you could unintentionally prevent your products from working to their fullest potential. Always start with the products with the lightest consistency. Here's a sample order to follow: cleanser, toner, serum, moisturizer, sunscreen.
Note: Sunscreen should always be the last step of your A.M. routine before heading outdoors. 
5. Pamper Your Skin Overnight
It's during deep sleep that our skin undergoes natural self-repair, so you definitely want to make sure to get the recommended number of hours of shut-eye each and every night. In addition to hitting the sack at a decent hour, apply an overnight product that can help pamper your skin while it regenerates. Lucky for you, we list a handful of nighttime products—from masks to balms—you'll actually want to sleep in, here! Is there anything better than waking up to great-looking skin?
6. Lather Moisturizer onto Damp Skin
You already know that moisturizing is a non-negotiable part of a skin care routine. But did you know that there's an ideal time to moisturize your skin? The answer is while it's slightly damp, like after cleansing or taking a shower. The reason for this is because skin has the most moisture when it's wet. Rather than allow that moisture to evaporate into the air—which can leave your skin feeling dry—it's best to apply lotion while skin is still slightly damp to help lock in that much-needed hydration.
7. Try Dry Brushing
Give your regular body exfoliating ritual an upgrade by dry brushing. For those that aren't aware, dry brushing is a time-honored spa tradition to give body skin a little extra TLC. It requires the use of a natural-bristle brush which helps gently slough away dry surface skin with circular movements. The result? Skin that's smoother, softer, and boasts a more radiant appearance. Plus, it can help your subsequent moisturizer absorb and hydrate on skin. 
Read more

Back to top