InMySkin: Why Matt Mullenax Founded the Men's Personal-Care Brand Huron
August 15, 2019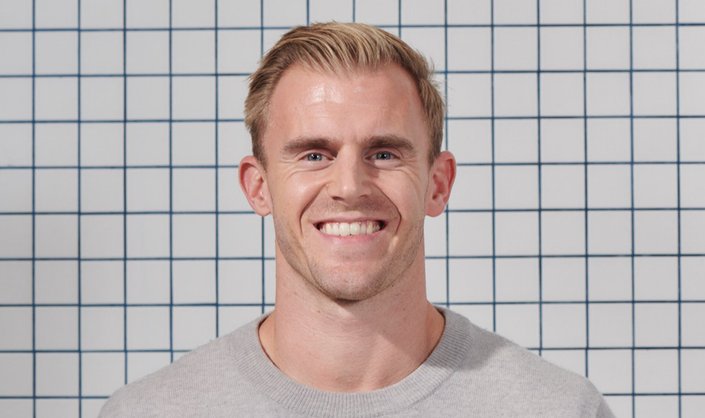 Matt Mullenax will be the first person to tell you that he hasn't always had good skin. Growing up in Cincinnati, Ohio, he was really into sports, playing football, basketball and running track in high school, and he continued to play football in college at Brown University. "As an athlete, my skin took a beating," he says. "Between football helmets and sweaty clothes, I wasn't doing myself, or my skin, many favors." By the time he reached his early 20s, his skin struggles began affecting his self-esteem. "On paper, I was a very healthy person. I ate well, worked out regularly and drank tons of water. But because my skin didn't look or feel healthy, my confidence and sense of self-worth suffered. When you know that people are looking at your skin and not you, it's not a great feeling." Early in his career, Mullenax was even once asked at work what was going on with his skin and whether he was going to get it taken care of. "I was physically healthy, but my skin — and, consequently, my mental state — was not."
Mullenax's skin issues eventually compelled him to create Huron, a new men's personal-care brand that sells body wash, face wash, face lotion and more. We chatted with the founder and CEO to learn more about the brand and his journey to finally feeling comfortable in his skin.  
Tell us about your relationship with your skin and how it's changed over the years.
It's certainly a love/not-love-as-much relationship. But I've learned what may aggravate it, the importance of hydration and sleep — which, admittedly, I'm not the best at — and finding products that support healthy skin. 
Growing up, I was clueless. I'd have a breakout and throw the kitchen-sink's worth of products at problems. First I tried the basic grocery-store brands to repair my skin. When they didn't help me, I moved on to dermatologist-prescribed products. And I would go so far as to purchase anything and everything that was advertised on men's blogs or in magazines. It wasn't until I was living on the West Coast for business school, when I began to experiment with some more premium products, that my skin started to respond positively. But I personally couldn't justify spending $70 or more on personal-care products.
Is that what led you to create Huron?
Yes, that was the light-bulb moment for me. I wanted to create a branded assortment of A-plus products that looked, acted and performed like the higher-end products, but at a price point that didn't break the bank. That's been our mission at Huron.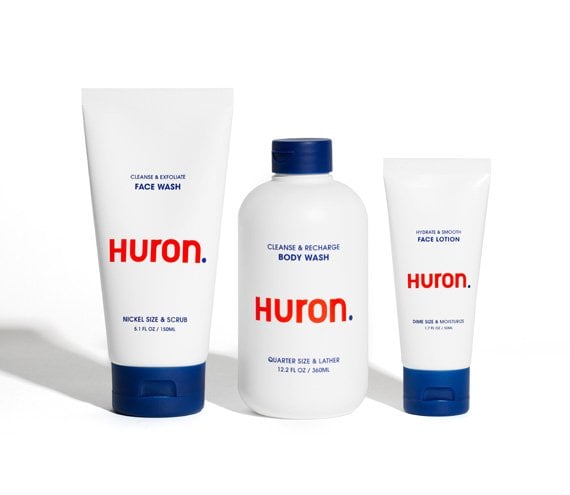 Why the name Huron?
Huron is the name of the street I lived on in Chicago where some of my skin troubles were the worst. So it's a daily reminder to me about why this brand exists and for whom it's for.
When did you discover your passion for skin-care?
My passion for the space is two-fold: Previously, I worked for an investment company, and we looked at a number of opportunities in the personal-care category. I was drawn to the brand affinity that can be fostered. If a consumer is a loyalist of your brand, he or she may buy your products for the next five to ten years. There are few other categories where the marriage between use of product (daily) and duration of engagement (years) is as strong.
More salient, though, is that I was the kid who grew up with bad skin. We created this brand to help guys, like me, look and feel their best day after day. It starts with the better basics — body wash, face wash, face lotion — that are high-performing and full of efficacious and quality ingredients.
Many guys are already opting into healthier decisions throughout their day — diet, exercise regimen, etc. — but the bathroom is still foreign territory for most. So, they often revert back to the same old products they've used since middle school. It's a huge disconnect.
What are your personal daily and nightly skin-care routines?
Whether morning or night, it's the same routine. For the past 18 months, my shower has been ground zero for all of our product testing. I've tried it all. But I couldn't be happier with our current shower staples: body wash and face wash. The fragrance of the body wash is so invigorating and it gives me a wake-up kick. The face wash has bamboo exfoliants, which are great for making me feel clean while not being too abrasive like other products. Turns out, men don't like to wash their faces with sandpaper. Post-shower, I use our daily face lotion. It's cooling and hydrating and easy to apply. It's been my daily regimen for the past few months.
How do you think the men's skin-care landscape is changing and where do you see Huron fitting into that story?
Again, we know that our guy is choosing healthier options throughout his day, but he has been slow to change his showering and personal-care habits. Until now. We want to be the brand that helps facilitate this transition. I'm excited about bringing high-quality product previously reserved for the prestige/premium shopper to guys everywhere — to be the brand that helps guys help themselves. That's a pretty cool opportunity.
Can women use the products, too?
Yes. While Huron was designed to be a men's personal-care brand, we've seen in early sales that women are very interested in our product line, too. That's been a surprise. For a long time, guys have "borrowed" their girlfriends' products, but now she's stealing products from him. Given our ingredient profile — the fact that we're 100% vegan, sulfate-free, paraben-free, cruelty-free, silicone-free, phthalate-free, aluminum-free and so on — our products have many benefits that resonate with her. The multi-functionality and performance elements of our products, from skin moisturizing and conditioning claims to long-lasting hydration, are gender agnostic.
Finally, tell us your number-one skin-care tip.
I've learned that consistency is critical. The importance of washing your face and applying moisturizer in the morning and at night. These seem like menial details, but they're not.
Read More:
Meet the Man Sheet-Masking Around Copenhagen
5 Peel-Off Masks to Try If You Have Oily Skin
Which Antioxidant Serum Is Right for You?
Read more

Back to top