MCM: Meet Piotr Lipinski — The Man Sheet-Masking Around Copenhagen
June 17, 2019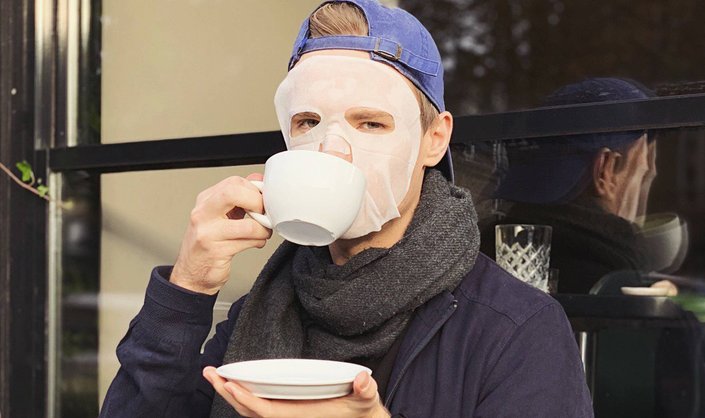 When I first discovered Lipinski Skincare on Instagram — otherwise known as the Instagram of skin-care enthusiast Piotr Lipinski — it was with a video of him sheet-masking in a car to the song Level Up by Ciara. Needless to say I was instantly amused and intrigued. A bit more Instagram stalking and I realized Lipinski frequently sheet-masks in public — be it in a coffee shop in Copenhagen where he lives, on a balcony with a view or while strolling the aisles of a supermarket. I needed to know the story behind this witty skin-care obsessee, so I reached out to him for a chat.
"Some people like to play with makeup, I can do the same with skin care," Lipinski told me. More on that, ahead.
Tell us a little bit about yourself (and your skin, of course)!
I have a relentless sweet tooth. I think I should be living in one of those "chocolate countries" like Switzerland or Belgium. After travelling around the world as Emirates Cabin Crew, somehow I settled down in Copenhagen. This is not bad at all — they have amazing licorice candies, too. My lifestyle doesn't do any favors for my skin; perhaps I really know how to take care of it from the outside as efficient as I can. For the past two years, we've been in an amazing relationship but it wasn't always like this. Now, I'm almost 26 with a lot of skin-care experience.
What started your passion for skin care?
I used to have acne from the time I was 13 to my early 20s — how insecure I was back then! During that time, I never visited a dermatologist or took any medications to cure the acne. Guess what I chose instead? Makeup. Of course, no moisturiser was introduced to my skin during this first phase of my skin-care journey, either. On my mirror shelf at home, you could see one of the clarifying toners (hi, alcohol denat.) from a drugstore, spot corrector in the really bad orange shade and a BB cream.
When I turned 19, I started to discover different products. I was travelling a lot and was introduced to the Korean skin care. I started to notice improvements in my skin and wanted more, faster. Because of my work as a flight attendant, I had flown to Soul and restocked my skin-care products for a good year and started learning by watching YouTube and reading a lot. I got hooked. Now as a result, I even changed my job and work as a Beauty Advisor.
What's the story behind your love for masking in public?
I wanted to create content that is different, something that nobody else is doing. I needed the attention to spread the word to people who have been making the same skin-care mistakes as I did when I was younger so they don't have to repeat them, and they can get their confidence back sooner.
Have I mentioned how much fun my boyfriend has or my friends have (they don't) when I ask them to take a photo of me in the supermarket with a face mask on? Under those posts, you can always read something interesting — something that will hopefully help others. These photos are weird and funny and I plan to keep them this way.
On that note, what's your favourite sheet mask?
I don't have a favorite sheet mask. When I find one, I will let you know.
Tell us about your daily skin-care routine.
It's important to listen to your skin. My routines change very often. No matter what, I always believe in the power of toners and essences, so those two always take a part in my AM and PM routines to boost the moisture in my skin.
In the morning I go for a gentle cleanser, hyaluronic acid serum (it works well in the climate I live in), vitamin C serum, eye cream, moisturizer and sunscreen (always).
In the evening I double cleanse, first with an oil cleanser, then a regular one. I balance the pH level of my skin with toners and essences. Then I choose a serum depending on if I need more moisture, a retinol treatment or maybe I want to calm my skin. I always lock the moisture in with an eye cream and a moisturizer. Once or twice a week I go for a chemical exfoliation and face masks. Oh, and don't forget about a facial massage.
Do you have any skin-care tips to share with the readers?
1. Don't trust the DIY skin-care tips on Snapchat or other non-skin-care focused websites. I almost flipped when I watch a video on Snapchat recommending to peel your skin with a lime/lemon and sugar mix.
2. Always wear a sunscreen during the day, no matter where you are.
3. Double cleanse in the evening, first with an oil cleanser. Trust me.
4. Use chemical exfoliators; they will transform your skin.
5. An obvious one: drink a lot of water.
6. When using a hyaluronic acid serum, apply a cream on top so you won't lose the moisture.
7. Skin care is unisex.
8. Disinfect your phone every day, change pillow sheets often and always wash your hands.
What's the one skin-care product you could never go without?
Don't take away my sunscreen from me!
What does skin-care mean to you?
Skin care is personal. Listen to your skin, take notes and make your routine based on your needs.
A post shared by LIPINSKI / SKINCARE 🧚🏻‍♂️✨ (@lipinskiskincare) on
Read More:
Derm DMs: What's the Difference Between Retinoids and Retinol?
Our Favorite Moisturizers Formulated With SPF
The Best Skin-Care Routine for Oily Skin
Photo: @LipinskiSkincare
Read more

Back to top