These Two Beauty Products Are the Ultimate Skin-Care Dream Team
August 28, 2019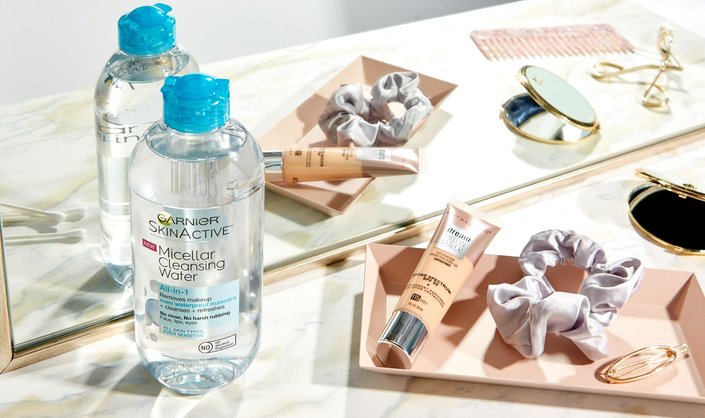 Let's be honest, it can be difficult to find makeup products that work double-duty to improve your skin while making you look beautiful. That is, until now. Reap the full benefits of this perfect duo that will do wonders for you and your skin. Introducing the ultimate dream team: Garnier SkinActive Micellar Cleansing Water and Maybelline New York Dream Urban Cover Foundation. Ahead, we're talking about why you should be using these two products together in your skin-care routine.

If you haven't already tried this dreamy Maybelline foundation, now is the perfect time to start. This double-duty foundation gives you flawless coverage and is specially made to protect your skin against environmental aggressors. That means, whenever you wear this lightweight formula, your skin will be protected against the pollution that wreaks havoc on your skin throughout the day. It also has broad-spectrum SPF 50 to defend your skin against harmful UV rays. The foundation comes in 16 shades and gives you natural-looking finish. 

After a long day of wearing your new beloved foundation, now is when you use the Garnier Micellar Water. You can choose between four different formulas depending on your skin-care needs. The formulas include a new Water Rose cleanser for hydration, one for sensitive skin, one for mattifying and one that will remove all of your stubborn waterproof makeup. Whatever you choose, you'll be sure to experience incredible skin-care benefits thanks to the micellar technology that gently removes all makeup and impurities from your skin without harsh rubbing. This all-in-one cleanser is sure to melt away all of that Urban Cover Foundation revealing beautiful and clean skin. 
Read More: 
5 Affordable Blackhead Scrubs to Try STAT
8 Potential Acne Triggers Behind Those Out-of-Nowhere Breakouts
6 Face Serums for Dry Skin That Are Hydration Superheroes
Read more

Back to top