For TikTok Star Riley Hubatka, This Thayers Toner Is a Game-Changer for Dry Skin
October 04, 2022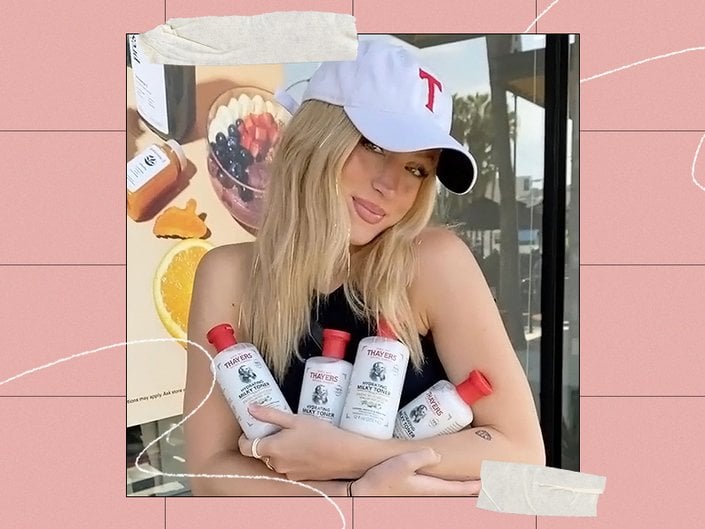 If you follow TikTok sensation Riley Hubatka, you know she has a love for beauty. But finding the right skincare products for her combination skin has actually been somewhat of a learning curve. As the newest Thayers ambassador and a lifelong skincare and beauty lover (she's actually attending cosmetology school!), Riley Hubatka spoke with Skincare.com to share more about her skincare journey and her favorite products. Hint: If you haven't tried the new Thayers Hydrating Milky Toner, now is the time. Read on for our full interview.
After you're done reading up on the TikTok star's favorites, head over to Thayers.com to check out the brand's new product recommendation quiz, which will help match you with your perfect toner.
Can you walk us through your daily skincare routine?
It's been a process, but in the mornings, I'll just cleanse my face and use the Thayers Hydrating Milky Toner, which has been new but incredible. Then, I'll use some type of serum — right now it's a peptide serum — and then just a moisturizer and some chapstick. I try to keep it pretty simple in the morning — just because I don't want a super heavy layer of skincare on my face before I put my makeup on. At night is typically when I'll do a more in-depth routine, and again, that's just a cleanser and the Thayers Hydrating Milky Toner. I'm actually using tretinoin, the retinoid for acne. I've been on that for a while, so that causes my skin to get really dry, so I have to use a lot of hydrating products at night. Then, I'll use the peptide serum again, my hyaluronic acid and a heavier moisturizer for night.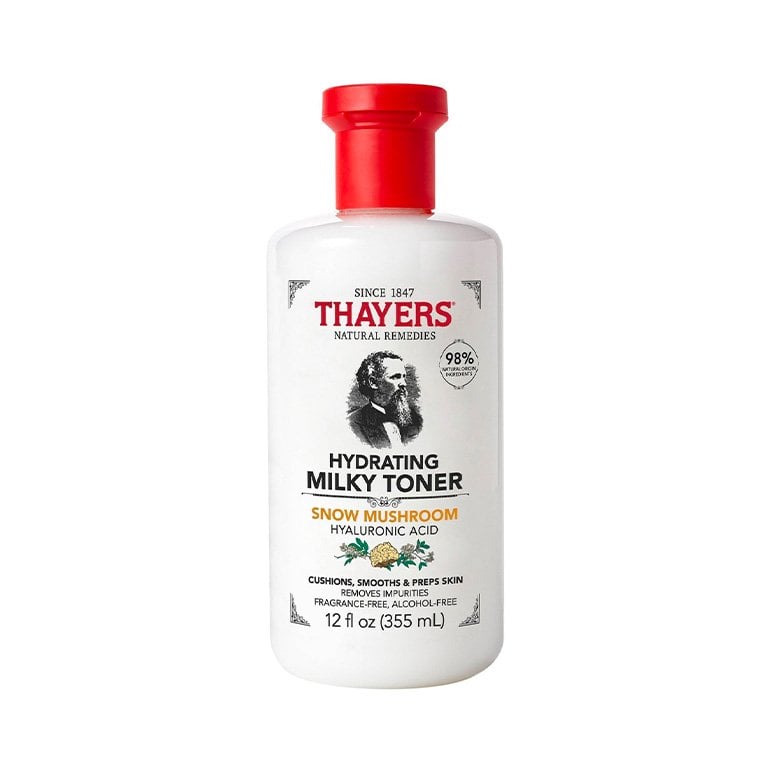 What's your skin type, and how have you learned to care for it?
I actually had super, super oily skin for as long as I can remember. It's probably been the last year and a half or two years that I've started to notice I'm getting a little dry and flaky around my mouth and nose, and I know that's because of the tretinoin that I'm using. As of right now, I would say I have combination skin. But it's definitely been a process, and I would say it took me going to a dermatologist and getting my skin evaluated for me to learn the correct products that I should be using. It's definitely taken some time to get into the right routine, but I feel like I have a pretty good grasp on the products that I need to be using now.
How do you incorporate Thayers into your routine?
I use the Hydrating Milky Toner twice daily, and it just helps so, so much with the dry skin that I've been getting. The Hydrating Milky Toner has been so incredible. I've noticed such a drastic change in my skin, and I wouldn't necessarily say that for every skincare brand that I've worked with, but this one I can truly and confidently say has improved my skin so much. It [my skin] literally feels like a baby's bottom every single time I put it on, which is incredible.
Have you always been interested in skincare and beauty?
I grew up in a house with the majority being girls. I'm the oldest of four girls, so I have three little sisters, and my mom has influenced my love for skin so much. I would always sit and watch her do her makeup, or I'd always be asking questions, like what skincare products she was using. I feel like, at such a young age, I was wanting to dabble in skincare and beauty just because I was surrounded by it all the time. I've had such a love for it since I was so young, and I feel like it's been a process — I definitely have not always been using the right products, but I've always loved it. I found it so beautiful and just so interesting.

Which skincare product is your most essential must-have, and why?
I know I've been talking about it this entire call, but the Thayers Hydrating Milky Toner is definitely my favorite, because I do have dry skin right now and that's just the best product for me at the moment. It leaves your skin feeling so smooth. Typically, if I forget to use it or something, I'll wake up with dry little flakes where I have my dry skin. But whenever I do use it, I don't wake up like that, which is incredible. Definitely a must-have for me; I bring it everywhere I go. Sometimes I forget a cotton pad, but it's fine because it works the same when you apply it with your hands.
What's your favorite TikTok beauty hack? How did you discover it?
I cannot remember who started this trend, but I remember seeing multiple videos about it. It's where you put a little brown dot using eyeshadow or a freckle pen over a pimple that you have, to turn it into a beauty mark rather than just having it be a bump under your makeup, which I think is so beautiful. It makes it look less like you have a pimple under your makeup, and more like it's supposed to be there. I think it's so fun, and I do that if I have a pimple in the right place.
Who are your favorite people to follow on TikTok for beauty and skincare inspiration?
There's this girl named Mikayla Nogueira on TikTok. She's blown up in the past year and a half, and her makeup is so incredible. Not only does she do super fun looks and she's an incredibly talented artist, but she'll also do makeup reviews on new products that are getting the hype right now, and her reviews are so authentic. She really doesn't sugarcoat anything, so I feel like that helps me a lot when I'm looking for a new makeup product or a primer, or any type of skincare product. I trust her reviews 100%. She's just so down to earth and so beautiful. I could watch her videos all day.
Photo: Riley Hubatka
Design: Juliana Campisi
Read more

Back to top