The Ultimate Shower Routine For Skin Care Addicts
July 18, 2017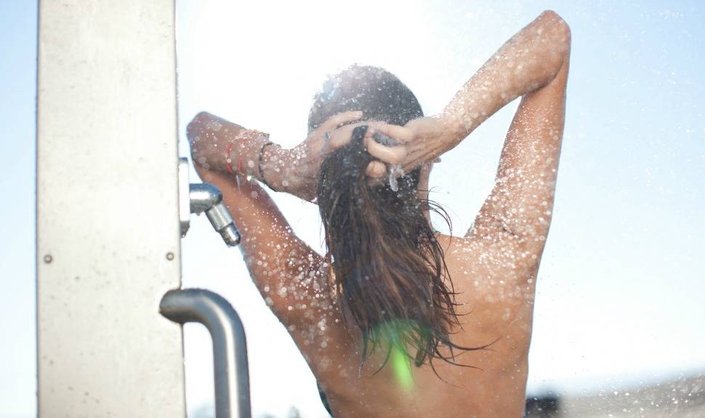 Your search for a skin care routine you can take to the shower ends here. We share a head-to-toe shower routine for skin care addicts, ahead.
Taking good care of your skin can be a bit daunting (and time consuming), but it doesn't have to be that way. Whether you use multitasking skin care products or multitask while you cleanse, exfoliate, moisturize, and so on, you can be well on your way to clearer, more radiant-looking skin without taking time away from your busy schedule. One of our favorite ways to save time in the mornings is to tackle our skin care routine while in the shower.  Between conditioning your strands and shaving your stubble, there's so much down time that can be used to—you guessed it—care for your skin! Curious to know how to care for your skin in the shower? Keep reading for the ultimate shower routine for skin care addicts.
CLEANSE
The whole reason you jumped in the shower in the first place is to cleanse your body of dirt and debris, so why not do the same for your complexion? After you're done cleansing your body skin with your favorite body wash, reach for a gentle facial cleanser, such as Kiehl's Cucumber Herbal Cleanser. The mild, gel-to-oil cleanser can work to remove dirt and impurities without messing with your skin's natural pH levels. Formulated with chamomile, aloe vera, and cucumber fruit extracts, the refreshing, lightweight oil cleanser is gentle and can leave the complexion feeling soothed and smoothed. 
If you're looking for a body wash that can give the skin on your body a thorough cleanse—much like your facial cleanser—we recommend Kiehl's Bath and Shower Liquid Body Cleanser. The gentle, yet effective cleanser is formulated to cleanse body skin while maintaining its moisture at the same time! 
EXFOLIATE
After you cleanse, it's time to exfoliate. Now, this isn't something you should do every time you shower—or, everyday—but exfoliating 1-2 times a week (or as tolerated) can up the ante on softer, smoother skin. If you want to save time, you can use a cleanser that has exfoliating properties or you can spend a few extra minutes on your shower routine and incorporate a facial scrub like the Kiehl's Pineapple Papaya Facial Scrub. Formulated with luffa cylindrica fruit—aka Vietnamese gourd—and apricot seed powder, this facial scrub can gently slough off dry, dead skin cell buildup and leave the skin feeling refreshed, soft, and clean. 
In addition to exfoliating your complexion, you may also want to give your body a little exfoliation action, too! Just like your complexion, exfoliating the skin on your body can slough off dry, dead skin cells, and leave the skin feeling soft and smooth. 
MULTI-MASK
Step aside bubble baths, showers are the new place to multi-mask! Once you've cleansed your complexion and buffed away dead skin cell buildup through exfoliation, it's time for a personalized masking experience. We love multi-masking because it allows us to hone in on our skin's unique needs for a more effective masking experience. For areas that appear oily or are more prone to blemishes, we recommend reaching for a mask that can provide a deep cleanse, such as a charcoal mask. If you have some areas on your complexion that can use some extra hydration, reach for a hydrating facial mask that can flood the skin with moisture. For more on multi-masking, see our guide, here.
If multi-masking isn't your thing, you can still reap the benefits of an in-shower masking experience without having to apply multiple face masks. Simply reach for your go-to face mask—whether it be a clay mask, charcoal mask, hydrating mask, and so on—and apply to your complexion. Just be sure to follow the instructions listed on the packaging for details on how long to leave it on for, how to rinse off, and so on.
MOISTURIZE
Ready to jump out of the shower and move on with your day? Not so fast. Applying moisturizer to damp skin can help lock in moisture! Before you get dressed, reach for a hydrating moisturizer and body lotion. For the face, we love Kiehl's Ultra Facial Moisturizer, as it is made with all skin types in mind and can leave the surface area feeling soft and nurtured. For the body, try Kiehl's beloved Creme de Corps Light-Weight Body Lotion. The body hydrator is formulated with jojoba butter, sweet almond oil, and olive fruit oil and helps the skin maintain its natural moisture balance while preventing moisture loss.
Read more

Back to top