9 Things Skin Care Addicts Do Before Bed
February 10, 2017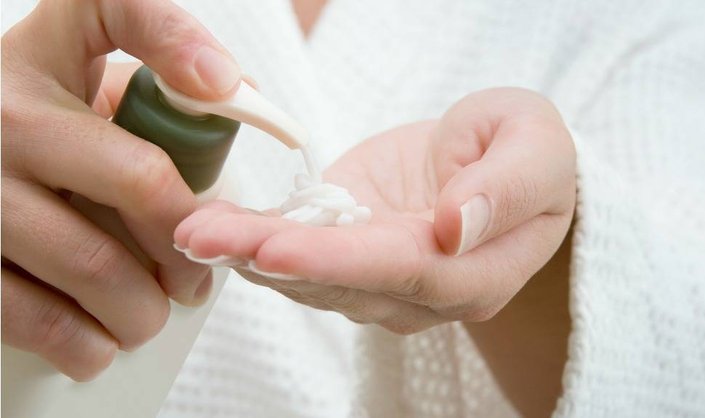 From double cleansing to dry brush exfoliation to hydrating from head to toe, most skin care addicts have a laundry list of rituals they like to practice before calling it a night. Want to know how a skin care addict cares for her skin before bedtime? Keep reading! We're sharing the top nine to-dos to check off your list every night before you hit the hay. Prep your skin for overnight renewal by following the tips we lay out below!
DOUBLE UP ON CLEANSER 
Removing makeup and cleansing your complexion of any impurities that may be lingering on the surface of your skin is a vital step in any and all skin care routines. Skin care addicts don't just use one cleanser to wash their faces…they use two. Double cleansing is a Korean skin care technique that calls for the use of both an oil cleanser to rid the skin of oil-based impurities—think: makeup, sunscreen, and sebum—and a water-based cleanser to rinse the skin of water-based impurities like sweat. To learn more about double cleansing, plus how to incorporate it into your nighttime routine, see our guide to double cleansing, here.
EXFOLIATE 
At least once a week, reach for an exfoliating cleanser in lieu of your traditional face wash or micellar water. While it's up to you to choose between chemical exfoliation—with alpha-hydroxy acids or enzymes—and mechanical exfoliation—with scrubs—this step is a definite non-negotiable in every skin care addicts weekly nighttime routine. As we age our skin's natural process of shedding dead skin cells slows down, causing a buildup of this dead skin on the surface. Over time this buildup can cause your skin to appear dull and lackluster—not to mention it can create a barrier against your other skin care products like serum and moisturizer. To slough away the buildup—and reveal newer, more radiant-looking skin cells underneath—reach for your exfoliator of choice!
FACIAL STEAM
Another thing skin care addicts like to do before bed? Prep complexions with at-home spa-style facial steaming. Facial steaming can be used to prep the complexion for skin care products— such as serums, masks, and moisturizers— and can provide the mind with calming relaxation, too. Learn how to create a spa-inspired facial steam with aromatic essential oils in our step-by-step guide to at-home facial steaming, here.
MOISTURIZE WITH SPA-INSPIRED OILS
Before hitting the hay, skin care addicts like to kick their hydration up a notch by moisturizing their complexion and décolleté with aromatic, spa-inspired skin care oils—such as, Decléor's Aromessence Rose D'orient Soothing Oil Serum. Formulated with neroli, roman camomile, damask rose, and petitgrain essential oils, the luxurious oil serum can leave the skin feeling soothed, hydrated, and ready for bed. 
FACIAL MASSAGE
Often, while using their favorite spa-inspired oils, skin care addicts will indulge in a little facial massage action to up the spa-like factor of their skin care routine. Not only is this step utterly relaxing—hello, bedtime!—it's also the technique that professional estheticians employ during facials. To practice facial massage in your daily routine, you can use a facial massaging tool—like this one from The Body Shop—or, go the "face yoga' route and use your fingertips to create circular massage movements.
For more on face yoga, see our step-by-step guide, here.
APPLY AN OVERNIGHT MASK
Once or twice a week, do as a skin care addict would do and apply a replenishing overnight mask before bed. Unlike regular facial masks, overnight masks are typically lightweight formulas that, when applied to the skin, provide a thin layer of hydration. One face mask that we love to use both as a regular face mask and an overnight mask is Kiehl's Cilantro & Orange Extract Pollutant Defending Masque.
DEEP CONDITION THE SOLES
Before hopping into bed, many skin care addicts like to take the time to care for their soles with some coconut oil. Deep conditioning the soles can help promote, softer, smoother, hydrated feet—no matter the season! To deep condition your soles, simply massage coconut oil onto your feet—paying close attention to the heels and other areas that may need some extra love—then, wrap them up in plastic wrap and cover with your favorite pair of cozy socks.
HYDRATE THE HANDS
Moisturizing the skin on your body can be equally as important as moisturizing the skin on your complexion— which is why skin care addicts take the time to hydrate their hands before bed. Keeping your hands moisturized—especially during the cold, dry winter months—can not only soothe and comfort your hands, it can help replenish and hydrate them, too!
APPLY A HYDRATING LIP BALM
Don't forget about your pout! Before bed, skin care addicts always—we repeat: ALWAYS—apply a nourishing lip balm to help give their lips some much needed hydration. Looking for a lip balm to include in your nightly routine? We recommend giving Kiehl's Butterstick Lip Treatment a try. Formulated with coconut oil and lemon butter, the nourishing balm can give your pout the boost of hydration it needs to feel soft and kissable come morning!
Read more

Back to top