Does Makeup and Skin Care With SPF Provide Enough Sun Protection?
May 27, 2020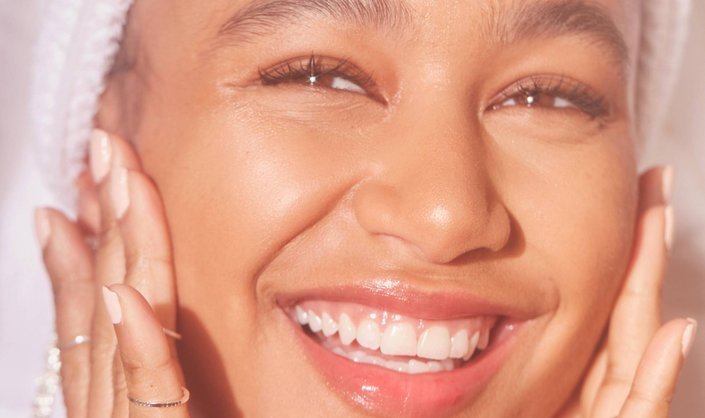 It's recommended to wear sunscreen every day. It's pretty straightforward advice, but here's where it can get confusing: Is wearing makeup or skin-care products that contain SPF sufficient on their own? Should you be using makeup or skin-care products that contain SPF in addition to sunscreen? Does the answer differ if you're spending most of the day indoors versus outdoors? To clarify, we consulted with NYC-based board-certified dermatologist and Vichy medical consultant Dr. Erin Gilbert. Read on for her advice.  
Does makeup or skin care with SPF replace standalone sunscreen?
"Makeup with SPF does provide a small amount of coverage," says Dr. Gilbert. "However, you're receiving significantly less than you would by using a sunscreen of the same sun protection factor." Why? This is largely due to the amount of product you're applying. You need a nickel-sized amount of product for your face to receive effective sun protection, which is likely more than you would usually apply — especially with foundation.  
Another issue is that you're probably not reapplying an entire layer of product midday. "Sunscreens in any format, chemically or physically, will degrade or be rendered less effective with prolonged wear," says Dr. Gilbert. For this reason, she recommends using a tinted sunscreen  and remember to reapply. A formula like the Vichy Capital Soleil Tinted 100% Mineral SPF 60 from our parent company L'Oréal, for example, perfects the appearance of skin and can be easily reapplied throughout the day. Another option is to use a powder sunscreen for touch-ups. "I like Colorescience Sunforgettables Mineral Sunscreen Brush. Because it's a powder, it can easily be applied over makeup without any hassle, particularly in those areas prone to sun damage and burning like your nose, upper forehead, neck and chest," she says. 
But what about when you're inside? Do you really need to wear makeup with SPF
and
  sunscreen?
Because many of us are spending a lot of time in our homes due to social distancing measures, you may be wondering how much sunscreen you really need to be wearing. If you're not going outside, you may be able to get away with wearing just a moisturizer or foundation with SPF, but Dr. Gilbert says this really depends on where you're sitting when you're indoors. "UV rays (specifically the deeper-penetrating UVA rays) penetrate window glass, which is why people often have more sun damage to the skin on the side of the car they spend the most time in," she says. "I wear at least a moisturizer with SPF, if not a tinted SPF."
So, should you even bother wearing a product with SPF that isn't a sunscreen?
Even though a foundation with SPF, for example, does not often provide sufficient sun protection on its own, there's no such thing as wearing too much sunscreen. Think of these products as a bonus. 
Dr. Gilbert recommends using a high-quality product with an SPF of at least 30 and taking other sun protection measures. Just remember, SPF is not cumulative. This means that layering an SPF 30 foundation with an SPF 30 sunscreen doesn't give you SPF 60 protection. 
Read More: 
5 Post-Sun Skin-Care Tips to Try
The Best BB Creams for Oily Skin, According to Our Editors
We Tried All of the Dermablend Foundations
Read more

Back to top