The 4 Skin Care Products You Need in Your 50s and Beyond
August 29, 2016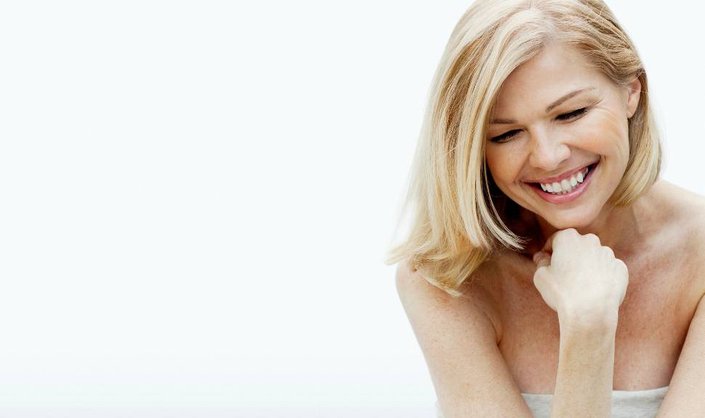 Your skin in your 50s in markedly different from when you were younger—even just a decade ago. This is when collagen loss becomes more prevalent and you can start to see the visible signs of hormonal fluctuations—hello, menopause. Often resulting in more visible fine lines and wrinkles, a dull-tone, sagging appearance of the skin, and rougher-feeling texture, even if you followed all of the commandments of skin care before, entering you 50s is a whole new game. Below, find the four products you'll need in this next chapter.
Anti-Aging Cleanser
In your 50s, you may want to consider switching out your cleanser for one that offers anti-aging benefits. Since this is a decade where moisture-loss occurs, look to creamy, hydrating formulas that cleanse your skin without drying it out. We like L'Oréal Paris' Age Perfect Nourishing Cream Cleanser. This daily cleanser—formulated with replenishing oils—helps to remove traces of makeup and impurities, leaving skin feeling softer, smoother and more supple.
L'Oréal Paris' Age Perfect Nourishing Cream Cleanser, $6.99
Night Complex
Since this is often the decade when women experience menopause—note: it may occur earlier or later in life since it's a unique experience for every women—you may want to incorporate products specifically formulated to comfort menopausal skin. Vichy's Neovadiol Nuit helps to address four signs of menopause on skin: the loss of density, loss of structure, sagging, and dryness. Plus, it offers a cooling sensation—which is a major win!
Anti-Aging Cream
Moisture is key during this decade. Let's be honest, skin doesn't have that same bounce-back rate it had back in your 20s. Loss of moisture, density, and volume, can all create a dry, dull, sagging appearance. Look for an intensely hydrating anti-aging day cream like La Roche-Posay's Substiane Visible Density and Volume Replenishing Moisturizer. This rich-textured cream helps to comfort skin and improve the look of firmness and bounce.
La Roche-Posay Substiane, $56.99
Broad-Spectrum SPF
Sure you should already be using a broad-spectrum SPF each day, but now it's more important than ever before since sunscreen is the only proven way to stop accelerated skin aging. Now, look for moisturizing formulas that comfort skin while they protect it, like Kiehl's Powerful Wrinkle Reducing Cream. With broad-spectrum SPF, copper PCA, and calcium PCA, the cream protects your skin from UV rays while visibly reducing wrinkles and improving texture.
Read more

Back to top