Doing This Can Make All the Difference in The Way Your Skin Looks (and It Only Takes a Few Seconds!)
August 21, 2017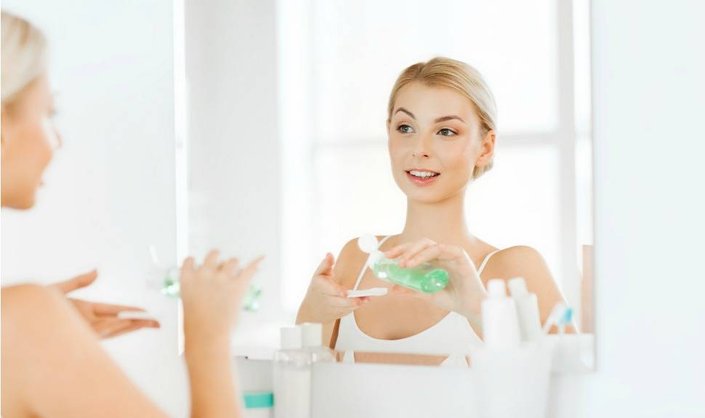 You may not be privy to all the skin benefits of toner, but that's all about to change. Read on to discover why toning is a skin care ritual we'll never skip—plus, three of our favorite toners from the L'Oreal portfolio of brands you should give a whirl.
When it comes to skin care, there is an endless abyss of complexion-perfecting hacks out there. Many of these experimental, do-it-yourself practices are centered around saving you time and effort. But let's be honest— skin care doesn't have to be complicated! Often, achieving a healthy-looking complexion is simply about reaching for the right products at the right time, including some you may not have explored yet. One of these very products? Toner! If you don't use toner, chances are you're not fully aware of all the benefits it can offer. Allow us to explain.
Why Use a Toner?
When you cleanse your skin, you help remove dirt, makeup and impurities that build up on the skin's surface throughout the day. And while most cleansers are powerful and effective, they too could use a back-up plan. Think of toner as a cleanser's sidekick. Used after cleansing, toner can help ensure that all lingering impurities have been thoroughly removed from the skin. Some can even offer additional skin benefits, such as hydrating the skin, removing excess oil for a mattifying action, reducing the appearance of blemishes, balancing the skin's pH levels, and more! No matter your concern, we're confident that there's a toner out there that's right for you. To drive that home even further, we went ahead and rounded up a few of our favorite toners from the L'Oreal portfolio of brands, ahead. What are you waiting for?
3 TONERS TO TRY NOW
KIEHL'S CUCUMBER HERBAL ALCOHOL-FREE TONER
Ideal for all skin types, particularly dry or sensitive skin, this elegant, non-drying toner is made with herbal extracts for a gentle, balancing, and mildly astringent effect. The result? Skin that's soft, clean and toned with a beautiful after-feel.
Kiehl's Cucumber Herbal Alcohol-Free Toner, $16 MSRP
VICHY PURETE THERMALE TONER
Got sensitive skin? Vichy's Purete Thermale Toner may be a great option for you. This perfecting toner helps remove impurities that may be left on the skin post-cleansing, leaving the complexion looking fresh and clean. Plus, it's formulated with Vichy's mineral-rich Thermal Spa Water from the French volcanoes. 
Vichy Purete Thermale Toner, $18.00 MSRP
SKINCEUTICALS EQUALIZING TONER
For combination to oily skin, this pore-refining formula helps restore the skin's protective pH mantle while removing residue to balance and refresh. Simply spray a few pumps of Equalizing Toner onto a cotton round and smooth over skin. For the best results, use this formula up to twice per day, and always follow up with a moisturizer and sunscreen.
SkinCeuticals Equalizing Toner, $34.00 MSRP
How to Use Toner
Now that you've got your toner in tow, here's how to use it. The good news is that using toner is simple and only adds a few extra seconds to your skin care routine. After cleansing and drying the face, saturate a cotton pad with your toner of choice. Sweep the pad over face and neck, avoiding the eye area, until thoroughly covered. Let any excess moisture air dry, and continue on with the rest of your skin care routine. Depending on the formula, toners can be used morning and night. Always consult the label on your toner for the exact use instructions.
Read more

Back to top