InMySkin: Skincare Influencer and Esthetician Tiara Willis on How She Takes Care of Her Dry, Hyperpigmentation-Prone Skin
May 11, 2021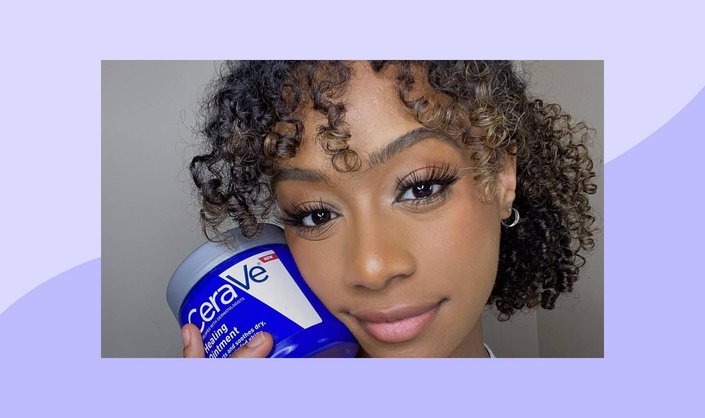 Memes, myth-busting and unfiltered skincare reviews — Tiara Willis' Instagram account has got it all. The 19-year-old esthetician, who goes by the handle @makeupforwomenofcolor, originally started the feed to talk about makeup but has since shifted gears, becoming a source of skincare education, especially for those with dark skin tones.
After dealing with acne and hyperpigmentation as a young teen, Willis looked to social media for expert advice, which led her to find her own path. She graduated high school early and enrolled in the New York School of Esthetics at just 17. "I always try to be the best friend that I didn't have," she says of her Instagram presence. "I want to help everyone out and share everything I learned in esthetics school."
We chatted with Willis to learn more about her skincare philosophy and her morning and nighttime routines. Keep reading for tips, tricks and product recommendations. 
One Social Media Skincare Trend She's Never Trying Again
Stay away from DIY skincare. I used lemons, baking soda, tomatoes — everything. In esthetics school, I learned about actual ingredients like salicylic acid, sulfur and benzoyl peroxide that treat acne and have studies to back them up. 
A Skincare Myth She Wants to Debunk
There are so many myths about skincare, especially about darker skin. I had no idea how important sunscreen is. In the Black community, we never talk about it. It can help with aging, acne, eczema and hyperpigmentation. 
The One Skincare Question She Gets Asked All the Time
I get questions about reapplying sunscreen over makeup during the day. I tell people that there are some makeup sprays that have SPF in it, or you can go the powder route. I'll try to wear a tinted moisturizer that has sunscreen, too. 
Her Best Skincare Hack
Ice your acne for one to two minutes after cleansing. Chill a steel face roller in the fridge and roll it over breakouts in continuous motions, or put an ice cube in a clean plastic baggie. It's so important to reduce inflammation of a breakout because it can lead to hyperpigmentation. 
How She Wants to See the Skincare Industry Evolve
I would love to see more collaborations between skincare pros of color and brands when it comes to education. I also wish brands were more inclusive about different skin conditions. For example, eczema and rosacea are going to look different on [different skin tones]. Hyperpigmentation can also look different on different people. Be transparent about how not everyone has perfect skin. I love what Topicals is doing. Just because someone doesn't have poreless, perfect skin doesn't mean that they can't be included in the marketing. People want to see people who look like them.  
Tiara's Current Skincare Routine
Skin type: Dry
Top skin concern: Hyperpigmentation 
Morning 
STEP 1: Rinse With Water 
I keep it simple because I have dry skin. I try not to over-aggravate it with products.
STEP 2: Garnier Green Labs Canna-B Pore Perfecting Serum Cream Fragrance Free SPF 30
The Garnier Serum Creams are so good. They look great on every single skin tone.
Nighttime
STEPS 1 and 2: Naturium Fermented Camellia Creamy Cleansing Oil and Fermented Rice Enzyme Cleanser
I find that double cleansing helps with clogged pores.   
STEP 3: Neogen Real Ferment Micro Essence 
STEP 4: ReveSkin Retinol Essential 1.0
STEP 5: Naturium Niacinamide Gel Cream Moisturizer
STEP 6: ReveSkin Fortified Bleaching RX Hydroquinone  4%
I use it to spot treat dark spots for three months at a time, then I take a break. You have to be careful with hydroquinone. [Ed note: This is a prescription-only hyperpigmentation treatment. Talk to your dermatologist to see if it is right for you.]
Photo: Tiara Willis
Read More:
How Two Former Pre-Med Students Created the Buzzy, Effective Skin-Care Brand, Topicals
How Jamika Martin's Acne Struggles Inspired Her to Create Rosen Skincare
Read more

Back to top