Derm DM: Should I Use Vitamin C on Acne-Prone Skin?
September 27, 2021
Topical vitamin C is known for its brightening and discoloration-fighting capabilities, however that's not all the antioxidant can do. To find out if vitamin C can also target concerns associated with acne-prone skin, we asked Dr. Elizabeth Houshmand, a Dallas-based board-certified dermatologist and Skincare.com consultant, to weigh in. 
What Is Vitamin C?
Vitamin C, known as ascorbic acid, is a potent antioxidant that can help brighten your complexion and protect your skin from free radicals, which lead to signs of premature aging in the skin (read: fine lines, wrinkles and discoloration). And, according to Dr. Houshmand, the ingredient optimizes overall skin health and is a must-have for all skin types, including acne-prone.  
Can Vitamin C Benefit Acne-Prone Skin?
"Vitamin C is a potent antioxidant that helps lighten pigment through inhibition of melanin synthesis," says Dr. Houshmand. "In the correct form, vitamin C can reduce the inflammation and post-inflammatory hyperpigmentation that accompanies acne." When choosing a vitamin C product, Dr. Houshmand recommends checking out the ingredient list. "Look for vitamin C products that contain 10-20% L-ascorbic acid, ascorbyl palmitate, tetrahexyldecyl ascorbate or magnesium ascorbyl phosphate. Each of these ingredients is a form of vitamin C that has been studied and proven to be safe and effective." With repeated use, Dr. Houshmand says you'll be able to see results in approximately three months.  
Made especially for oily and blemish-prone skin types, the SkinCeuticals Silymarin CF is one of our favorite vitamin C serums. It combines vitamin C, silymarin (or milk thistle extract) and ferulic acid — all of which are antioxidants — and acne-fighting salicylic acid. The formula works to improve the appearance of fine lines and prevent oil oxidation that can lead to breakouts.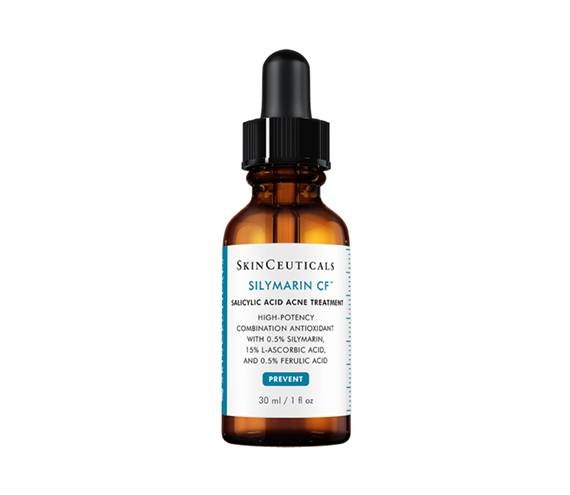 Can Vitamin C Help With Acne Scarring?
"Acne scarring is one of the most challenging conditions we treat as dermatologists and, unfortunately, it's not usually helped by topical treatments," says Dr. Houshmand. "For deep scarring, I recommend working with your board-certified dermatologist to create a customized plan depending on your specific type of scarring."  
Design: Hannah Packer
Read More:
What Does Vitamin C Do and How Does it Work?
How to Choose a Vitamin C Product
What Are Free Radicals? Plus, How to Combat Them
Read more

Back to top