5 Skin Care Products to Help Prep Your Skin for Winter
November 06, 2017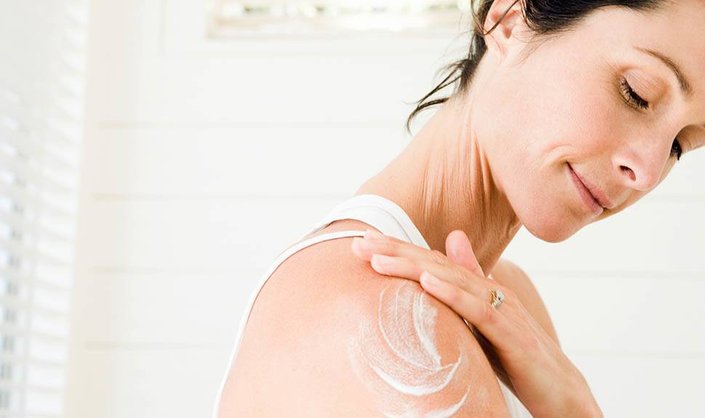 As the temperatures outside drop and the temperatures inside rise, there's a good chance you'll begin experiencing a drier-than-normal complexion. While cool autumn and winter weather are easily felt, you may not realize that the artificial heat that fills your office, public transportation, your car, and other spaces you inhabit, can actually make things even worse. That said, it's important to find a way to combat the drying conditions so that your complexion won't take a backseat for a quarter of the year. Don't worry, it's not hard! You just have to approach your skin care regimen the way you do your closet — new season, new products.
To help you make the switch to help prepare your skin for the cooler weather ahead, below we share the top six products to add to your vanity. From cleansers and moisturizers, to serums and masks, we've got you covered!
A Nourishing Face Wash
Cold weather will do enough to put a damper on your complexion, so instead of potentially making things worse with a harsh cleanser, opt for something a bit gentler that will not only cleanse, but hydrate your parched skin, too. When stocking up, steer clear of gel-based cleansers and consider trying a cream one instead. If you don't have time for a traditional lather and rinse, opt for micellar water, a no-rinse French favorite that sweeps away dirt and makeup in a pinch.
A Gentle Exfoliator
Regardless of the season, dead skin cells can pile up on the surface of your skin and dull your glow. For a fresh complexion, try exfoliating two to three times a week. The trick to managing winter's dry skin is to buff away dead cells to allow moisture to better absorb into your skin. Instead of using an abrasive exfoliator, consider using pre-soaked glycolic acid peel pads to help easily dissolve buildup.
Don't forget to extend that exfoliation to the skin on your body! Use a gentle body exfoliator—like a scrub or dry brush—and slough away any dead skin cells that may have built up during the summer and fall.
An SPF-Packed Day Cream
 Before you start laughing at the idea of slathering on SPF in the middle of winter, understand that just because the temperatures are no longer in the upper 80's doesn't mean the sun's UV rays are any less harmful. That said, be sure to protect your skin against signs of aging and even some cancers with a moisturizer formulated with Broad Spectrum SPF 30 or higher, and reapply at least every two hours. Go the extra mile with your sun protection by wearing protective clothing, seeking shade, and avoiding peak sun hours when the rays are strongest.
A Hydrating Serum
When the temperatures begin to drop, your skin can use all the help it can get to retain moisture. And there's no better way to pump up the hydration than with an antioxidant-rich serum.
A Heavier-Duty Moisturizer
After you slather your serum, follow it up with moisturizer. This step is a non-negotiable, especially during the colder, drier seasons. Look for richer textures that offer all-day hydration to keep your skin soft and supple.
Again, be sure to extend the love to the skin below your chin as well. Your body needs lots of hydration as well, so look for a rich body butter or lotion to layer on after you shower.
A Collection of Face Masks
Last but not least, stock up on masks. You'll want a hydrating mask or two to help combat unwanted dryness, but other winter skin concerns can include a dulled complexion, blemishes, and rough-feeling skin. Since your skin can undergo so many different stages during cool weather, instead of sticking to one mask, consider multi-masking to cater to every inch of your complexion. 
Read more

Back to top